Do you know what Belarus and Africa's most underdeveloped countries have in common? (Apart from mutual sympathies of their leaders, of course.) That they are all fast becoming economic colonies of China. When establishing business in new countries, the Chinese usually do not stint investments and cheap loans for one's partners. However, not a single country has enriched through Chinese investment – quite the contrary.
International economic relations experts know that China employs a special type of neocolonialism in extending its interests to other countries – it either demands transferring territories from these states into Chinese jurisdiction (this applies only to bordering nations), or Chinese suzerainty over areas where its investments have been made.
Here are some examples. In 2011, China assumed jurisdiction over 1,158 square kilometers of territory on Eastern Pamir in Tajikistan. Overall, China claims control over 28,000 sq km, which amounts to 20% of Tajikistani land. They allege Russia cheated them out of significant Central Asian lands through an unequal treaty back in 1884. Kazakhstan has already ceded 407 sq km while Kyrgyzstan yielded a piece measuring 1250 sq km Earlier, Russia had also given China territories along the Amur River.
The second peculiarity of Chinese neocolonialism involves pervasive corruption of recipient nations' governments and establishment of a pro-Chinese lobby within those countries including local media influencers. This is recognized even in Russia, which is very friendly to Beijing. For instance, you can read about it in an article by D. Kalashnikov, associate professor of Department of Global Economics at MGIMO (MGIMO's journal World and National Economy, No. 4, 2021). In particular, he writes, "Chinese aid in the form of preferential loans and joint projects has already pushed a number of recipient countries into debt bondage.  Debts have to be repaid with natural resources, ports, infrastructure, sometimes even with countries' own territory. Another problem is considered to be the corruption of politicians in recipient countries that accompanies Chinese aid. Beijing predominantly makes backroom bilateral deals in the area of assistance for international development. An analysis of data on the birthplaces of 117 African leaders and the location of 1,650 Chinese international development assistance (IDA) projects in Africa revealed that most of the projects were implemented in the African leaders' birth regions during the years when those leaders were in power or before their elections. By contrast, there is no such dependence among other foreign aid programs."
The same study states that local politicians in developing countries often do not publicize their receipt of assistance from China, thus China "saves national leaders' face" with voters and the international community, creating a reputation for them as successful entrepreneurs. Agree, it's as if it's written about Lukashenko.
By early 2020, China has built 62 ports in various countries and acquired or taken control over 54 ports abroad. Where there is no sea, Special Economic Zones (SEZs) and industrial parks are being established, i.e., China is implementing an export-logistics model of 'port-park-city'. The created SEZs quickly turn into enclaves linked to China's economy rather than the national economy of the country where they are located. And again, in this description, we see the Chinese technopark 'Great Stone' near Minsk and the logistics center near Grodno (It is enough to recall that Belarusian legislation does not apply in the 'Great Stone').
Also, with regard to Belarus, China is running a cunning scheme involving a mixture of public credits and (kind of) private investments. The result can be seen in this illustration: Belarus has become the most heavily dependent country on China in Eastern Europe.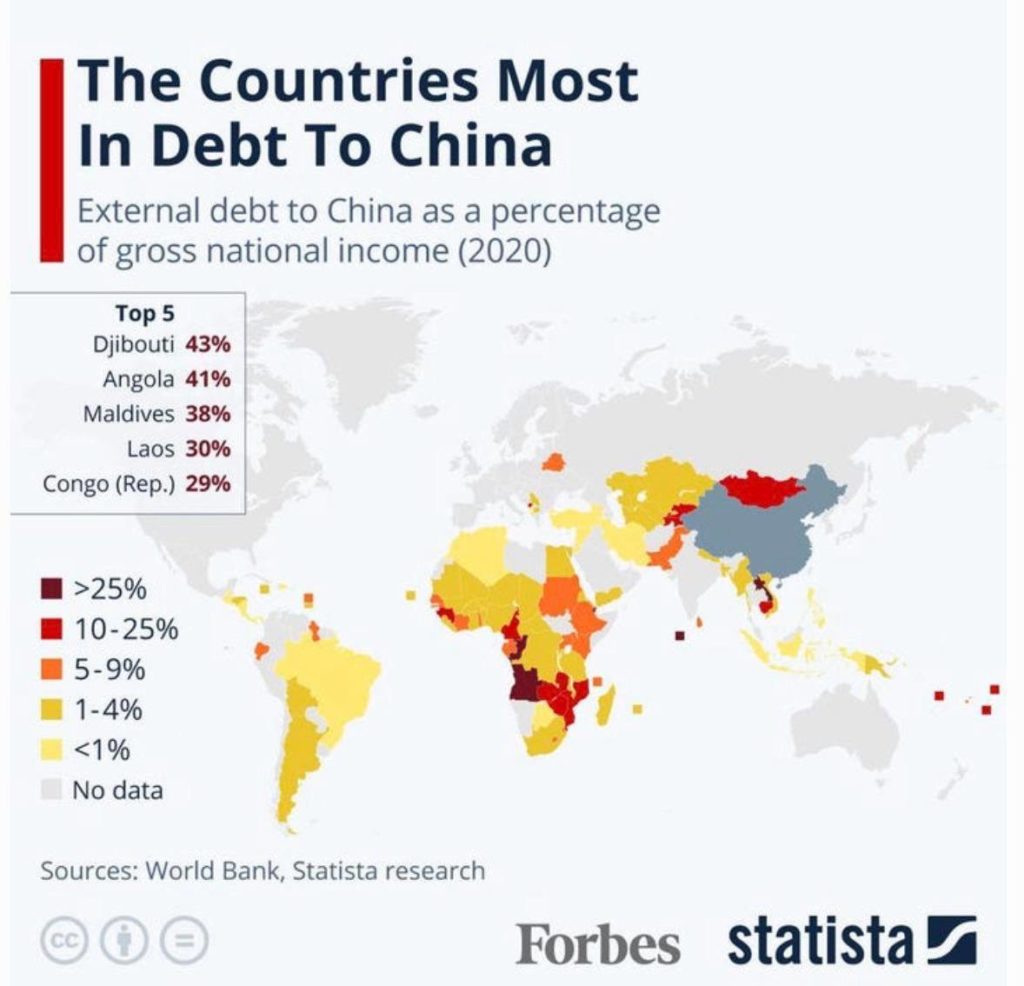 Belarus receives very large volumes of investments and cheap loans from China. However, in practice, it turns out that Chinese money tends to undermine the Belarusian economy rather than stimulate its growth.
On August 24, 2018, Belkalii-Migao LLC began the construction of the first potassium nitrate production plant in Belarus with a capacity of 160,000 tons per year. The investment volume in the plant is $130 million, which will be invested by the Chinese investor, Migao Corporation, holding a 51% stake in the project. Its Belarusian partner, JSC Belaruskali, holds a 49% stake.
For the first time, the Belarusian government allowed foreigners with a controlling stake in the holy of holies of Belarus' state revenues – the potassium industry. This is how the slow but steady capture of the Belarusian economy by the Chinese looks like. They are buying up our country, slowly but inexorably. Another example is how the state-owned company China Xinjiang Bingtuan Construction & Engineering (Group) Co. Ltd., one of the largest in China, is taking control of agricultural enterprises in the Gomel region to grow corn for China there.
Two spheres of China's interests in Belarus can already be clearly defined. The first one is the establishment of Chinese industrial and agricultural enterprises. Industrial enterprises operate for the post-Soviet and European markets, while agricultural ones serve the interests of China. The second sphere is transport and logistics. Chinese businessmen are increasingly turning Belarus into a mega-warehouse for their consumer goods, supplied to the European Union. From a logistics standpoint, it is very convenient for them, as Belarus is a major transit hub at the junction of the EU and the EAEU, Europe and Asia.
Well, it all started about 15 years ago when Alexander Lukashenko, in search of money and a counterbalance to Russian influence, began developing cooperation with China. Beijing found it very opportune as they had just launched the project of the new Great Silk Road, a grand overland transportation route from China to Europe. And Belarus, with its well-developed transportation infrastructure and bordering three EU countries, turned out to be an ideal endpoint on this route.
For a long time, official Minsk received as much Chinese investment and cheap credit as it requested. During meetings, Lukashenko even reproached officials, saying, "We have $15 billion from China, and you can't propose worthy projects to implement for that money!"
Somewhere around 2012, the number of Chinese people on the streets of Minsk exceeded that of all other foreigners combined. This was the result of the agreement on visa-free entry for Chinese citizens to Belarus. Chinese companies actively acquired Belarusian enterprises, lands, and factories, opened Chinese restaurants, and massively imported their own workers to Belarus.
The key moment of Chinese expansion in Belarus was the establishment of the Belarus-China Great Stone Industrial Park near Minsk. Now, when Belarusians mention it, they add "on the neck of Belarus" to the name. Initially, it was intended that the Chinese would build modern hi-tech production facilities on this land (from which local summer residents were expelled by the Belarussian authorities). Indeed, the first residents of the new free economic zone (where the Chinese obtained the right not to pay taxes) were ZTE and Huawei corporations.
They were supposed to start construction of their factories in 2015, but… They were supposed to start construction of their factories in 2015, but… the Chinese have never built any "high-tech enterprises" on Belarusian soil. Instead, they have equipped a grandiose trade and logistics site in the Great Stone. In other words, warehouses with access roads. To all claims of the Belarusian officials responsible for the project, the Chinese smiled and nodded, nodded and smiled… As a result, Alexander Lukashenko had to quietly change the status of the Great Stone. It is no longer a technopark but simply a Chinese tax-free zone with its own laws and regulations. Even the personnel working there were brought in from China, and no job opportunities for Belarusians were created, despite the promises.
Now, after years, we understand: Chinese businessmen never intended to build factories in Belarus — they have enough of them in their own country. They simply needed a huge warehouse, a logistics center beyond the control of any inspections right on the border with the second most important market for China — the European Union. And the Belarusian authorities were simply gagged with investments. That's serious money on the local scale, but trifling for China.
The peculiarity of China is that its authorities issue loans without linking them to either politics or economic reforms in the recipient country. The Belarusian leadership really did buy into that apparent simplicity, because the Belarusian authorities regularly face Western sanctions for political repression and cannot obtain a new loan from the IMF due to one's unwillingness to reform the economy.
On the contrary, the Chinese were eager to provide loans, but all those loans were a specific type of tied investment. In other words, the money itself remained in Beijing, and the Belarusian authorities could only spend it on purchasing Chinese industrial equipment and various consumer goods. However, they had to repay with real currency or property.
The official Minsk attempted to modernize various state-owned enterprises using these Chinese loans, primarily those in the woodworking and cement industries. But this modernization eventually backfired. Instead of the modern production lines specified in the contracts, the Chinese delivered old rusty junk. Power cables didn't meet Belarusian safety standards? Change the standards! No purification equipment? Why do you need it when you have a river nearby? Just dump the waste there. As a result, it turned out that the energy efficiency of cement plants with Chinese equipment was three times lower than that of similar Polish ones, and the cement produced was 'gold' from a cost standpoint. And in Dobrush, the paper factory will have to be completely rebuilt – the Chinese couldn't even launch their own equipment.
At negotiations, Chinese officials and businessmen are very fond of nodding, smiling, talking about mutually beneficial cooperation and signing beautiful memorandums. However, those who have been dealing with China for a long time know that the Chinese only pursue their own interests; the interests of their partners do not exist for them. Moreover, China's development strategy is not formulated for years but for centuries ahead. And in this strategy, there are no other interests except Chinese interests. Investments are just one of the tools for implementing this strategy.
In recent years, the level of relations between Minsk and Beijing has declined. First, due to the pandemic, then due to the Belarusian revolution and the subsequent repression (the Chinese are reluctant to do business in unstable countries), and later due to the war in Ukraine and the sanctions imposed on Belarus and Russia. In fact, Belarus has started to rapidly lose its status as an important transit country for China.
However, on January 21, 2023, Lukashenko unexpectedly invited the President of China, Xi Jinping, to Minsk. He also hinted at the "special nature" of relations between Beijing and Minsk: "I assure you of our readiness to further develop jointly with you the entire range of Belarusian-Chinese relations, to deepen interaction in the international arena for the purpose of building a fair and peaceful global order."
In reality, it was a message not to Beijing but to Moscow. It conveyed the message, "Stop pressuring me, demanding my participation in the war, because I have other friends, not just the Kremlin. China's interests in Belarus are very significant." However, the Kremlin's blackmail that Belarus might become Beijing's "favourite wife" rather than Moscow's, did not work. Soon after, the Kremlin firmly tied Belarus to itself by announcing the the imminent deployment of its nuclear weapons in our country.
China today is the second-largest creditor of Belarus. Our country owes China over $3 billion, and this is excluding debts from numerous commercial contracts and enterprises. Meanwhile, the balance of bilateral trade, as before, is heavily skewed in favor of China, i.e. we buy goods from China six times (!!!) more than we sell to them. This is exactly how countries become economic colonies — by falling into debt, relinquishing their property, and agreeing to unfavorable trade conditions.
Our House