On April 29, Strasbourg (France) hosted the PACE hearing on the problem of human rights in Belarus. Olga Karach, head of the ICCI "Our House", was invited to the hearings as a speaker. She focused on the repression of human rights defenders and women's and children's rights violations.
Main theses of the report
Repression, political prisoners, changes in legislation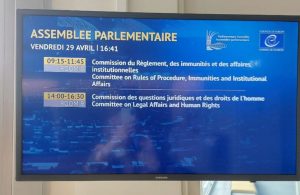 As of July 2021, the Investigative Committee had opened 4,691 criminal cases for "extremism" against peaceful protesters in Belarus. Since one criminal case usually involves several people, we can speak about six to seven thousand potential political prisoners.
The regime labels and applies articles of the Criminal Code on terrorism and extremism against protesters. So, 2,048 materials, including 648 Telegram channels, 30 independent media outlets, books and even CDs, were found "extremist". And 396 organisations and individuals were found to be "involved in terrorist activities" (most of them are political prisoners).
On April 27, 2022, the regime's "parliament" amended the Criminal Code to impose the death penalty for "attempting to commit a terrorist act". Lukashenko's regime treats the word "terrorism" very loosely and recklessly, and the term "attempted" is not defined (the government can apply it even to a comment left on social media). The death penalty could also be applied to any Belarusian who displeases Lukashenko.
And ICCI "Our House" is sure that it will be applied to the majority of human rights defenders, who are now in custody.
Statistics of repression in Belarus
More than 200,000 Belarusians have been forced to flee the country. More than 50,000 have been tortured and abused.
According to the coalition of human rights organisations led by Dissident.by, the number of political prisoners in Belarus is 2,260.
There are ten children political prisoners and 330 women political prisoners in Belarus.
Women subjected to administrative prosecution got imprisoned for 16,321 days in administrative cases. Women paid fines 641,112.45 euros in administrative cases (of which human rights defenders are aware).
Three women got forcibly resettled as an ethnic minority. One woman died as a result of an act of biological terrorism (deliberately placing COVID-19 patients in cells with Protestants)
Colour coding and stigmatisation in prisons
There is currently a system in Belarusian prisons that "labels" prisoners with coloured tags. This practice is designed to make it easier to identify certain individuals among the mass of prisoners and often leads (and is probably intended) to stigmatise and discriminate against certain groups in the prison population.
Political prisoners receive yellow tags. A yellow one means that a person is "prone to extremism" and implies that the prison administration should pay special attention to them. In practice, these people must always be at the forefront of checks, and they receive letters containing only domestic information. Also, to obey any order of the administration – otherwise, the person is deprived of phone calls, visits, parcels or additional punishment
Also, torture, inhumane conditions of political prisoners, violent suicides and deaths in prisons were separate parts of the report.