Although Europe and the EU have made great progress in human rights, much remains to be done, especially when it comes to equal rights and equality between women and men. At the same time, many outstanding women across Europe are working and committed to equal rights, equality, diversity and participation of all people. These women represent the values of the European Union.
At this year's Strong Women – Strong Europe conference on 9 May, participants honoured Iryna Vereshchuk, Deputy Prime Minister of Ukraine. In Putin's war against Ukraine and Western values, she organises, among other things, humanitarian corridors in the country. Life and physical integrity are the highest human rights and values.
Strong women can ensure a strong EU in which the democracies of Europe will finally unite.
Olga Karach, head of the ICCI "Our House", was invited to be a speaker at the conference. In her report, Olga Karach put specific emphasis on the uniqueness and complexity of the situation in which the Belarusians find themselves: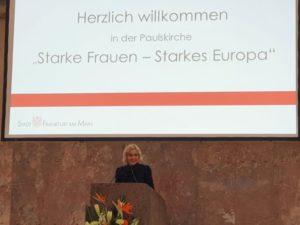 "The grief and pain of the Ukrainian people in this war are endless, but there is one consolation if we can speak of consolation in this terrible situation. Ukrainians know that all these rapists, murderers and looters are not them. They are not part of the Ukrainian people, they are Russian occupiers. And it gives a lot of strength and energy to fight and resist Ukraine.
In Belarus, we know that all these people – those who rape protesters in prisons with batons, who torture them with stun guns, who beat people, who write denunciations to KGB – are Belarusians. All these people are part of the Belarusian people. They are someone's father, brother, classmate, neighbour, someone's son or daughter. And it is extremely painful".
Also, in her speech, the work of "Our House" to help refugees was mentioned: "We received and distributed more than 75 tons of humanitarian cargo – clothes, hygiene, food, furniture, medicine, etc. Part of the humanitarian cargo has gone to Ukraine, and some have gone to Belarus to support families of political prisoners. More than 300 women with children – Belarusian and Ukrainian refugees, received food packages".
Olga paid particular attention to our "NO means NO" campaign: "Since the start of the war, more than 20,000 men have left Belarus and have received mobilisation summonses to the army. Already 35 men have applied for political asylum in Lithuania based on such summonses. I ask Europe to help and grant political asylum to Belarusian men who do not want to go to war in Ukraine on Putin's side."
"The struggle of "Our House" and other pro-European organisations every day and all these attempts by the Belarusian regime to stop us well prove that we will not stop for a minute until Belarus becomes a free and democratic country. Belarus must be part of Europe, not the Russian world," politician and human rights activist Olga Karach said at the end of her speech.