A meeting with Joachim Rodenkirch, mayor of Wittlich in Rhineland-Palatinate, was held on 12 April. It was attended by human rights activists from several countries: Germany, Lithuania and Belarus. The main topics of the meeting were political events in Europe and assistance to Belarusian and Ukrainian refugees.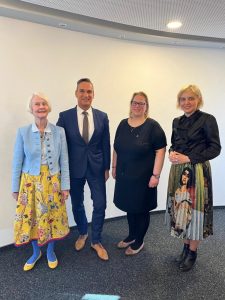 Joachim Rodenkirch expressed his interest in helping Ukrainians who fled their homes because of the war and Belarusians who suffered from repression by the Lukashenko regime. He questioned with interest about the problems the refugees are facing. Also, Joachim Rodenkirch asked about helping them at the moment and the needs and interests they have. The Mayor of Wittlich said he was ready to support Belarusian and Ukrainian refugees in Lithuania.
Discussing the political situation, Olga Karach spoke about the geopolitical choice of Belarus, that Belarus should become a part of European civilisation and move away from Russia as far as possible. The Mayor of Wittlich supported that view. Participants of the meeting concluded that Belarus and Ukraine are steps and parts of the same hybrid scenario of the Kremlin to spread "the Russian world" in the post-Soviet space and further USSR restoration.
Finally, human rights activists talked about the possibility to establish a club of friends of democratic Belarus. And Joachim Rodenkirch supported the idea. He said he was ready to do everything possible to develop cooperation with Belarusian NGOs and Belarusian opposition activists. Joachim Rodenkirch promised assistance in establishing a club of friends of democratic Belarus. The Mayor of Wittlich expressed his readiness to help the Belarusians in exile.
We are very pleased that Joachim Rodenkirch has become acquainted with the activities of ICCI "Our House" and is ready to support our humanitarian mission to help the Belarusians and Ukrainians, equally affected by Putin. We are grateful to Mayor Wittlich for the interesting discussion and support of the geopolitical choice of adequate Belarusians. It is wonderful to understand that democratic Belarus has such wonderful friends.