How dangerous is it for you to be in Belarus? This question is very often asked Belarusians who claim refugee status in different countries. Belarusians were forced to flee violence and repression. Still, many have hope, but unfortunately, in many cases, it is dashed by the regime. One of its main objectives is still the suppression of any expression of civic position.
Belarusians who have a "dark protest past" are always under security. It is almost impossible to arrest and imprison active Belarusians when they are abroad (we are not considering the cases of extradition now). But it is easy to arrest, prosecute and imprison if a person has ventured to return, and people return most often for personal reasons.
In this piece, we present several cases of visits to Belarus which ended in arrests and trials.
Anarchist activist Ihar Alinevich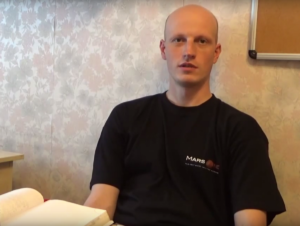 On October 29, 2020, Ihar Alinevich, a former political prisoner and activist of the anarchist movement, was detained by border guards while crossing the border between Belarus and Ukraine. Ihar had been living abroad for a long time and hardly ever returned to Belarus.
The anarchist is charged with arson of cars near the buildings of the Prosecutor's Office and the State Committee for Forensic Examinations in Salihorsk and arson of the traffic police building in Mozyr. Their actions were qualified under part 3 of article 289 of the Criminal Code – an act of terrorism committed by an organized group.
On December 22, Minsk regional court pronounced the verdicts on the group of anarchists. Ihar Alinevich received 20 years of imprisonment and was declared a political prisoner.
33-year-old Pinsk man detained after crossing the border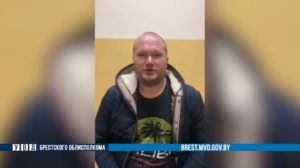 On January 12, 2022, a 33-year-old Pinsk man got detained after crossing the border on his way back from Poland. After that, the man got placed in a temporary detention facility.
The reason for the detention allegedly became the man's comments on the social network "Vkontakte", which he had made in June 2021. The office claims that the messages contained insults of internal affairs officers. A criminal case was opened against the Pinsk resident, and he was put on the international wanted list. The police department of Brest region executive committee has already made a "repentant video" of the detainee.
It is unknown where the man is now.
Ilya Vaitsiakhovich was detained at the border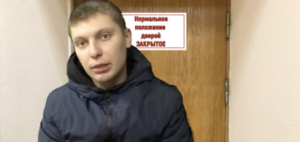 On January 16, 2022, Ilya Vaitsiakhovich, son of a recently deceased businessman, was detained at the border on his way from Riga to the funeral of his father, Eduard Vaitsiakhovich. But he never got there – he was detained at the border and taken to Akrestsina. He spent four months in pre-trial detention.
On January 19, a repentant video of Ilya Vaitsiakhovich appeared on the Telegram channel associated with GUBOPIK. In the video, the man says that he "didn't find himself" abroad and decided to return to Belarus.
On May 16, Ilya Vaitsiakhovich got convicted in Minsk for participation in a protest. The court found the man guilty under Part 1 of Article 342 of the Criminal Code (organization and preparation of actions, grossly violating public order, or active participation in them) and sentenced him to two years in jail.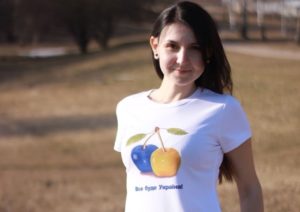 On April 8, 32-year-old Alesia Bunevich, director and public relations manager of Vilnius-based printing house "A2-print," was detained in Belarus.
The girl lived in Vilnius and came to celebrate the anniversary of her mother's death. According to preliminary information from human rights defenders, Alesia is accused of "committing an act of terrorism by a group of persons by prior conspiracy" in a criminal case of sabotage on the railway. The article provides for 8 to 20 years of imprisonment.
Soon afterwards, a film was created and broadcasted on BT. There, Alesia is presented as an accomplice of those arrested on suspicion of committing sabotage on the railway, "organizer of terrorists' escape channel" and an agent of Lithuanian special services: "And this is already stated treason". At the same time, there is no sound evidence for these accusations.
Now she is kept in the detention centre in Mahiliou.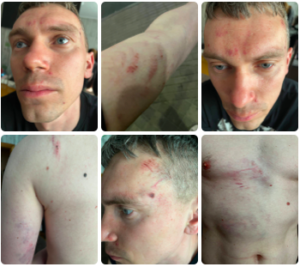 On May 10, 2022, former political prisoner Artem Dubski, brother of political prisoner Ilya Dubski sentenced to five years in prison, came to Belarus. He wanted to visit his relatives. But the next day, he was taken to the KGB. Then he was released and asked to come back later.
In the afternoon, Artem was having lunch with his mother, sister and nieces in the shopping centre in Niamiha. Masked law enforcers ran up, snatched the phone from his hands, threw him on the ground, beat him, handcuffed him, pushed him into a van and drove him to an unknown destination.
After five days, relatives found out that he was on Akrestsina street. After he was released from the KGB, Artem had time to record voice messages with details of his detention and take photos of his beating.
The terrorist regime's scheme of dealing with people who openly manifest their position is always the same – threats, violence, blackmail. Penitential videos, huge sentences and fines, pressure on relatives and friends – there is no end in sight to the repression in Belarus. And only the fall of the regime can return our country to freedom and real democracy. And in the meantime… it is dangerous for all free Belarusians to stay in their own country.