Vereinigung für Vernetzung und Partizipation e.V. from Berlin (The Association for Networking and Participation) reports on their website about impressions from their trip to Vilnius. We also would like to share them with you.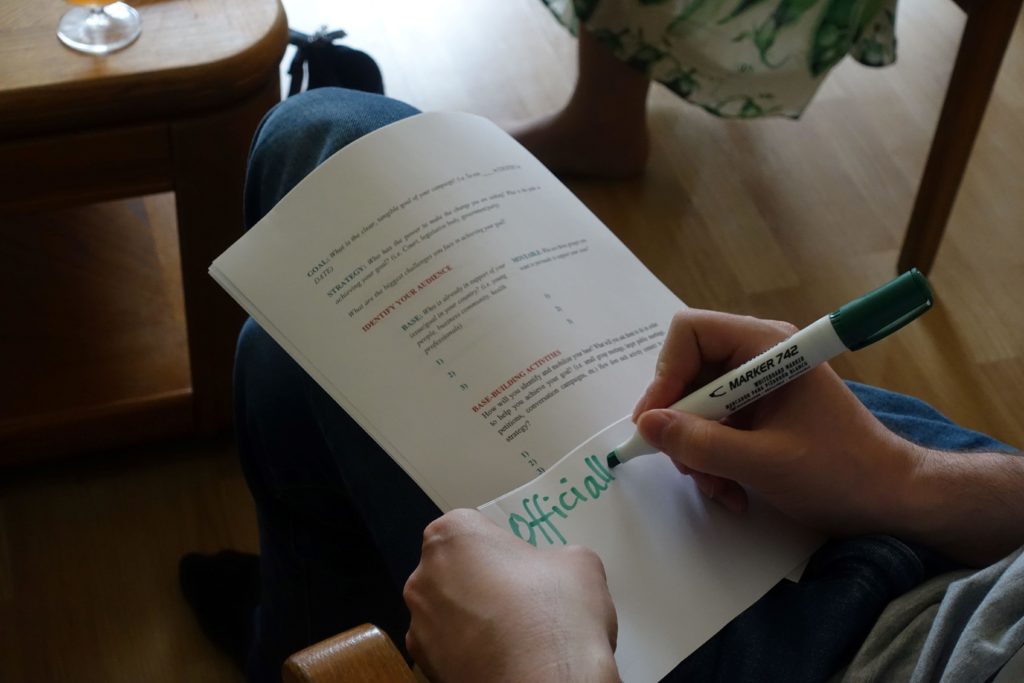 In preparation for the youth exchange, which will take place from October 4 to 11 in Berlin, we, together with the Belarusian participants and co-organizers, reflected on what we expect from the exchange, what we hope to achieve, what difficulties may arise, what obstacles still need to be overcome.
Finding a common language
One obstacle accompanied us throughout our visit to Vilnius. We don't have a common language! None of us speak Russian – much less Belarusian – and only a few of the Belarusians in Vilnius speak English. Therefore, the product of our youth meeting was a collection of sheets of paper with Cyrillic and Latin letters – in at least two languages.
Questions about questions
What is this stack of notes? We asked various questions to find out what we wanted to get out of the youth exchange. We wrote it all down on pieces of paper, compared, summarized and classified according to the overall result: "get to know each other", "learn a language", "cultural exchange", "Germans MUST find out what is happening in Belarus", "have fun", "make friends" – there is practically no difference between the views of Belarusian and German participants.
Political exchange
But this is not only a cultural, but also a political exchange. We demand "asylum for conscientious objectors (in Germany and the EU)" – no problem. The goal is high; one week in Berlin will most likely not be enough for this. And what will happen after the youth exchange? We do not yet know for sure – perhaps there will be more exchange projects. Many would like to see youth organizations emerge from the exchange, both within "Our House" and within the German peace and human rights movement.
Conversations with members of the Bundestag
How can we approach our request (shelter) through youth exchange? – One of the starting points of the youth meeting is negotiations with members of the Bundestag. This allows us to include the issue on the agenda, draw attention to the problems of Belarus and Belarusians in exile, and can also become a starting point for close contact between our organizations and German parliamentarians.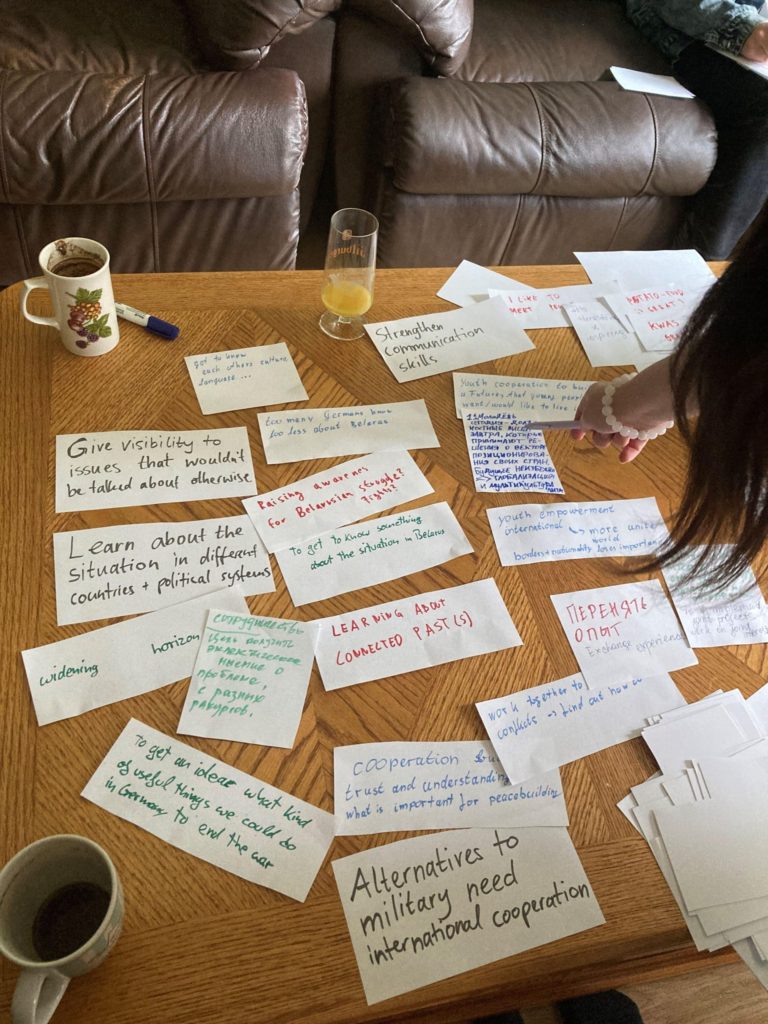 Forced Labor Memorial
But we also care about the past. During World War II, the Germans surrounded a bunch of places in Belarus, selected and deported people who were considered "fit for work", destroyed the rest and burned them with German thoroughness. The deportees were sold to Germany on the slave market and exploited in often life-threatening conditions in a racist system in industry, agriculture, railroads and church parishes in full view of all Germans. Since these crimes are openly hushed up, during a youth meeting we decided to visit the Schöneweide memorial. We presented and discussed this in detail. And they came up with a lot of assessment materials to adequately accompany and work through a potentially traumatic visit.
Raise awareness
Awareness of the rights of conscientious objectors must be created not only in politics. The pieces of paper also read: "too many Germans know too little about Belarus", "the Belarusian problem should return to the media." We hope that in both countries Belarus will be brought back to the surface at the youth meeting in October – direct contact is the best way to do this, people are more willing to help friends than strangers. And we hope that we can make a small contribution to this through youth exchange.