MONITORING of state-owned CRC
(compulsory rehabilitation centres)
for alcohol and drug addicts in Belarus,
June 2020
Content:
Introduction
Chapter number 1. Interesting facts about state-owned CRCs.
Chapter number 2. The slave labour of people in state-owned CRCs.
INTRODUCTION
In early 2011, Belarus experienced a sharp devaluation of the Belarusian ruble and a deep economic crisis, which caused massive protests for several months. This led the Belarusian government to think about carrying out economic reforms in the country.
If until 2011 we were sure that any economic reforms in Belarus are democratic reforms aimed at freeing the market and reducing the role of the state in the economy, then Belarus' experience has disappointed – reforms in the economy do not have to be democratic.
The Belarusian state made a bet on the maximum use of slave labour in its economic reforms and, recalling the experience of the Soviet Union, has begun to restore the GULAG in the most diverse and unexpected forms. The GULAG is the Main Directorate of Correctional Labor Camps – a division of the power structures of the Soviet Union with different names – the NKVD (People's Commissariat for Internal Affairs) (KGB) of the USSR, the Ministry of Internal Affairs of the USSR, the Ministry of Justice of the USSR, that carried out the management of places of detention and custody in 1930-1960. GULAG used widely the free labour of prisoners, while prisoners very often died from torture, starvation, and lack of medical care, as well as inhuman conditions of detention.
Since Alexander Lukashenko focused on receiving money from the West (and he receives a lot of it), the slavery in Belarus and the active construction of the GULAG derail their relations a little with the West. Thus the Belarusian government decided to use various vulnerable social groups in Belarus as slaves and free labour, so as not to draw attention to such an activity. First and foremost, the candidates for slaves were alcohol and drug addicts, as well as children from various social groups were registered as slaves. The reason behind this is that neither children nor alcohol addicts can protect themselves and do not draw the attention of the human rights community, including due to the silence of their families and relatives and great stigma in public opinion.
It is very important to note that the Belarusian GULAG is built based on Decrees and orders of the President, i.e. this means that Alexander Lukashenko and the Belarusian government are well aware of what they are doing, and also that this is a systematic and targeted state policy. Here are some examples:
Decree of the President of the Republic of Belarus No. 6 "On urgent measures to counteract drug trafficking". Allowed to imprison children and young people aged 14-29 years in prison for long periods (8-20 years) for minor non-violent drug-related crimes. The total number of children and youth who work as slaves in prisons at state-owned enterprises is approximately 18,000–20,000 adolescents and young people.
Decree of the President of the Republic of Belarus No. 18 "On Additional Measures for affording State protection to children in dysfunctional families". As a rule, enslavement is directed to single mothers who find themselves in a difficult financial situation. According to this Decree, mothers whose children were removed from families are required to work as slaves in-state factories. The Decree also allowed the sexual exploitation of 8,000 to 10,000 children aged 12 to 16 years(based on materials voiced during one trial)
Decree of the President of the Republic of Belarus No. 242 "On improving the activities of the Criminal Executive System of the Ministry of Internal Affairs." It regulates the entry of alcohol and drug-addicted people into the so-called CRCs (compulsory rehabilitation centres). There is nothing medical or rehabilitation in them, it is the use of slave labour of those who could not be placed under any criminal articles. About 12,000people are sent there annually, but due to the limited number of places, approximately 6,000 people get there, who are also used as slaves and work in state factories. The number of CRCs is growing, previously there were seven of them, but in 5 years the number had risen to nine.
Decree of the President of the Republic of Belarus No. 3 "On the prevention of social dependence" and Decree of the President of the Republic of Belarus No. 1"On the Promotion of Employment", by which the previous Decree was amended. These regulations introduced the unemployment tax. If a person does not have work, then he is obliged to pay tax to the state, and if there is no money for tax, then he/she must work it out – in this way the state planned to use the "slacker" as a slave. The idea is not new; in the USSR there was a tax on "slacker" or on lack of work. The state rated approximately 500,000 Belarusians as potential slaves, but the introduction of an unemployment tax decree provoked massive protests from Belarusians in 2017, so the state has so far abandoned this idea, planning to gradually introduce tightening in this direction.
It is also important to note that the Belarusian state absolutely always covers the use of slave labour by the supposed protection of the rights of those very vulnerable groups or by fight for their rights.
Today we would like to introduce you our monitoring devoted to the so-called state CRC – compulsory rehabilitation centres, that officially contain alcohol and drug addicts, as well as those mothers whose children were taken away under Decree No. 18 and who could not pay the state for the maintenance of their children in orphanages.
Chapter number 1. INTERESTING FACTS about CRC
At the moment in Belarus, there are 9 CRCs (compulsory rehabilitation centres) for alcohol-dependent people.
LTP №1 – Svetlogorsk (Gomel region)
LTP № 2 (female) – Staroselye (Goretsky district, Mogilev region)
LTP №3 (female) – Pavlovka (Slutsk district, Minsk region)
LTP №4 – Vitebsk (Vitebsk region)
LTP №5 – Vselyub / Novogrudok (Grodno region)
LTP №6 – Dzerzhinsk (Minsk region)
LTP №7 – Mogilev (Mogilev region)
LTP №8 – Novopolotsk (Vitebsk region)
LTP №9 (female) – Vitebsk (Vitebsk region)
6,7 thousand people. Citizens are placed there for a year. In theory, this term can be shortened for good work and behaviour. It must be emphasized that this is not formally a prison, but the conditions there are the same as in a prison. But since it is not a prison, it's easier to get there, and it's more difficult to get released from there because the law is not on the side of those who happened to get there.
82% of citizens in CRC are previously convicted and, being there, they do not commit a crime. About half of those who are isolated by Decree No. 18 is required to reimburse expenses for the maintenance of their children.
The number of "treated" and centres themselves are growing: in 2012 there were 6 centres, one of which was for female; there were 1,600 detainees. Since then, these numbers have been amounted to at least 6,000 (2015) prisoners, 9 CRCs, 3 of which are for females.
For example, about 800 men undergo rehabilitation in CRC No. 7 in Mogilev every year. Authorities call this treatment or rehabilitation, but no treatment is provided there.
The Belarusian parliament regularly pays attention to slave labour, reinforcing the Presidential Decrees with its best inputs. For example, in May 2020, they considered amendments to the law on CRC, allocating 2 square meters to every CRC resident who "misbehave". This is a kind of black humor because a grave in a cemetery calls "2 square meters" in Belarusian culture. The same discipline violators are invited to reduce their personal time from three hours to one hour.
Everyone knows now what quarantine is. So, everyone, who arrives in CRC, undergoes 14-day quarantine, and this rule has existed since 2013.
The authorities are trying to "lure" in CRC more people. The record for visits to CRCs for today belongs to a resident of Babruysk, who was placed in CRCs 16 times (and each time for one year, as we understand it). Moreover, such a person probably has never been convicted and have never been in prison. Apparently, CRC did not cure this person very well, he died during his 16th time before he reached his 60th birthday, which is the age after which you can not put him in CRC.
The guards in the CRC are very well maintained and receive many benefits. Requirements and conditions for working as a security guard in CRC are no experience is required, education is not required, they get 760 rubles, soft loans, exemption from military service, and work shift is less than twice a week.
The only region where there is no CRC is Brest, but in the Vitebsk region, there are three of them (this is a record).
Chapter number 2. People are used as slaves by the state in CRCs. 
What is the salary in CRC? Ruslan Trubkin reports that the salary is 201 non-denominated Belarusian rubles, and in March – 706 non-denominated rubles (this is about 1 euro cent per month and 3 euro cents per month, respectively).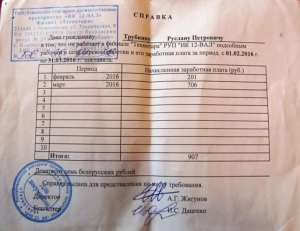 How did CRC appear in Belarus? In fact, they did not disappear, for example, CRC No. 5 is proud of the fact that it is 37 years old. They were simply standardized in 2007 and 2010.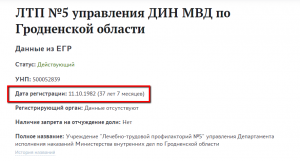 In 2007, by Decree of the President of the Republic of Belarus No. 611 "On certain issues of the Ministry of Internal Affairs and organizations included in the system of Internal Affairs bodies" dated December 4, 2007, they were again subordinated to the system of the Department for the Execution of Punishments of Ministry of Internal Affairs.
Then the Law on CRC was adopted https://kodeksy-by.com/zakon_rb_o_poryadke_i_usloviyah_napravleniya_grazhdan_v_lechebno-trudovye_profilaktorii.htm
The clarification from the Ministry of Internal Affairs on who and how gets into CRC for forced (slave) labour http://gorki.gov.by/pravovoe-reshenie-problemy-alkogolizma-napravlenie-v-ltp
And then in 2014, as a result of the implementation of Presidential Decree No. 242 of May 28, 2014 "On improving the activities of the system of penal enforcement of the Ministry of Internal Affairs", two correctional colonies in Mogilev and Novopolotsk were liquidated and they were added to the CRC. Allegedly, this is caused by the declining number of people serving sentences in correctional colonies, but not by the number of potential workers, because later 3 CRCs will be created on the basis of two liquidated correctional colonies and branch No. 4 in Vitebsk. So that in fact, we have a classic example of state manipulation of numbers.
What happens if slave power suddenly ends in CRC?
It will never end. The Belarusian parliament takes measures in the form of adoption in the first reading, deciding to literally assign certain citizens to CRC on May 5, 2020.
What innovations are proposed to introduce? Some kind of consolidation of a new category of citizens who can be sent to CRC, as well as an increase in the terms of work in CRC from one year to two years.
At the same time, the Ministry of Internal Affairs believes that CRC has a certain rehabilitation potential (probably they mean that there will be enough work for everyone?) to separate those who want to "rehabilitate themselves", by separating them from those who were sent for the "antisocial motives" for the first time, and to separate the first two groups from those who get to CRC for the third time (they will be given two square meters) or were in prison. At the same time, the special contingent should be divided into men and women. In fact, 6 categories of citizens will be divided into 9 CRCs. But the Ministry of Internal Affairs believes that there is enough space for everyone.
The police consider that it is necessary to work more
Taken from an interview with a police officer: "Let's start with the fact that all this time we have been working with the aggressor. And if he does not understand that his actions are unlawful, then more serious measures are applied to him – we initiate criminal proceedings of a preventive orientation, we send them to the CRC -compulsory rehabilitation centres. But, as a rule, it does not turn out this way. On the other hand, this work is not always carried out systematically. In some areas, troublemakers are removed timely from the family. " A preventive orientation is when a person has not committed anything, but somehow he must be sent to the CRC.
In 2015 (even before "Our House" dealt with the problem of slave labour in Belarus), the former head of the Department for the Execution of Punishments of the Ministry of Internal Affairs, police colonel – Sergei DOROSHKO (later dismissed) said: "Personally, my opinion is that the period of detention in dispensaries (centres) should be two years. … The first six months in CRC restore … labour skills. … It is also necessary to move away from such a concept as voluntary treatment – it must be compulsory, as it was during the Soviet Union. "
He gradually brings us to the importance of CRC: "We will continue to come toward to world standards for the detention of people in prison. But, one of the main tasks that we set for ourselves is to ensure the full and effective employment of convicts and citizens in CRC … Last year (2014 – a comment from "Our House"), the House of Representatives passed a law on our extrabudgetary fund … In the coming year (2016 – a comment from "Our House"), we must reach a production volume of 1.2 trillion ( pre-denominational – a comment from "Our House") rubles (this is approximately 45 million euros – the amount which CRCs earn during a year – a comment from "Our House"). … At the same time, products must be competitive outside the country "(i.e. they sell it abroad – a comment from "Our House").
And a few more of his revelations about the GULAG: "We must strategically determine the way we want to see Department for the Execution of Punishments in five years (that is, in 2020, a comment from " Our House "): a fragment of the GULAG or a perfect and effective European system that is quite inexpensive for the state budget." This phrase testifies to the fact that the Ministry of Internal Affairs officers are well aware of what system they are building and what they manage.
Do you think this person is urinating on the wall? No, he is serving his vacation in a break, a list of which is drawn to his left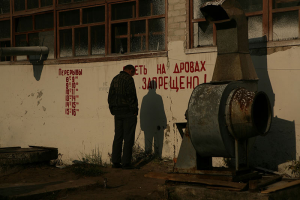 In 2016,  the authorities decided to place drug addicts (whom they could not sue http://www.moyby.com/news/219508/ ) in CRC, in addition to those imprisoned under article 328.