The corresponding letter was sent to Lithuanian MEP Andrius Kubilius, Seimas deputy Emmanuelis Zingeris and MEP Piatras Austrjevicius. Olga Karach told about the political prisoner Witold Ashurak, who died on May 21, about how he was arrested and what people have seen at the funeral.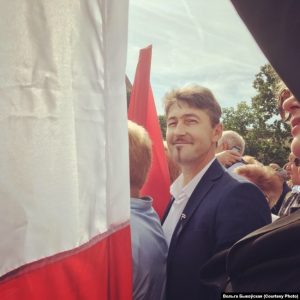 Witold Ashurak was first detained on August 9, 2020, after a peaceful protest in Lida. After being released from prison for participating in protests, he continued to march. On September 19, 2020, he was detained again under criminal article 342. On January 18, 2021, Witold Ashurak was sentenced to five years in prison. He was serving his sentence in the Shklov colony, from where the news of his death came on May 21.
"His relatives were given his body for burial only four days later, on May 25. At the farewell to the activist, which was held on May 26 in Witold Ashurak hometown – Byarozauka (Lida district) – people got shocked. The activist's head was bandaged so that only his mouth was visible, and his hands were swollen. The investigators said that the body was dropped in the morgue – but then there would be no abrasions on the face. So, there are reasons to believe that his death was violent, not from cardiac arrest, as they say in official documents. In addition, the relatives of the deceased began to put pressure on them, forcing them to refuse an independent examination of the body," the letter says.
Olga Karach said that Witold Ashurak held actions in memory of Kastus Kalinowski in his native Lida district and supported the memory of the famous Belarusian. On October 30, 2016, an activist was fined for laying flowers at a memorial to the rebels. On October 30, 2017, a monument to the heroes of the uprising 1863-1864 years appeared between the villages of Maloe Olzhevo and Mokhovichi in the Lida district. On September 25, 2019, Witold Ashurak participated in a picket dedicated to the burial of the remains of Kastus Kalinowski near the House of Trade Unions in Grodno. On November 23, 2019, Witold Ashurak and his colleagues put the soil from the grave of the rebels in Lida to the Kalinowski grave.
"The death of Witold Ashurak was a blow to many people, and they saw him off on his last journey as a hero. Before passing away, he, as well as Kastus Kalinovsky, was disfigured. In Byarozauka, where the activist lived, a funeral ceremony was held, which was attended by hundreds of people with white-red-white flowers and flags. Witold Ashurak was buried under the historical Belarusian banner, as he asked", Olga Karach wrote in the letter. She clarified that Witold Ashurak is worthy of naming a street in his honour, but it will not be possible to do this in Belarus under Alexander Lukashenko.
Olga Karach noted that Lithuania could support the Belarusian people with the street in honour of Witold Ashurak. In this way, Lithuania will show that all killed and tortured by Lukashenka are heroes. She expressed hope that after the victory of the Belarusian people, streets named after Witold Ashurak will appear in all cities of our country.
"The appearance of a street named after Witold Ashurak in Vilnius will become a symbol of the fact that sooner or later justice and democracy will prevail, crimes will be investigated, and the perpetrators will be punished. Witold Ashurak Street in Vilnius will give Belarusians hope that Belarus will become an independent country – such as Kastus Kalinowski and Witold Ashurak saw it," the letter concludes.