The flow of refugees from Iraq to Lithuania continues and becomes more and more organized. Now there is no doubt in anyone's mind: migrants appear in Europe from the Belarusian side deliberately, by the efforts of an illegitimate state. In this article, we told how and why illegal immigrants get to Poland and Lithuania, and described some cases of illegal border crossing. And even after the revelation, Lukashenko's dirty migrant game continued.
On June 6, 2021, Minister of the Interior of Lithuania Agnė Bilotaitė announced that the situation with migrants in the country is worsening: "We live next to an unpredictable terrorist regime. After Lukashenko's threats of an unprecedented flow of migrants, we are seeing an increase in illegal migrants. There are flights from Istanbul and Baghdad to Minsk four times a week, from where migrants head towards Lithuania. Every week at least six hundred people fly from these destinations. The cost of illegally transporting a person across the border is up to EUR 15,000, a family EUR 30,000. There are similar schemes not only in Lithuania, but also in Poland".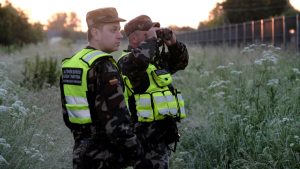 As of June 14, 2021, at least 387 refugees from the Middle East crossed the border of Belarus and Lithuania. On the same day, there was talk in the Sejm about the possibility of introducing a state of emergency in the country. Rustamas Liubajevas, head of the Lithuanian State Border Guard Service, added that Belarusian authorities may be involved in the illegal flow of migrants: "There is reason to believe that representatives of other agencies may be involved or at least not taking any action to detain such groups at the border so that illegal migration can be stopped".
On June 15, 2021, Lithuanian Foreign Minister Gabrielius Landsbergis said that Belarus uses illegal migrants from Iraq and Syria as a weapon against Lithuania: "They tested the means, tested the methods, and now they are using them as weapons. Alexander Lukashenko's regime lures migrants with package deals from the state travel agency. These include flights from Baghdad or Istanbul, as well as trips to the Lithuanian border. The reason? Pretty easy to guess. We are outspoken, we have the backs of the main opposition leaders."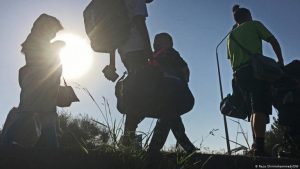 On June 15, 2021, after a three-day break, illegal migrants were detained on the border of Lithuania and Belarus. Four undocumented foreigners from Iraq asked for political asylum. They were escorted to isolation at the border outpost. The border with Belarus continued to be heavily guarded, with the Public Security Service and riflemen being deployed.
Six more illegal migrants were detained the next day, June 16, in the Ignalina region. One of those caught turned out to be a minor; only two of the detainees had documents. The search was carried out with the participation of service dogs.
On June 17, eight refugees from Iraq were detained – they crossed the border of Belarus and Lithuania in the Ignalina region. On June 18, it became known that the number of illegal migrants from Belarus in Lithuania exceeded 400 people, which is five times more than in the entire 2020. Head of the State Border Guard Service Rustam Lyubaev suggested that about 1500 more migrants can wait for transfer to Europe in Minsk. Migration expert Audra Sipavicienė noted that with Russia's support the influx of refugees to Lithuania would become even greater: "It is unclear how far Lukashenko is willing to go. If Russia still somehow supports them, then the influx will really be very large, because there are a lot of illegal migrants in Russia and Belarus. If earlier Belarus made sure that they did not cross the border, now it does not. The best warning for illegal immigrants is deportation. Then they will know that this country is no good, and they will choose another if they come here themselves, not at someone else's suggestion".
But you cannot just deport people from Lithuania – most of them don't have documents when they arrive in the country. Therefore, first, Lithuanian specialists find out the identity of the migrants, determine whether they need political asylum. As of June 19, 40 migrants applied for asylum, but all applications were rejected.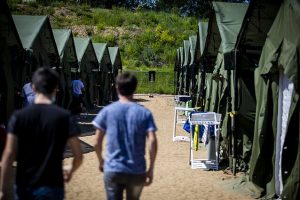 By June 18, the refugee camp in Pabradė began to fill with refugees. 73 illegal migrants were settled there. 27 of them were in isolation. Most migrants are single men from Iraq. In total, it can accommodate up to 290 foreigners. On the territory of the camp there is a shower, toilet, premises for eating.
On June 20, a group of 12 migrants was detained at the border of Lithuania and Belarus. They had no documents with them. They also crossed the Lithuanian border in the Ignalina region and applied for political asylum. In total, over the weekend of June 19 and 20 and the morning of June 21, 32 refugees were detained at the Belarusian-Lithuanian border. The number of migrants from the Middle East (Iran, Iraq, Syria) who entered Lithuania from Belarus increased to 450. Immigrants from Asia arrive in small groups of 10-15 people, most of them have no documents.
The situation became so tense that Lithuanian Foreign Minister Gabrielius Landsbergis asked Iraqi Foreign Minister Fouad Hussein for help. He discussed the possibility of delegating an Iraqi representative to the country to identify asylum-seekers, deal with their documents and then return them to their homeland. He also asked for a work permit for the Lithuanian representative at the Baghdad airport, so that Lithuania could control the Iraqi citizens flying to Minsk. Gabrielius Landsbergis considered visiting Baghdad with a delegation of migration specialists, border guards and representatives of other agencies. The Minister noted that the Lukashenko regime is deceiving immigrants from the Middle East: "They take advantage of the vulnerability of people from Iraq, Syria and Afghanistan, deceive them, forcing them to sell property, houses, because the price to get to the Lithuanian border costs them all their lives: they leave their families, children, abandon everything what they had to come here. We have no opportunity to offer them any better life, they live in tents until we find a way to bring them back. It is unacceptable. We want to find a way so that these people are not deceived, that they are not given false promises."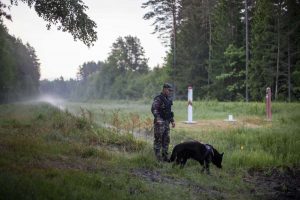 The invasion of migrants continued after a conversation between the two foreign ministers. On June 22, 58 migrants were caught in the Ignalina and Švenčionys Districts Municipality of Lithuania. 12 of them were apprehended near the village of Vosiūnai in the Ignalina district with documents proving Iraqi nationality. Another 42 refugees showed up near the village of Strilungiai, Ignalina region, they introduced themselves as citizens of Iraq, but they did not have any documents. Four illegal immigrants were detained in the Švenčionys District – they were citizens of Sri Lanka and also ended up in Lithuania without documents. Nine more people were detained on June 23 in Zarasai District. Five of them introduced themselves as citizens of Iraq, four turned out to be Chechens.
Since migrants are isolated, many of them are unhappy with this situation. They are not satisfied that the road to Western Europe is closed, the conditions in the camp do not meet expectations. On the evening of 23 June, several dozen refugees from Iraq rioted at the Foreigners' Registration Centre in Pabradė as they tried to break through to the exit and did not listen to orders from border guards. They had to use tear gas and fire rubber bullets into the air to calm them down. After that, the migrants calmed down. But those living in Pabradė admit there is danger from the camp – and fear lest Iraqi citizens topple the fence and run into town during a riot.
Responsibility for what happened lies entirely with Lukashenka's regime, which organized the illegal entry of hundreds of citizens of Eastern countries into Europe, said Lithuanian Foreign Minister Agnė Bilotaitė: "We have created the conditions that are required, this is not a 5-star hotel or a spa. There are laws in Lithuania, there are procedures that we must follow. There are certain subcultures, hierarchies, differences in cultural mentality. We need to find translators as soon as possible."
The EU leaders also drew attention to the growth of illegal migration flows from Belarus. This was discussed at the June 25 meeting of the Council of Europe. The Council of Europe stated that it "condemns and rejects any attempts by third countries to use migrants for political purposes." Council of Europe representatives noted that developments along "certain routes" require constant vigilance and urgent action.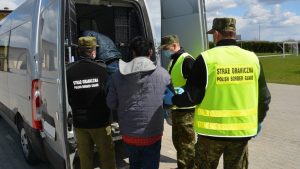 The invasion of illegal migrants is also taking place in Poland. Some of the refugees who arrived in Lithuania from Belarus flee to Poland. On June 14, a minibus with Polish numbers was detained in Augustow. In addition to the driver, there were seven Iranian citizens inside. They had documents with them about their temporary stay at the Foreigners' Registration Centre in Lithuania. The refugees were handed over to the Lithuanian side, and the bus driver was detained.
The same story happened in the Podlaskie voivodeship. Here, border guards stopped a 36-year-old Syrian citizen with three children. The family illegally moved to Poland from Lithuania, where they were in the centre of residence for foreigners. The driver who helped them to get from Lithuania was also detained, and the woman and children were handed over to the Lithuanian border services.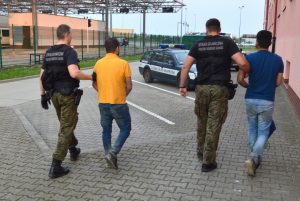 On June 15, in the municipality of Sejny, Podlaskie voivodeship, a car was detained in which two Ukrainians and five citizens of Iran were traveling, including one minor. The Iranians had documents allowing them to stay in the center for foreigners in Lithuania. They were handed over to the Lithuanian side, and the Ukrainians were charged with organizing illegal border crossings.
On June 18, the Podlaski border guard detachment detained two groups of illegal immigrants who crossed the Belarusian-Polish border. The patrol found traces of the crossing near the town of Ozerany. A few kilometres from the border, 11 Afghan citizens were detained, including minor children. Another 11 Afghans were detained in the city of Sokolka. Both groups are placed in centres for foreigners in Kertzyn and Bialystok.
We have already talked about Iraqi and other nationalities coming to Belarus on huge planes carrying 200, 300 or even 500 people. One of these flights arrived on June 16. At Minsk National Airport, witnesses saw tourists from Iraq being welcomed in an orderly fashion at desks bearing the logos of Oscartur and JoodLand. Oscartur has profiles on Facebook and Instagram – it says that the company organizes tours to Belarus for Iraqi citizens. The Facebook page contains the Belarusian number and mailbox of the mail.ru domain. The JoodLand page was found on Facebook – it is noteworthy that the description contains a link to a non-existent site. Travelers are offered holidays in the UAE, Jordan, the Maldives, and at the end of May the company organized tours to the Euro 2020 matches in St. Petersburg with accommodation in the 4-star Original Sokos Hotel Olympia Garden (cost from 64 euros per night). Tours can only be booked by phone.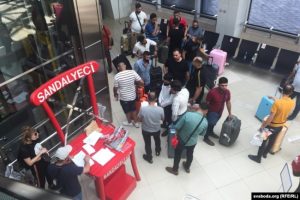 Tourists arriving in Belarus are exclusively men between the ages of 30 and 50, well-dressed, with large suitcases. Each of them was given a bottle of water and a jar of honey in a shiny wrapper right at the airport. On the second floor of the airport, Iraqi citizens were advised to exchange currency, and then they were taken by buses to Minsk in an organized manner. Minsk residents saw about a hundred of them in the Renaissance Hotel, and they did not enter through the main entrance, but through the service one. By the way, one night at the Renaissance Hotel costs from $ 100 to $ 206.
Even the Lithuanian Migration Department is unable to obtain information about who exactly is helping Iraqi citizens to move from Belarus to Lithuania. Its head View more images Evelina Gudzinskaitė says that migrants share this very abstractly: "Usually they do not give out their guides, but they say that someone else helped them. They say they do not know anything, they just met the guide and paid him money. Two versions of the story emerge. One of them is that somehow one got to an airport, for example in Turkey, got on a plane and flew to Minsk. And another story is that they rode on the bus for days and saw nothing. The end of the story is roughly as follows: in Minsk they are met by some dark car in which they are transferred. This car delivers them to the border, and then someone points with a finger that Europe is over there, go there."
Lawyer Alena Chekhovich, a representative of Human Constanta, suggests that word of mouth plays an important role in getting Iraqi citizens into Belarus: "Information about possible border crossings may be associated with the opening of flights. Passenger traffic has increased in general, and there are more migrants among those who come to Belarus from Iraq. There used to be more reports of migrants being apprehended by Belarusian border guards. Now there are fewer of them, and people are being detained by Lithuanian border guards. I believe that the Belarusian border guards used to be more responsible in their work".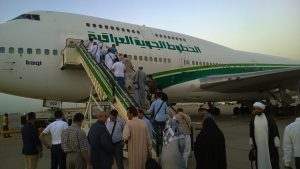 So why migrants don't stay in Belarus? The refugees themselves have a difficult time in our country. They, according to Alena Chekhovich, after being detained, are taken to a temporary detention centre, where they can stay for months until they are deported or until they receive asylum. However, Belarus does not give it too almost anyone. Almost no one has access to foreigners, they sit in the cells of the temporary detention facility, forgotten by the whole world. Embassies of countries of refugee citizenship can be unresponsive for months, and even identification can be difficult. The staff at the temporary detention facility do not even report them to the Office of Refugees. Belarusians learn about foreigners who are in the same cell with them – for example, those detained in a politically motivated case. After the information has been given to outsiders, human rights activists contact the Refugee Agency and invite the foreigner to have a lawyer present. But it is impossible to assess the scale of the problem and the number of illegal migrants in Belarus.
ICCI "Our House" continues to monitor the situation with illegal migrants from Belarus in Lithuania. We will clarify that not only Belarusians have become the dictator's toys, but also Iraqi, Afghan, Iranian, Chechen men, women and children who are subjected to deception and manipulation, sweet promises, buy expensive tickets to a better life, and find themselves under the threat of deportation to their homeland. For disposing of the lives of citizens of foreign countries, Lukashenko deserves severe punishment in the International Court of Justice.