After the start of the war in Ukraine, some Belarusians faced a worsening attitude towards them abroad. Whereas previously, our compatriots were sympathised with as victims of repression, now they are accused of aggression from the territory of Belarus, asked to leave and refused jobs, housing or services. Such stories are sent to "Our House" as well.
For example, visa centres and consulates of Belarus imposed restrictions on issuing visas. Since March 5, the Belarusian government decided to stop issuing visas to Belarusians and stopped processing applications for permits for long-term and permanent residence of Belarusian citizens in the Czech Republic. This decision was taken because of Belarus' involvement in the aggression against Ukraine. Belarusians can obtain only humanitarian visas to that country. Estonia also stopped issuing visas of almost all categories from March 4. Belarusians will not get a visa to Estonia for tourism purposes, visits to friends, participation in sports and cultural events. It is only possible for visiting relatives and business reasons.
It is known that Belarusian athletes have been banned from taking part in the Krakow Marathon, which will take place in April 2022. It also applies to those athletes who have been living in Poland for several years and have a residence permit. As well as those Belarusians who have found themselves in Poland after the repression of Lukashenko's regime. The same ban has been imposed on participants from Russia. It is known that the Polish Triathlon Union also intends not to register Belarusian and Russian participants in professional and amateur races in Poland. The organizers claim that they decided it at the request of international sports organizations.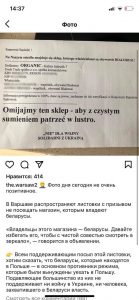 The Belarusians, who own a shop in Warsaw, have also faced discrimination. Flyers were distributed around the city, asking people not to visit the shop, "to look in the mirror with a clear conscience". The brochure stated that this was being done out of solidarity with Ukraine. Many Ukrainians did not appreciate such an "impulse" in the comments. "Belarusians who live in Poland are refugees from the Lukashenka regime. I and all my Ukrainian friends do not support discrimination against the Belarusians. This is wrong," wrote one of the users.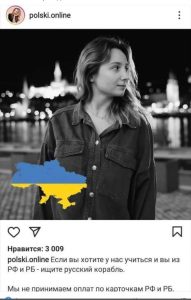 Ivanna Mnykh, a Polish-language teacher, also released a post on Instagram, where she wrote that people from Belarus and Russia could not study in her school. However, Ivanna soon wrote that the statement offended many Belarusians who support Ukraine. Therefore, her school will not accept only those who are in Belarus. Ivanna also thanked the Belarusians who support Ukrainians.
Another Belarusian complained about insults from the real estate agency "Nella Witak". The head of the firm advised her to leave Poland back to Minsk, saying it was better there. Notably, the agency's website says: "Thanks to our help, many clients have avoided traps they didn't know they had and have often saved their lives". But the firm refused to save the lives of anti-Lukashenko Belarusians.
A Belarusian woman turning to "Our House" told the story of her friend, who had left Minsk for Kyiv to visit her relative even before the hostilities started. When the city began to be bombed, she decided to leave Ukraine. The border with Belarus was closed, so she went to the European Union border. She only managed to enter its territory through the border crossing to Hungary. She was issued a "temporary visa" for 30 days and was not allowed into the refugee centre, because they only deal with Ukrainians. After several days on the road, the Belarusian managed to get to Slovakia, where she had a plane ticket to Vilnius. But she was not allowed on the plane because of her Belarusian passport. The woman has to go to Lithuania with a volunteer who brings humanitarian aid to Ukraine.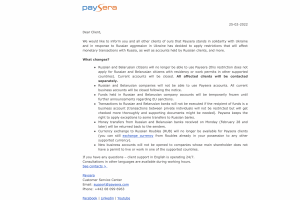 The Belarusians in Lithuania are also suffering from discrimination. They have already noticed a deterioration in the attitude of local people because they speak Russian. Organizations are closing their doors to Belarusians and Russians. For example, Paysera Bank has refused to work with those Belarusians who do not have a residence permit for the European Union or a work visa, even if they have a humanitarian visa for a year. The accounts of such people will be closed unless they provide documents. The same ban has been imposed on Russian citizens. Firms from Belarus and Russia will no longer be able to use Paysera accounts. Due to the events in Ukraine, it has also become impossible to transfer money to Belarusian and Russian cards.
On March 4, the Lithuanian Council of Culture announced that it would not finance cultural projects related to Belarus and Russia, even if they had already been financed, and called the organizers of the projects to change their activities or participants. Belarusian and Russian cultural figures will not take part in projects in Lithuania. In response, Olga Karach sent letters to the Council of Culture. She said that many cultural figures who found themselves in Lithuania had fled the repression of Lukashenko's regime, supported Ukraine, considered Putin an aggressor and a murderer, and did not deserve discrimination.
We are glad that our calls to stop discrimination against Belarusians are heard in Europe. Lithuanian Prime Minister, Ingrida Šimonytė, twice urged fellow citizens not to blame Russian-speaking residents for Russia starting a war in Ukraine. "Many representatives of the Russian and Belarusian opposition, civil society, representatives of independent media have already found their place in this country before. These people live here, work here, try to do their job, and very often speak Russian. Almost all those who have recently visited Lukashenka and other dictators are Lithuanian citizens with Lithuanian surnames", noted the Prime Minister.
Mayor of Vilnius, Remigijus Šimašius, said that the city authorities are preparing to receive refugees from Ukraine, Russia and Belarus. And if people are fleeing from Ukraine because of rockets and bombs, from Belarus and Russia – because of dictatorial regimes, numerous repressions and criminal cases. Remigijus Šimasius pointed out that everyone would have to be welcomed, but first and foremost, those fleeing from war would need help.
Lithuanian Interior Minister Agnė Bilotaitė and Klaipėda Mayor Vytautas Grubliauskas met Russian-speaking students at the Lithuanian Maritime Academy. The minister and the mayor learned from the students about the situation of the Russian-speaking population in Klaipeda, the peculiarities of studying in Russian, employment and paid internships, and processes of integration into Lithuanian society. State representatives offered help to Russian-speaking students from NGOs and the municipality of Klaipėda. They said they were always ready to help Russian-speaking students at the Lithuanian Maritime Academy.
German Foreign Minister Annalena Baerbock also called for an end to the attacks on Russians and Belarusians living in Germany because of the war in Ukraine. "The war in Ukraine is Putin's war. Those who are hostile to Belarusians or Russians in Germany attack the basic principles of our coexistence. We stick together. We are stronger than hate," she says on Twitter.
We thank all European politicians, who express their support for the Belarusians and are still willing to host the victims of Lukashenko's regime in Europe. We wish that thanks to our activity and our assistance to Ukraine, the Belarusians in the European Union would cease to be considered as enemies and accomplices of the dictatorial regimes of Putin and Lukashenka.