More than one generation of Belarusian teenagers is scared of being sent to a closed-type school. Children who have committed a minor offence can get into a restricted institution – a specific vocational school of a closed type. There are four facilities in Belarus: two in Mogilev, one in Krivichi and one – for girls – in Petrikov. It is almost the same colony, but for those who are between 14 and 18 years old. Boys and girls face daily routines, infrequent meetings with parents, work in factories and the same uniform for everyone – this is how boys and girls live. Today we will tell you about how the rights of teenagers are violated in such facilities.
Special schools and vocational schoolhouses appeared in the USSR in 1964. Children from 11 to 14 years old who were caught for violating the public order or crimes were sent to schools after the decision made by the commissions on juvenile affairs. Their parents were charged a fee for the maintenance of a child in such a place. Children studied and worked here, and when they turned 14, the government sent them to special vocational schoolhouses. They could stay here for no more than three years.
In Belarus, the law "On the basics of the system of prevention of neglect and juvenile delinquency" appeared in 2003. According to it, minors who need particular conditions of upbringing, aged from 11 to 18 years, get into specific educational institutions. These facilities are for children who:
– have committed a criminal offence and have not reached the age of responsibility;
– who have been brought to administrative responsibility three or more times in a year;
– who have committed a misdemeanour with signs of an offence (drinking alcoholic beverages in a public place, minor hooliganism).
They are sent to a specific school by a court decision.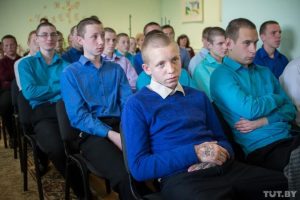 In 2019, 71 pupils studied in a closed-type school in Krivichi, Myadel district. The children who come here are from 12 to 18 years old, the duration of their stay here is up to two years or up to the age of majority. Boys caught in hooliganism and using drugs study at vocational schools.
Children get a profession of a mechanic, a plasterer-painter, a vegetable grower or a tiler. There is a car repair space – a gift from the Polish Embassy in Belarus and the youth religious mission "Pure Heart". You can spend your free time on the sports ground, play intellectual games, develop talents.
However, not everything is so smooth. In 2014, eight minors escaped from the Krivichi Special technical School. One of them was only 15 years old. Later it turned out that they had reached Russia. Seven were detained in the Smolensk region, one more – in Lyubertsy. They were handed over to the school administration, but it is unknown what caused the escape.
In the same year, just two months later, another escape from the specific technical school had happened. Three teenagers of 16, 17 and 18 years old stole a resident's car and went to a friend in the Osipovichi district on it. For almost three weeks, the children were free.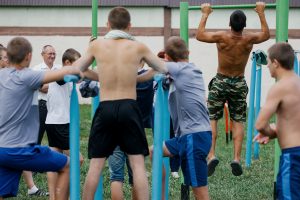 In 2017, six teenagers of 15, 16 and 17 years old escaped from the facility. Three of the six boys were found in the Dokshitsy district. The rest of the guys were on the territory of the capital's market in Zhdanovichi. There, the guys periodically earned extra money dumping vegetables and fruits. They spent their nights on the technical floors of high-rise buildings, and shortly, they considered leaving for Russia. The teenagers were also returned to the school. The motive for the escape is also unknown.
After the incidents, a special commission visited the school. However, nothing was reported about the results of the visit either. But teenagers could be driven by a desire for freedom: they do not have the right to go outside the territory and can go home only if they have good academic performance and exemplary behaviour for only two weeks. A mandatory condition is that one of the parents must take the children – but teenagers living in the school are from families with alcoholic problems. Mothers and fathers are not interested in their fate. It means that the children are forced to live in the institution permanently.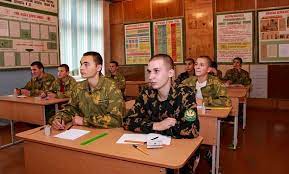 The infamous specific technical school in Mogilev accepts underage thieves, teenagers detained for drinking alcoholic beverages, minor hooligans and fugitives from home. More than 60 children live and study here according to the schedule. At 8.00 – rise, then breakfast, classes in the educational and production building. Children are offered to get the specialities of a plasterer, a bricklayer, a woodworker and a tile-tiler. Dmitry Larionov, Deputy Director for Educational and Production Work, is proud: difficult teenagers can earn money by making furniture for kindergartens and schools. The school administration is silent about how legitimate it is to use the work of children who have not reached the age of 18 and have the right to work a limited number of hours a day.
Children who have not graduated from school, after mastering the speciality, should go to regular lessons. After that, you can visit the gym, classes in interest groups. Pupils go to football and hockey matches, kayak, go hiking. The school has a system of encouragement and punishment. You can get a reward for success in your studies, work, creativity, and helping a teacher.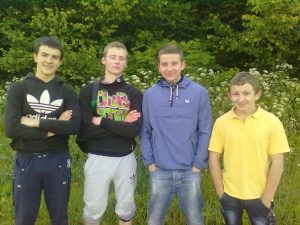 But terrible things are happening here too. In 2014, 41 pupils escaped from here, in 2015 – a little less than a dozen. The administration tried to hide one of the escapes in 2014. The mother of the runaway said: after the escape, her son called her and said that he was with relatives, asked to pick them up with a friend, added that he wanted to wash and spend the night at home. The woman agreed, but on the way home, police stopped her car with the children. They took the guys to the school. And in the morning, the boy's grandmother went to her grandson – and found him with hypothermia. The child was sent to a psychiatric hospital. Only in the hospital, the boy said that he was afraid to return to the specific school: the prison culture flourished in the institution, and older pupils terrorized the younger ones. Even the director could not influence them.
On November 26, 2017, six children escaped from the closed-type school. After returning to the school, they were taken to a room for meetings with their parents. And after that, one of the guys went to the hospital with a broken spine. Five more escaped with bruises and bruises. It turned out that the staff hit the guys. The administration did not immediately inform the parents of the victims about this – Andrey's mother, who was in the hospital with a fracture, learned about her son's injury only when she needed consent for a tomography.
– The first thing I asked was: "Andrey, what have you done?" He replied: "Escape". I asked why. And he replies: "Mom, it was unbearable to live there. We were constantly beaten. We were banned from everything: calls, letters, broadcasts." I asked why he didn't tell me about it earlier, although he wrote in his letters: "I will endure, I will endure." The son said that they had read the letters — and would not have sent them if they had written about such a thing. On the phone, he also could not say anything because an employee was constantly nearby, he controlled, " the mother of the injured teenager recalled.
Andrey said that at first, he was hit once, he fell. Then he was kicked on the back by two employees. Pupils were taken to breakfast separately from everyone later than the prescribed time so that the rest of the pupils would not see them. Two days later, Andrey could no longer walk, but they told him that he was a malingerer, and the other five children were threatened that it would be even worse for them.
The administration of the specific technical school was detained after this story, but on August 30, 2018, three 17-year-old students of the school escaped from the camp at the Mogilev diocese. A few days later, on September 9, they were detained in Moscow and returned to the institution. No independent commissions visited the facility – it belongs to the Ministry of Education, not to the Department of Corrections, and therefore there can be no public control there.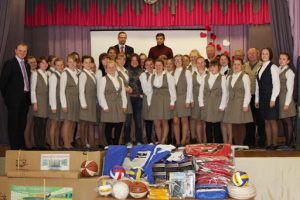 About 30-40 pupils are in a closed-type school for girls in Petrikov. Girls who are detained for vagrancy, drinking alcohol, prostitution, theft, hooliganism are brought here. Girls enter at the age of 12-13, graduate at 18. Most of them were brought up in single-parent families. There are social and biological orphans, children who are faced with a misunderstanding of their parents also get here. Teenagers study at school, and between classes, they get the profession of a seamstress. There are also clubs and sports sections here. Creative and sports competitions are held at the school – there is a chance to prove yourself in any field.
However, the rights of the pupil are limited. The school has a four-stage point system: pupils are awarded points for behaviour and completing tasks. If there are enough points that will last for four months, the girl will be released to the city accompanied by her parents or an employee of the school. For good behaviour, she has the right to go home for the holidays if the situation at home is reliable.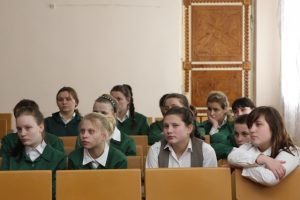 Students of the specific vocational school are minors, which means that they have the right to work only a limited number of hours a day. On the school's website, there is a catalogue of products that pupils can sew. But there is no information about how much girls earn and how many hours a day they spend at work.
Pupils of special vocational schools face approximately the same set of infringement of rights. Children can receive boxes from home and meet with their parents. However, all things and parcels are searched by educators, letters are read, and an employee is present when talking on the phone. Internet access is also limited – boys and girls cannot report violations and abuse of official positions by the school administration. In addition, children are taught to think that they are in prison, forcing them to live according to the schedule, dress in the same work uniform, work for a penny (or even for free), get a working speciality and walk under a teacher's control. All this is explained: children are punished, which means that they need to be deprived of all the benefits that they can attract to motivate them to correct.
Comparing foreign and Belarusian systems of re-education of teenagers, we can easily see that a person is valuable abroad, and the system wants to re-educate him. In Belarus, prison breaks both an adult and a child. And it begins even in such "harmless" institutions as special technical schools. Children who get there face prison order, torture, hard work, which does not contribute to their re-education in any way. Many are returning to the crooked path – only not to the specific school, but the colony, becoming a free labour force for the illegitimate regime.