Prisoners in Belarusian places of detention pass away often, as there is evidence in interviews of released people. And even though prison administrations hide these tragedies, some data breaks out. In the winter of this year, Belarus learned about the death of 25-year-old Andrei Dubik, a prisoner of the Novopolotsk colony No. 1. Another convict under article 328, Alexey Zhuk, died there just a month later. Deaths of those serving sentences under this article also occur in other colonies. Our material is dedicated to prisoners who have received Article 328 of the Criminal Code but will never be released.
In early December 2014, Lukashenka announced the need to toughen the punishment for drug distribution and turn the life of the guilty in the colony into hell: "You must create unbearable conditions for them in places of detention. Let's squeeze out one of the colonies for this. If we do not have enough such people for one colony, let's give one unit, barracks or something else in a colony of the strictest regime, we will establish such a regime for them so that they, sitting in this colony, I will say frankly, ask for death."
And the order was carried out. In July 2015, a 38-year-old prisoner from Brest died in a colony in Ivatsevichi. He got sentenced to 9.5 years under Article 328. According to representatives of the Investigative Committee, the corpse had no signs of violent death. The man had asthma and cardiovascular disease.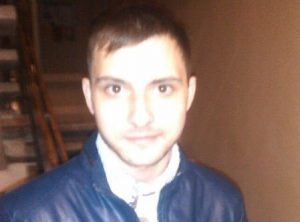 In January 2016, 20-year-old Yegor Protasenya, convicted under part 3 of Article 328 of the Criminal Code for 14 years, hanged himself in prison in Zhodino. They managed to save him, and he was taken to the hospital. Yegor wanted to commit suicide in protest against torture in prison. The security forces put a gas mask on him and closed the hole so that he had nothing to breathe, threw darts at his back, held a syringe with an unknown liquid at his vein and threatened to prick him. The young man was in grave condition in the hospital. Before that, in a letter to Larisa Zhigar, an activist of the "Mothers-328" movement, Yegor wrote: "I couldn't stand the psychological pressure because I often involuntarily remember all the torture. I can't prove that I was tortured because the Department of Security ignored my statement for about five months. In the statement, I indicated that I agreed to give evidence on a "polygraph". I have no choice but to prove the truth of my words by suicide. After that, the drug control department that tortured me will be punished, because any psychologist will confirm that no person will commit suicide just like that." Even though Yegor came out of a coma and went on the mend, on March 29, 2016, he died in the Soligorsk district hospital.
In June 2016, Sergey Ishchuk, convicted under article 328, died in PC-13. Before that, for more than seven months, the prisoner suffered from a high fever and got only an analgesic. After that, Sergey started having heart problems. Sergey's wife asked the facility's head to send her husband to the hospital – however, he said they could do nothing but deal with the symptoms. The prison doctor openly admitted: he does not know how much longer the prisoner's heart will withstand. Sergey was cured in prison hospitals in Zhodino and Orsha, where he spent a month and a half. However, this did not help either. After treatment, he had a fever, and the skin of his face was yellow, his legs and face were swollen, but they sent him back to the colony. In PC-13, Sergey Ishchuk spent time in a medical unit, and relatives got a list of treatments for him. For almost a month, Sergey did not receive the necessary medications. In June 2018, drugs returned to relatives at all. And after a while, it became known that Sergey Ishchuk died.
At the beginning of 2017, it became known that a prisoner convicted under article 328 jumped out of the window in PC-13. He got sentenced to 2.5 years in prison. The man suffered from haemorrhoids and had severe pain. Because of them, the prisoner could not work, asked for medical help, begged to have an operation. But no one began to fulfil his demands. As a result, the man committed suicide.
In March 2019, prisoner Maxim Rudko, sentenced to eight years in prison under part 3 of Article 328, committed suicide in PC-22. Maxim stayed in the colony for only six months. When he entered there, he was immediately registered as suicidal. Maxim did not communicate with other convicts, did not violate the regime. He expected to be released before the end of the term and start a new life. The new head of the detachment constantly found fault with the prisoner, imposed penalties, thereby putting an end to parole. Maxim's body was found in the technical room when all the other convicts left for breakfast. In the fall of 2018, a riot took place in the colony against violations of prisoners' rights – and dozens of prisoners got into other institutions in more severe detention conditions. Maxim Rudko may have become a new victim of the regime in the colony.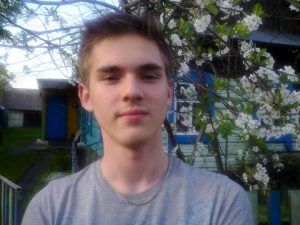 In the winter of this year, two convicts under Article 328 of the Criminal Code died in PC-1. Convicted in the "case of 37", Andrey Dubik committed suicide in January in a punishment cell. A 25-year-old young man got detained in July 2017 for 0.044 grams of marijuana. There was no evidence of the guy's involvement in the "case of 37", but he got 11.5 years in prison. Andrey did not admit his guilt and filed an appeal against the decision of the Minsk City Court. The young man spent only six months in the colony – during this time, he was not allowed to see his family, letters did not come from him for weeks. Andrey Dubik talked about pressure from the administration, demands to admit guilt and complained that he felt poor mentally.
We know very little about the second prisoner, who died in February 2021. His name was Alexey Zhuk, he was born in 1994 and was serving a sentence under article 328. Alexey died of cardiac arrest, but many had doubts about where the young and healthy guy had heart problems and why the facility administration didn't provide him medical care immediately. By the way, there was no official information about the death of the convict.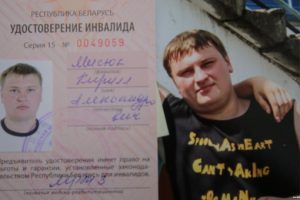 A significant number of prisoners-328 survive torture in colonies, end up in punishment cells, lose meetings with relatives. Kirill Misyuk, sentenced to 10 years in prison in 2014, was tried for 112 grams of marijuana, which he brought from vacation in Sudak, and was accused of selling it to unknown people. At the end of August 2016, during a long-term date with his mother, he became ill. He got into the medical unit, but his condition only worsened there. Then he was taken to the hospital in Ivatsevichi. Kirill was in a coma for almost a month, after coming out of which his lower body became paralyzed. He was sent to the Republican Hospital for Convicts. After the coma, Kirill had to learn to write again. The medical commission diagnosed him with "meningomyelitis of unspecified genesis" and clarified that there were no obstacles to serving his sentence. In a letter to his mother, Kirill wrote that he had little chance of not returning to the colony – after all, only terminally ill people are allowed to go home, those who have very little time left to live. And it happened: at the end of 2017, after a course of procedures and rehabilitation, Kirill went to the colony.
In March 2017, Vladimir Gavrilov, convicted under article 328 of the Criminal Code for five years, arrived at PC-3. He was diagnosed with bullous emphysema of both lungs and underwent surgery. And in 2016, a new education appeared in the lungs. Vladimir was banned from physical activity, hypothermia, passive smoking, inhaling polluted air. However, the man had to continue his work in the basement, and because of this, his health deteriorated. Vladimir began to suffocate, there were pains in his lungs, part of his chest became numb. In the medical unit, no one paid attention to his symptoms and did not give him medicines. Relatives and human rights activists appealed to the Department of Corrections and demanded an urgent examination of Vladimir Gavrilov to confirm his illness and prescribe the necessary treatment.
The system successfully executes Lukashenka's orders. It cripples the lives of not only adult convicts but also children. Somebody can't get an education or goes through torture and decides to die after it. Someone has to work hard for miserable rubles. Healthy men, women, boys and girls in the colonies become disabled. Together with a certificate of criminal record, they receive a large number of diseases. ICCI "Our House" will continue to defend the rights of prisoners-328 until they are given an adequate punishment.