The regime continues to bully Belarusians, paying no attention to their age or health. Pavel Kuchynski from Maladzechna was detained on January 26, 2022. At that time, the guy already had Hodgkin's lymphoma, but he was not released even on his recognizance. On June 7, Pavel was tried – for insulting Lukashenka, law enforcers and officials, he got sentenced to 5 years of imprisonment.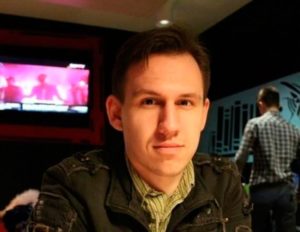 Pavel Kuchynski is 27 years old. He is from a family with many children. He graduated from the Faculty of Radio Engineering and Nanotechnology of the Belarusian State University of Informatics and Radioelectronics, then worked in his native town Molodechno, later moved to Minsk to the company "Integral". For some time, Pavel served in the army on the Ukrainian border. For the last two years, he has lived permanently in Maladzechna and helped look after his disabled brother.
After serving in the army in 2020, Pavel started to have back pain and was constantly worried about his health. He started going for check-ups, but the exact diagnosis was not made right away, only in March 2021. It greatly affected the boy's mood. Pavel did not want to do anything and did not even leave the house. Then he learned to live with lymphoma, started seeing family and friends, and tried not to show how he felt. Paul was undergoing chemotherapy, and his immune system was weakened.
In the autumn of 2021, Pavel was invited for the first time to talk to the police. What the conversation was about is unknown, as Pavel had signed a non-disclosure document. The police took the laptop from a relative with whom he was living. Pavel did not dare to go abroad as he was undergoing medical treatment. After the incident, he tried to stay away from home.
Just two months later, on January 26, 2022, Pavel came to his mother for the first time in a long time and offered to drive her to work and his sister Jana to college. But not in time – there was a knock at the door. Law enforcers showed a search warrant. They looked at the gadgets, searched the flat, and then took Pavel away, saying they were only taking him away for three hours. But he didn't return even seven hours later. Concerned relatives called the police and found out that Pavel had been detained for three days "to clarify". But even after three days, the boy did not come out – he was charged in a criminal case.
According to the indictment, on May 30, 2021, Pavel Kuchynski posted a negative comment against Lukashenka on Telegram chat "Molodechno for Life. Chat". On the same day, in the same channel, he insulted the representative of the authorities, the judge of Maladzechna district Inna Kokhanouskaya. Further, on June 2, Pavel publicly insulted and humiliated the head of Maladzechna District Police Department, Vadzim Prygara, 'causing him moral sufferings and humiliating the authority of the policeman'. In addition, the guy was accused of threatening Prigara and Kokhanouskaya, insulting the assistant Platoon Commander of the Maladzechna District Patrol and Checkpoint Service Platoon, Henadz Filistovich, and the deputy chief of the police department Bedunkevich. In total, the prosecution found more than ten episodes of insults against security officers and officials from July to October 2021.
Since January 2022, Pavel has been in the investigative prison in Zhodzina. His relatives tried to get him to be allowed to continue his treatment. However, the investigator in the case stated that there was no documentation of his illness, mentioning that he had to sit in prison. Pavel's grandfather wrote applications to Lukashenka's administration, the prosecutor's office, attached documents from the guy's medical records but was refused because "the political prisoner could escape".
Meanwhile, Pavel's health continued to become weaker behind bars. In February 2022, the guy contracted a coronavirus. In March, he underwent a CT scan, and the results showed that the tumour had enlarged, there was a new cyst and an inflammation of the lung. In addition, the doctors noted that the boy's chances of remission were diminishing. The investigator did not accept the certificate, saying that it was forged and that Pavel looked good, did not complain about his health, and his relatives were trying to drag out the process. During his detention, Pavel was taken to chemotherapy only once.
The trial was held on June 7. Pavel fully pleaded guilty, but he was sentenced to 5 years in prison. Pavel was also obliged to pay material compensation for moral damage to Vadzim Prygara (1500 rubles) and Hennadiy Filistovich (1000 rubles). The young man wants to appeal, though he realizes it is useless. Most of all, the verdict stunned the grandfather of the political prisoner, who now fears he might not live to see his grandson released.
To keep a man with stage four cancer behind bars without providing him with full medical care is torture and a violation of human rights. Unfortunately, Pavel is not alone – most prisoners in Belarus are not provided with medical care. There are simply no chances to get the necessary examination or medication. Lukashenka is killing people in this way – and it has been going on for almost two years.