The period under review:
The period from 21st September 2022 to 31st December 2022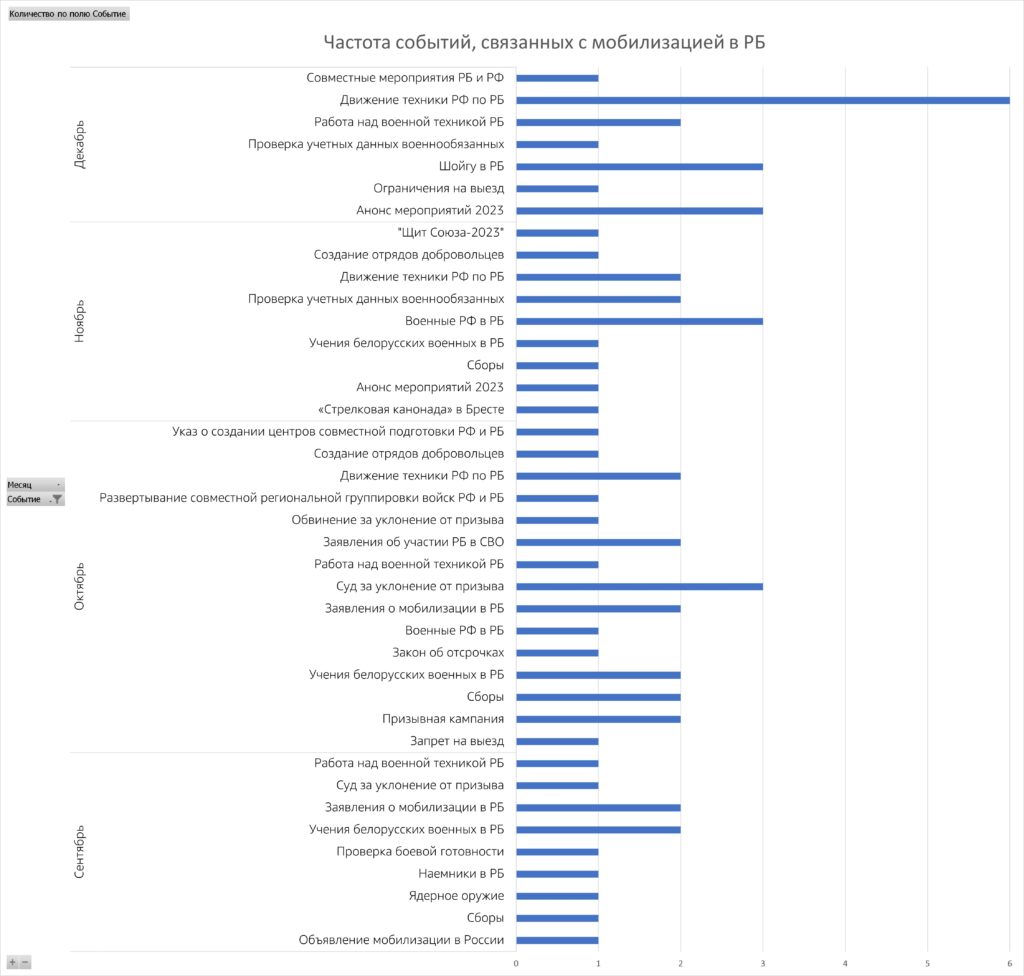 Conclusions
In September Lukashenko made statements that there would be no mobilization in Belarus, but in October he and other representatives of the regime began to declare that Belarus would participate in a 'special operation' and would not allow Ukraine to stab Russia in the back.
Throughout the period under review, both military gatherings and exercises took place in various cities in Belarus, partly due to the planned conscription campaign and partly unrelated to it.
In October, the Belarusian military gatherings were supplemented by joint activities with the Russian militaries, and on October 10, 2022, Lukashenka and Putin agreed to deploy a joint regional grouping of troops.
The movement of the Russian military on the territory of Belarus was observed, as well as Russian equipment on the Belarusian railways. Most of the events associated with the manifestation of Russian intervention, including the visits of Sergei Shoigu, took place in December 2022. However, the activity of Belarusian military training and exercises decreased significantly.
During this period, there were at least five cases in which men were charged under Article 435, Part 1 of the Criminal Code (evasion of regular call-up to active military service). One of them was fined 2,240 BYN (approximately 907 EUR). On September 29, 2022, a 24-year-old man who tried to avoid military service and went to Poland was tried. He was detained on his return to Belarus and sentenced to a two-month arrest.
In October two regulatory legal acts were adopted: the law on deferrals for those liable for military service and Lukashenka's decree. On October 12, the Belarusian parliament adopted in the first reading a draft law which, among other things, clarified the grounds for granting the right to defer conscription. Most importantly, the draft law proposed to reduce the number of persons receiving deferment of conscription. Decree No. 387 approved a draft agreement with the Russian Federation on the establishment and operation of joint combat training centers for the armed forces.
Military events for the year 2023 have been repeatedly announced. One of these should be the Union Shield 2023 exercise, which will be held jointly with the Russian military. This is alarming because the last military exercise in 2022 ended with a strike against Ukraine from the territory of Belarus on February 24, 2022.
Thus, the first two months after the announcement of the mobilization in the Russian Federation are characterized by active military gatherings and exercises of the Belarusian Armed Forces, whereas the last month of the year is marked by more frequent movements of Russian equipment on Belarusian territory, as well as by both the visit of Russian Defense Minister Shoigu and especially Vladimir Putin's first in three years visit to Minsk.
This gives reason to believe that the Kremlin intends to push Lukashenko into full-scale participation in the war against Ukraine.