«Our constitution is not for a woman. And our society is not already ripe to vote for a woman. Because, under our constitution, the president is endowed with a strong power.»
Alexander Lukashenko, 2020
In 2020, the largest protests in history began in Belarus both against the rigged presidential election and the patriarchal dictator Alexander Lukashenko. At the current time these events are very often called the «women's revolution», primarily because of the huge number of women who participated in them, and also thanks to the three women who headed the joint headquarters of the opposition.
Why did women rebel in Belarus?
The system of «state slavery» is practiced in Belarus. A very striking example is related to getting the higher education by the young Belarussians. When a young woman or man (most often from a Belarusian regions and from a low-income family) obtains higher education, then, according to Belarusian legislation, after receiving a state diploma the graduate will have two-year compulsory labor-rent or a person will be forced to pay a fine of 10-25 thousand of euros to compensate for the money allegedly spent on her/him by the state. As a rule, we are talking about a forced, low-paid, low-ranking job in very poor conditions. However, refusal to comply can entail serious consequences such as debt bondage before the Lukashenko's regime and the cancellation of the higher education diploma. To leave voluntarily such an imposed job and quit without both debt bondage and serious economic implications (for instance, an inventory of valuable property and its arrest, etc.), as well as without political sanctions (for example, a ban on leaving the country), is impossible according to Belarusian legislation.
Therefore, in fact, all women in Belarus with a higher education, if they received it «free of charge» (i.e., they did not personally pay for education), are victims of modern state slavery with all the criteria of slaves, including both complete lack of rights and humiliating low-paid forced job
There is also a list of professions prohibited for women in Belarus, from a ban on working as a firefighter to a ban on working as a diver. It is no surprise that all professions prohibited for women in Belarus are, as a rule, highly paid, and all difficult and poorly paid professions are traditionally female ones.
The solution of all social issues, from caring for elderly relatives to raising children, as well as other invisible and free work, the Lukashenko's regime shifted to the shoulders of Belarusian women, thus saving budget money.
Alexander Lukashenko perceives all Belarusian women as both his personal slaves and his personal property, which must be forced to obey and be humbly silent. That is why the women who participated in the protests faced unprecedented terror and violence in all forms from beatings to the kidnapping of children by KGB officers, from psychiatric hospitals to huge unbearable fines of thousands of euros. Women who came under administrative prosecution were imprisoned 17,253 days in 6270 administrative cases. In administrative cases, women paid 641,112.45 euros (of those known to human rights defenders) as fines. Most of the women were brought to administrative responsibility several times.
The number of women were involved in criminal proceedings is 536 persons including forced emplacement as the ethnic minority – 3 women. 347 women have already been convicted in criminal cases and received various prison terms. 1 woman was died as a result of being infected with covid-19 in prison
As of October 13, 2020, the General Prosecutor's Office of Belarus issued official warnings to more than 300 families (women) for the participation of children in protests. As of today, the number of such families is not known, but this figure can be doubled at least. Prosecutors admitted that they held so called «explanatory talks» with more than 400 women and children. Today, absolutely all families with children talk about threats to remove their children for participating in protests.
But feminist human rights defenders arouse particular hatred in the Belarusian regime. These are women who have not given up or backed down, even if they had to flee the country. First of all, it is Our House, a human rights feminist organization, that unites women human rights defenders and which has organized a Hotline for repression victims. In the people, these women are called «owls» for their night work for assisting repressed ones, after all, the KGB comes to arrest persons at night, as it was in the time of USSR. Some human rights defenders were also arrested, but many others managed both to escape from Belarus and continue their work helping the repressed people already from Lithuania. Since then, the regime has opened up a real hunt for women human rights defenders, even abroad.
Belarusian regime propagandists have publicly declared Belarusian women human rights defenders, activists and journalists in exile as «runaway» implying here the meaning of «runaway slave-woman». Propagandist Igor Tur presented on the state TV channel a whole propaganda series entitled The Lies of the Runaways (slave-women), thereafter he dedicated his book with the same title «The Lies of the Runaways» (slave-women) to both Our House and other women human rights defenders, including journalists.
Our House and Olga Karach were recognized 9 times as extremists in every possible form from declaration of human rights monitoring about human rights violations in Belarus as «extremist materials» to the acknowledgement of the Our House human rights center itself as an «extremist formation».
Since September 2021, the KGB has put human rights activist Olga Karach, the head of Our House, on its terror list at number 773, her data is published on the KGB website as data of «an individual connected with terrorist activities». Moreover, the Belarusian KGB equated the human rights work of Olga Karach and her assistance to victims of repressions-2020 (in particular, payment of prison parcels to inmates, support in the payment of lawyers for the repressed ones, help in escaping, etc.) with the activities of an international terrorist from Libya, Osama Al Kuni Ibrahim. This terrorist was included in the KGB terror list under number 774, that is, the next number after Olga Karach. In comparison, Osama Al Kuni Ibrahim was associated with the activities of the Zawiyah network for human trafficking, he also was designated as an international terrorist in the Sanctions List of the UN Security Council Committee established by resolution 1970 (2011).
On October 6, 2022 one of the largest channels of Belarusian propaganda Yellow Plums declared that the director of the Belarusian human rights organization Our House, Olga Karach,  is a «Polish intelligence agent». The reason for the «revealing» publication was that Our House together with the German human rights organization IGFM brought a truck of humanitarian aid to Krakow (Poland) to help Belarusian and Ukrainian refugees in Poland.
But even after that, the KGB didn't quit attempts to attack Belarusian women human rights defenders.
On September 28, 2022, in Lithuania, the Lithuanian State Security Department detained Lithuanian lawyer Mantas Danielis, who helped Our House as a lawyer in the first part of 2022. As it turned out, the Belarusian KGB recruited that Lithuanian citizen to spy on Our House and women human rights defenders there. In other words, Our House and its human rights activities scared the Belarusian KGB and the Belarusian security forces so much that they needed to recruit a Lithuanian citizen to spy on Olga Karach and other women from Our House. Still Mantas Danielis is imprisoned in the Lithuanian prison.
Public death threats from the Belarusian security forces are heard regularly from threats of kidnapping from the territory of Lithuania and forced returning to Belarus in the trunk of the vehicle to direct ones. On October 2, 2022, on the air of STV in the Nedelya program, Deputy Interior Minister Nikolai Karpenkov stated, «Opponents of the Lukashenka regime who are abroad deserve death, because the devil has taken possession of them.» According to Karpenkov, opponents of the Lukashenka regime are surrounded by satanic symbols, and «the devil has settled in them so much that they have become real mad dogs that deserve death.» Our House perceives what STV voiced during the broadcast as a direct threat to itself, since there is a specific reference to Olga Karach. Previously, the host of the program, Lukashenko's propagandist Grigory Azarenok, posted a photo on his social networks with the inscription «devil» on the face of the director of the Belarusian human rights organization Our House Olga Karach, at the same time comparing himself with an angel.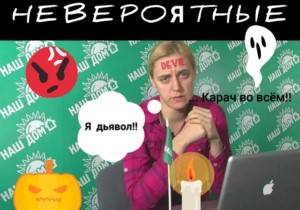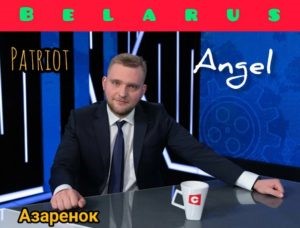 In just one year, 2021, the Belarusian regime's propaganda showed a 147 (!!!) TV programs presenting Our House in a negative way with the purpose to defame it in the eyes of Belarusians. Olga Karach was the second most frequently mentioned person on the regime's television after Aliaksandr Lukashenka, and it is obvious that they were saying exclusively good things about him and exclusively bad things about Olga Karach.
On January 5, 2022, on the birthday of Olga Karach, the political prisoner Dzmitry Dudoit committed suicide in the city of Mogilev. He was imprisoned for an unflattering comment about a police operative under one of her posts on social media, and probably could not bear the torture imposed on him by the enforcers. Can you imagine how that makes Olga Karach feel?
But, nevertheless, Our House not only could withstand difficult circumstances, but actively continues its human rights work. Today, Belarusian «owls» help not only Belarusian political refugees in Lithuania, but also Ukrainian refugees who fled the war. Belarusian and Ukrainian women are jointly fighting with all their strength against war and terror, defending the most important their possessions, namely the right not to be either someone's property or someone's slave, as well as the right to dispose their lives at their own discretion.
Nowadays the feminist agenda, including UN Resolution 1325, is becoming the most important and central one in our region. It is both the key to the cessation of the war and the guarantee that the war in our region will end forever.
Female peacekeepers haven't been stopped by death threats, spying on them, violence and abuse, so, they will stop at nothing in their struggle for peace and women's rights.