Over last 40 days were marked with mass detention of people in all cities in Belarus. The composition of the detainees is very diverse, but they are united by one thing – all those detained expressed a doubt in the relevance of state statistics on COVID-19 or the correctness of the state course of Alexander Lukashenko. For example, on June 8, 2020 Pavel Paleychik, the paramedic of the ambulance team from Lida, was fired because, on the picket of Sergei Tikhonovsky, he told the truth about the attitude of the hospital management and the Ministry of Health to the safety of workers. Previously, he was suspended from work, and then arrested for 7 days. And this time his contract was not renewed. The decision to dismiss him was made by Vadim Trubchik, the head doctor from Lida. The entire team stood up for the paramedic by writing a collective letter with numerous signatures.
As at 8 June, the situation continues to worsen, the number of repressed is growing.
With the start of the election campaign, many members of initiative groups, signature collectors, and people who support the nomination of alternative candidates for the presidency of Belarus appeared among the detainees.
International Center for Civil Initiatives – "Our House" is opposed to unlawful detentions, criminal proceedings, administrative arrests, threats of removal of children from families, and fines against Belarusian citizens.
We demand the immediate release of all who were imprisoned for political reasons!
We ask the international community to pay close attention to the threats of Alexander Lukashenko to shoot civilians at peaceful demonstrations, in particular to the phrase he said when he appointed the security forces (silovik) as prime minister of Belarus on June 4. We quote the exact word:
Alexander Lukashenko: "No one knows how my friend Rakhmon entered the capital of Tajikistan with a machine gun blazing in order to clean up the mess. And how many people died out there. And how they were fighting against bearded men. You forgot how the former president Karimov suppressed the coup in Andijan by shooting at thousands of people. Everyone condemned him, but when he died — they were on their knees, sobbed, cried. We have not survived this, therefore we do not want to understand this. Some of us. Well, we will remind this! "
This is an imminent threat to kill peaceful Belarusian citizens who participate in the presidential elections.
Also "Our House" would like to share our own statistics of repressed people in Belarus:
On June 8, 2020, Veronika Mishchenko, an activist of "Narodnaya Gramada", was severely beaten by police officers. She was kept in the police department all night, and then in the morning, she was brought to the court of the Moskovsky district of Minsk for a trial to the judge Tatyana Motyl, who is notorious for her specialization in political articles. At the trial, Veronika demonstrated hematomas on her arms that appeared after a night of communication with the police, but the judge refused to send the activist to a medical examination and ordered her a 15-day arrest. In 15 days, hematomas from beatings will go away, but you can see photos of bruises and hematomas of a woman beaten by the police here.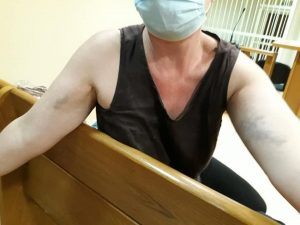 On June 2, 2020, the home of Svetlana Tikhanovskaya and the summer cottage of her mother-in-law were searched. Svetlana Tikhanovskaya is the most protest candidate and the wife of the most popular YouTube blogger Sergei Tikhanovsky. Svetlana also said that she was being threatened with the removal of her children (although she didn't voice were from those threats came). In this regard, a woman did not leave her home the last week, because of fear for her children. The mother-in-law of Svetlana Tikhanovskaya (the mother of her husband Sergei), was taken to a hospital with a hypertensive crisis after the security forces did not allow her to sleep and searched her home at night. The Investigative Committee declared that 900 thousand dollars were found at the cottage of Svetlana Tikhanovskaya's mother-in-law, but all the circumstances of the case indicate that this money was planted by the Investigative Committee to remove Svetlana from the election race (10 kg of dollars were found only in the third search, all three searches were carried out within 24 hours, witnesses were brought by the investigators themselves; nobody, including Tikhanovskaya's mother-in-law, was allowed to go into the house where the search was underway. Such a large amount of money can circumvent tax laws and accuse the Tikhanovskys of inflicting damage to the state on a particularly large scale, that automatically entails institution of criminal proceedings).
At the moment, the detentions of coordinators of Svetlana's initiative group are going on, they are all arrested for 15 days so that Svetlana could not hand in the signatures to the CEC. According to the Belarusian legislation, the signatures must be submitted to the CEC by the coordinators, that is, trustees and they all are in prison.
The authorities did not allow Sergei to register as a potential presidential candidate, in the same way, by convicting him to a 15-day arrest  "right on time". Sergei had to put his personal signature, in order to become a candidate, but he could not, because the prison administration refused to let lawyers enter the prison in contravention of Belarusian law.
Currently, more than 100,000 signatures for Svetlana Tikhanovskaya has already been collected, this is the number  of signatures that is required for her registration as a presidential candidate. People line up in all cities of Belarus, wait in line for 5-6 hours, just to sign on for Svetlana Tikhanovskaya.
7 Media Resources received warnings from the Ministry of Information of the Republic of Belarus, mainly for violating the Law on Mass Media ("disseminating information that can harm the national interests of Belarus").
Criminal prosecution of peaceful YouTube bloggers and journalists:
Criminal proceedings have been instituted against at least 14 people (2 of them are females) / an audit is being carried out under the Criminal Procedure Code (CPC).
Most of them are prosecuted in the framework of one criminal case under Art. 364 of the Criminal Code of the Republic of Belarus (Violence or the threat of violence against an employee of the internal affairs bodies). So these people are Sergei Tikhanovsky – the head of the initiative group to nominate Svetlana Tikhanovskaya as the presidential candidate (he is a blogger of the "Country for Life" YouTube channel) and members of his team. Some of them were detained in Grodno as a result of provocation during the legal collection of signatures on May 29, some were detained in the following days. There is currently no official information on the status quo of detainees.
List of detainees in the "Tikhanovsky case":
Sergei Tikhanovsky– was detained on May 29, recognized as a political prisoner, transferred from Grodno to the Minsk temporary detention facilities, and then to SIZO – 1(detention center). Searches were made in the office, in the studio, and the cottage owned by his mother; as a result of the search in the latter location, 900,000 US dollars were found. After a search, the blogger's mother experienced a hypertensive crisis;
Dmitry Furmanov – was detained on May 29;
Virgil Ushak– was detained on May 29, transferred from Grodno to the Minsk SIZO – 1 (detention center);
Vasily Bobrovsky – was detained on May 29, is in SIZO – 1, his apartment was searched;
Vladimir Naumik– was detained on May 29, his apartment was searched, equipment was seized;
Alexander Aranovich– was detained on May 29, is in SIZO – 1, searches were carried out in his apartment, accumulations of all-cash of the detainee's family were seized;
Sergei Kolmykov– was detained on May 29, is in SIZO – 1, his apartment was searched;
Evgeny Reznichenko – was detained on May 30, is in SIZO – 1, his apartment was searched;
Artyom Sakov– was detained on May 31, transferred from the Grodno temporary detention facilities to Minsk temporary detention facilities, his apartment was searched, the paraphernalia of the "Country for Life" channel was seized; the apartment of his girlfriend  Olga Karakina  was searched as well, her equipment, documents, and cash were seized;
Vladimir Kniga– was detained on June 6.
A criminal case has been instituted against journalist Sergei Satsuk under Part 2 of Article 430 of the Criminal Code of the Republic of Belarus (Bribe-taking), presumably, a new accusation is being constituted under Article 209 (Fraud). Satsuk is known for high-profile journalistic investigations, in particular with a critical assessment of the Belarusian authorities' health policy and corruption there.
An audit is conducted under the Criminal Procedure Code in relation to the journalist Andrei Medvedev, for comment on a social network that is allegedly insulting the editor-in-chief of the regional newspaper – "Dneprovets".
An audit is being carried out under the CPC in relation to Elena Maslyukova – human rights activist and eco-activist. The woman received a complaint of insult. During the search conducted in her apartment, equipment was seized.
A criminal case under Article 369 of the Criminal Code of the Republic of Belarus (Public insult to a government official in connection with the performance of his/her official duties) has been instituted against blogger Olga Zhuravskaya, for the comment to a video on her YouTube channel that contained a negative assessment of an internal affairs official.
Administrative prosecution of peaceful YouTube bloggers and journalists:
Over the past 40 days, 275 people (+65 for last week) have been repressed, detained, fined and imprisoned.
The total number of fees received by peaceful activists and journalists is 76 504,5 Belarusian rubles – an equivalent of 28 335 Euro or 32 010,2 US-Dollars. The majority received the fine under the article 23.34 Administrative Code "Violation of the order of organization or conduct of public events"
Out of these 275 individuals:
98 (+21 for last week) were detained for 2-3 days before appearing in courts, and they had received 203 (+26 for last week) days of detention in total.
82 (+8 for last week) persons sentenced for 7-15 days of administrative arrest. Total number of days of administrative arrests is 926 (+129 for last week) days, on average this is 10 days of imprisonment per person. Now 23 (+13 for last week) people are detained.
Of the repressed people are 50 (+14 for last week) women; among them are three mothers-328 who spoke up publicly about unfair court sentences that bounded their children for 10-15 years of imprisonment for minor drug-related offenses. 12 (+2 for last week) women activists are detained for 51 (+11 for last week) days, including 2-3 days of pre-court detention and administrative arrests. 1 woman was pressured by her employer to take a non-paid leave from work.
17 (+5 for last week) journalists were detained, from them 5 journalists had received 62 days of detention in total.
18 (+5 for last week) YouTube bloggers were detained for 192 (+30 for last week) days of detention in total.
16 (+12) members and volunteers of registered initiative groups for the collection of signatures for the nomination of presidential candidates are detained.