11 October 2020
Belarus peaceful protesters and brutal crackdown in cities of Belarus
Information known on 8pm.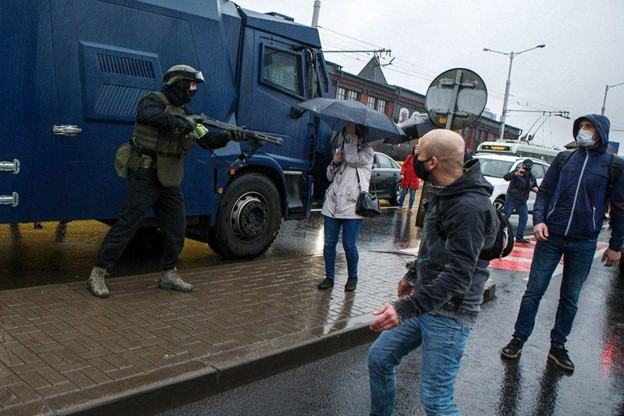 Unfortunately, we are expecting more information about injured and detained people.
More than 300 people were detained today.
At least 10 man were injured and taken by ambulances from the detain centers. This is the number of injured from only one district detain center, there is no information from all the others yet. According to preliminary information, one brought to the police station – with a concomitant injury: moderate head injury, closed rib fracture, shoulder contusion. The second – with a fracture of the bones of the right and left hand in question, mild TBI, a fracture of the clavicle in question. According to the victims: :They beat me hard when they took me in a bus, they threatened with a weapon (rifle) and it was not clear what they wanted, they did not ask questions, they just beat me."
At least 35 media workers were detained. 20 journalists were detained in Minsk, in Grodno – 5, Vitebsk – 4, Gomel – 3, Brest – 2, Mogilev – 1 (under reports of BelaPAN).
Several Red Cross volunteers were detained while treating the wounded. It didn't help that they wear red vests with the red cross emblem.
Chronicle of the brutal crackdown in cities of Belarus for October 11, 2020:
Despite the high level of violence from the security forces and the massive use of special equipment to disperse the protesters, a lot of people (about 100 000 citizens) took to the streets of Minsk. People demand the release of political prisoners, the return of the law to the country and new fair elections.
1:30pm
Metro station in the center of the City were closed.
Starting from 1:50pm
20 journalists were detained in Minsk, in Grodno – 5, Vitebsk – 4, Gomel – 3, Brest – 2, Mogilev – 1.

It seemed that today special order was given to get all the journalists.

Some names: Elena Tolkacheva (TUT.BY-BelaPAN), Tatiana Korovenkova and Sergei Satsyuk (BelaPAN), Dmitriev "Novy Chas", Shamshur (TASS), Alexander Ruzhechko, Alexander Vladyko and Alexey Nosov (Onliner), Olga Komyagina (Nasha Niva, Grodno)

2:00pm
Traditionally mobile Internet was shut down in Minsk.

Several riot police officers (traditionally without any identifying symbols, wearing masks) brutally detained cyclist by pushing him off the bike

2:30 pm
Brutal detention all over the center of the city including beatings of lying people, using clamps instead of handcuffs (which leads to the health consequences of the hands)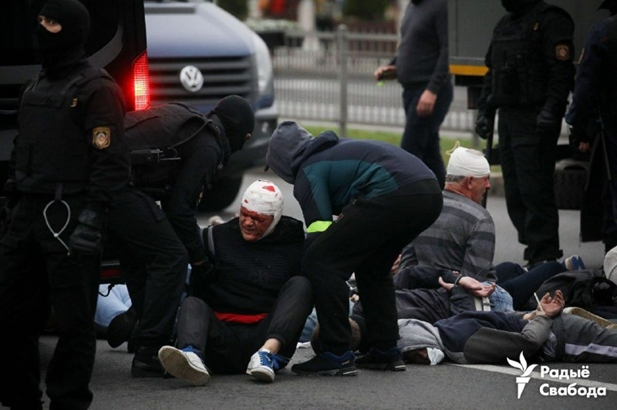 2:50 PM
Explosion of a flashbang grenade against peaceful protesters who just started gathering. Explosion of a flashbang grenade near the Stela (place of gathering of protesters). Several security forces officers used pepper spray against protesters. The level of violence is extremely high today. People say they have not seen such violence from the riot police since the 9-11 of August
3:20 – 3:50 PM
Water-cannons with colored water. To mark protesters and get them later. In places of the greatest congestion, water-cannons filled with colored water began to water people, including from an awfully close distance, which is dangerous for health.
4:00 PM
Unnecessary violence. Rough detentions on Romanovskaya Sloboda street. The man, lying on the ground, was held by three unknown persons in balaclavas. At this moment, the fourth unknown person in a balaclava with acceleration kicked a man lying on the ground on the head.
4:50 PM
More unnecessary violence. Security forces officer hit a man with the butt of a gun
5:00 PM
Marking protesters by shooting them with paintballs. Security forces officers shoot at people with paintballs. Apparently to mark the protesters in this way for the future detentions.
5:20 PM
More unnecessary violence. Four unknown persons in a balaclava beating a man in very brutal way
6:00 PM
Riot police officers hit the hostel door and take people out.
7:00 PM
Enforcers do not allow people to put flowers to remember their first victim. They take away flowers and candles every day. People bring new every day. At the Pushkinskaya metro station, people began to restore the people's memorial to Alexander Taraikovsky (A man killed by an internal troops soldier in the first day of the protests, on August 10, 2020).

At some point, unknown persons in balaclavas approached him and tried to detain the man. When he did not agree to go with them, they began to beat him with a truncheon.
Despite the high level of violence from the security forces and the massive use of special equipment to disperse the protesters, a lot of people took to the streets of Minsk. People demand the release of political prisoners, the return of the law to the country and new fair elections.
After the day's march was brutally dispersed by the security forces, people continue to go out and protest in all districts of Minsk and in other cities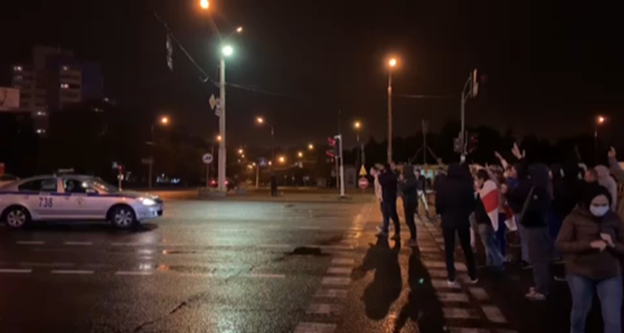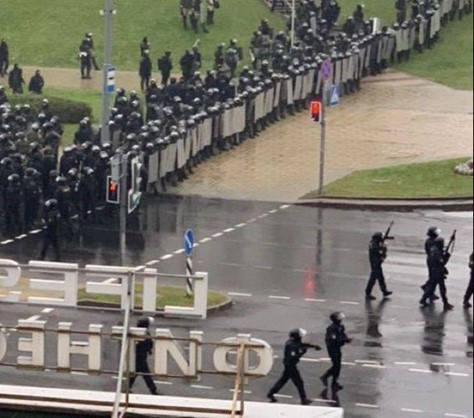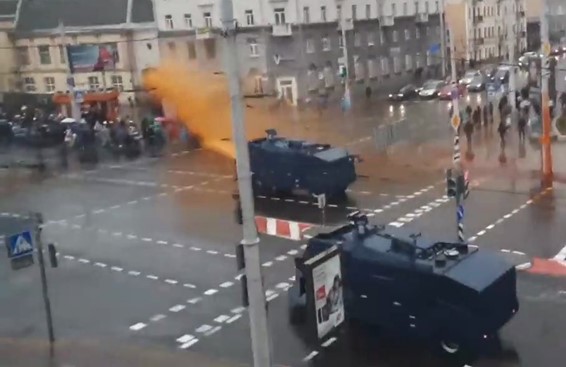 Behind the massive protests and the brutal crackdown of peaceful people:
The whole world already knows about yesterday's performance, which was staged by Lukashenko in the KGB pre-trial detention center. Under the guise of negotiations, he gathered political prisoners and talked about something with them for 4 hours. We will not give any serious assessment to this action. Negotiations between a terrorist and hostages are impossible.
Today this story has received a logical continuation. Two of the political prisoners who were present at yesterday's meeting were released on recognizance not to leave. Moreover, criminal cases against them have not been closed, which means that they cannot go to another country and be safe. Also, their families and friends are now in Belarus.
Interviews with these people were immediately published in the official media, in which they positively assess Lukashenko's actions (you will see the translation below). We hope that there is no need to explain by what means such indications are knocked out. The people are under serious tortures include the threats of rapes and sexual harassment by enforcers. We all remember the video with Svetlana Tikhanovskaya, as well as many others (public figures – actors Dudinsky and Kohno and many ordinary people), in which people supposedly repent and ask for forgiveness for their civil position.
This is what PandaDoc director Dmitry Rabtsevich said in an interview with Belarus 1 after leaving the KGB jail:
"It seems to me that the IT-country has been built: there is a springboard, knowledge and skills among employees, there are good conditions, in particular, a decree and benefits, which allow developing industries in the future in the context that we have now. All conditions have been created for business. Perhaps the decree will be refined and changed. "

"The format of the conversation [with Lukashenko] was relaxed, simple. The atmosphere was – with the aim of building a dialogue on how to get out of the situation, what are the ideas about amending the constitutional order. The dialogue has taken place".

"I will work and develop – this is probably the main message that I made for myself" 
This is what Member of the initiative group of Viktor Babariko, businessman Yuri Voskresensky after leaving the KGB jail:
"The meeting with Lukashenka was held in a raised voice, it ended constructively.

The businessman said that he was instructed to prepare proposals for amendments to the Constitution and to outline approaches to the release of a number of persons who "turned out to be not as socially dangerous for our country as they seemed at the first stage."
it is obvious that this is not the sincere position of these people. They are intimidated and speak under pressure. It is also obvious that those who could not be intimidated were not released by Lukashenko from prison.