On January 29, "Our House" submitted documents to the General Prosecutor's Office of Lithuania to initiate a criminal case on torture against a citizen of Belarus following universal jurisdiction. Our appeal was registered last week.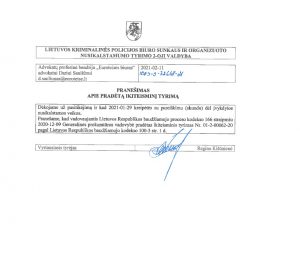 This is the first appeal of «Our House». On February 11, lawyers of «Our House» received a document stating that a detailed investigation had been launched. «We inform you that following Article 166 of the Criminal Procedure Code of the Republic of Lithuania, preliminary investigation No. 01-2-00062-20 has been initiated following Article 100-3 of the Criminal Code of the Republic of Lithuania», the letter says.
So, to remember the situation – a Belarusian citizen was returning by car from a protest action when he noticed minibuses without numbers following him. They stopped next to the car at an intersection, and people in black masks ran out and attacked the car. The driver tried to get away from them, but they caught up with him and severely beat him. The man received a concussion, a wound of the left knee joint and a fracture of the nasal septum.
It was established that Igor Shkut, a senior inspector of the road patrol service of the traffic police of the Ministry of Internal Affairs of the Minsk City Executive Committee, took part in the torture and cruel detention. However, a criminal case against him did not initiate by Belarusian internal affairs. But according to the universal jurisdiction, states or international organizations can demand a criminal trial against the accused people, regardless of when the crime was committed and what nationality the offender has.
The crimes committed by Belarusian forces can be considered torture, which means that they are under universal jurisdiction. MCGS «Our House» expresses gratitude to the General Prosecutor's Office of Lithuania and hopes that it will be possible to prove the guilt of the forces during the investigation, and they will be included in the Interpol lists and will be detained behind Belarusian borders.