On July 22, an action "Celebrating our freedom together with the United States" was held in Vilnius in Washington Square. It was dedicated to the 81st anniversary of the signing of the Welles Declaration. Here, the United States condemned the occupation of the Baltic States. The event was attended by US Ambassador to Lithuania Robert Gilchrist, Minister of Foreign Affairs of the Republic of Lithuania Gabrielius Landsbergis, Professor Vytautas Landsbergis, Deputy of the Lithuanian Seimas Emanuelis Zingeris.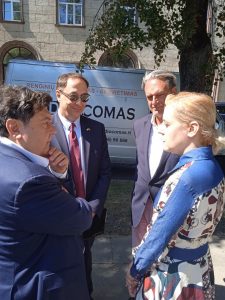 On July 23, 1940, US Deputy Secretary of State Sumner Welles signed a declaration in which the United States condemned the introduction of Soviet troops and the proclamation of Soviet republics in the Baltic states and did not recognize the annexation of Lithuania, Latvia and Estonia. The declaration lasted from 1940 to 1991 until the collapse of the USSR.
On this historic date, the participants of the action also remembered Belarus. In their speeches, they expressed the hope that our country will soon become free. And the historical memory of this day was shared with politicians by the politician and the head of the International Center for Civil Initiatives "Our House" Olga Karach, volunteers of the public organization "Dapamoga" and activists of the Social Democratic Party of Belarus "Narodnaya Hramada".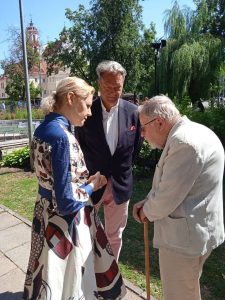 Olga Karach discussed with the US Ambassador to Lithuania Robert Gilchrist and Lithuanian politicians the recent article by Vladimir Putin and his statements that Belarusians, Russians and Ukrainians are one people. Olga Karach expressed the opinion that this looks like a strategic bid by Russia for political revenge — the revival of the USSR in a new format.
Olga Karach clarified that Belarusians want to be citizens of an independent country, not the new USSR. Together with politicians, she discussed Belarusian chances to break out of the shackles of Russia, to defend the sovereignty and independence of a nation that has the right to self-determination.
The team of the "Our House" expresses gratitude to the politicians of the USA and Lithuania. We are thankful for supporting Belarusian people, constantly remembering and talking about Belarus. We are grateful that Lithuania maintains the choice of the Belarusian people to live in an independent state. And we hope that by joint pressure, we will defeat the Lukashenka regime and defend our independence, based on historical lessons.