The Belarusian organisation "Nash Dom" (Our House) started out as a small local initiative. Today, it is active in more than 15 cities across the country. In 2020, "Nash Dom" started cooperating with medica mondiale. We spoke to the founder, Olga Karatch.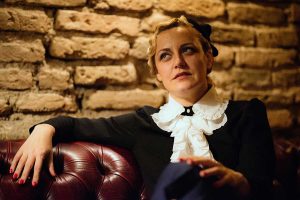 Please tell us about the current situation in Belarus.
Olga Karatch: There is a statement from President Lukashenko about Belarus that sums up the situation very well: "You don't give away your loved one." We are strictly opposed to this statement: Is that really what you call love? If a loved one says "no", then you have to let them go. And Belarusian society has been saying "no" very clearly for years.
How does Nash Dom fight against violence?
Olga Karatch: We founded Nash Dom almost 20 years ago as a local initiative and are now active all over the country. We raise awareness on human rights violations and support survivors of violence with legal and psychological expertise. Our greatest tool for outreach is YouTube. About 10 years ago, this started out as a completely absurd idea: A young colleague asked me how it was possible that Lady Gaga had millions of followers, but nobody had heard about us. He set a goal of reaching one million followers. Currently our videos have been clicked almost 30 million times. Sometimes, you have to pursue unrealistic goals, otherwise you will not progress.
How did the collaboration with medica mondiale come about?
Olga Karatch: I wanted to benefit from the experience of medica mondiale in conflict regions. Many people in Belarus have survived terrible violence. We want to support people so that they can learn to process their experiences. We discuss the issues with two trauma advisors from medica mondiale and prepare the information for our videos.
Where do you get your strength from?
Olga Karatch: I know about violence from my own experience. I was in jail, too, and I know what sadistic police officers are capable of. I cannot undo that experience, but I can help change something. For many people, "Nash Dom" is an important anchor. We have a responsibility, and we take it very seriously.
medica mondiale provides trauma expertise to support "Nash Dom".