26 years ago, Viktor Chernomyrdin and Alexander Lukashenko held a ceremony to remove the borders of Belarus and Russia. A symbolic border post was dug out at the border crossing Radish – Krasnoe between the two countries. Since then, Belarusians and Russians have been able to move freely between countries. Until recently, this suited most of the Belarusians, who were able to travel to Moscow to work, and to Smolensk to shop. However, in 2020, the number of rumors that Russia is seriously planning to swallow Belarus increased sharply.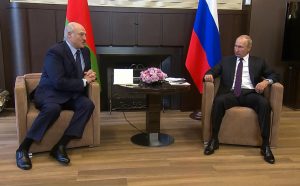 Emotions are added by 31 roadmaps for integration. Their coordination began in 2020, and a number of points seriously scare Belarusians – for example, the convergence of tax systems, supranational bodies, a single currency and a single emission center. In addition, the "older brother" in the Kremlin regularly supports the younger – after the elections, Putin recognized the legitimacy of the usurper, and even promised him financial assistance. Meetings have become regular over the past nine months. And for each of these meetings, "Nash Dom" and Olga Karach sought to respond, to explain to people how this threatens our independence – both economically and politically.  On the anniversary of the lifting of borders and on the eve of a new meeting in Sochi, we recall everything that Olga Karach said about relations between Belarus and Russia after the elections.
On October 7, 2020, Putin celebrated his birthday. And on that day Lukashenka once again made him a nice "gift" as gratitude for the support in the elections – Sviatlana Tsikhanouskaya got into the wanted database. The information automatically got into Russian bases and then spread all over the world. But it was presented in such a way that it was Russia that included Sviatlana Tsikhanouskaya among those wanted. "This is the most brilliant, the most chic 'gift' an ally could give. It is very hard to imagine more negative PR that Russia is getting from all sides. I congratulate the Russian government on the wave of negativity you received from all over the world," Olga Karach said in the video. She also added that those who support Lukashenko automatically become toxic and unacceptable for the Belarusian people.
On November 2, Olga Karach released a video dedicated to the humiliation of Ivan Tertel by Alexander Lukashenko. "When the KGB turns into clownery, and the new chairman is publicly laughed at, such a structure cannot function normally," she explained. – A fierce bargaining is going on between Moscow and Lukashenko over the terms of his departure. Alexander Lukashenko let it slip, "Pool One's" Telegram channel shared. The hidden bargaining is indicated by two points. First, Alexander Lukashenko said that he was ready to help the new government of Belarus. Second, Alexander Lukashenko hinted very transparently that Moscow was pointing out to him a specific successor, that some generals should replace him. Most likely, the process of agreement is underway, the person is already known. I think that this option will not suit us."
Many saw the hand of the Kremlin in the Belarusian events. On November 30, 2020, ICCI "Nash Dom" released a large material explaining that Russia is indeed involved in the events of summer and autumn in Belarus. On August 26, a Russian aircraft, presumably belonging to the FSS, flew to Minsk, but there were no reports in the state media about this. Sergey Lavrov and Vladimir Makei met in Russia in September. And during regular phone calls, Lukashenko reported to Putin on the measures being taken to normalize the situation in the country. In Sochi on 14 September he thanked his "big brother" for his cooperation in various fields, remarking that "we should stick together more closely" and that there were in fact no protests in the country, as the media reported. The result was not long in coming – Russia promised a loan of $ 1.5 million. In October, Lukashenko met with Sergei Naryshkin, the head of the Russian Foreign Intelligence Service, and thanked for the information that the Russian special services convey to their Belarusian colleagues. The dialogue between Moscow and Minsk at the time looked more like a progress report than anything else, and Moscow was clearly imposing some kind of conditions on Lukashenko to continue supporting Russia.
In February, a petition appeared on the change.org platform, the authors of which begged the Russian government not to grant loans to Belarus. The text contains several reasons why Russia should not give money to Belarus. The first is the legitimacy of those in charge. The second reason is the many areas where you can invest and leave them in Russia. And the third is the spending of previous loans to Belarus on violent actions by security forces against ordinary citizens. In this regard, the team of "Nash Dom" issued a statement of solidarity with the Russians who do not want their taxes to go to the aid of the fascist regime.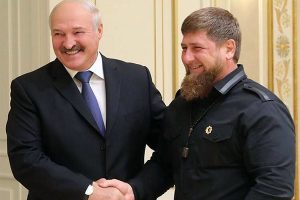 On February, ICCI "Nash Dom" spoke about the strange relationship between Lukashenko and Ramzan Kadyrov, which began in 2017. It is quite possible that it was in Chechnya that the Belarussian operatives received their training – the nature of the torture of civilians testifies to this. And in 2018, Viktor Lukashenko traveled to Chechnya to meet with Ramzan Kadyrov and discuss "Belarusian national security" with him. By the way, the trip took place a few days after the meeting between Lukashenko and Putin. Kadyrov, like Putin, has congratulated Lukashenko on winning the 2020 elections and has repeatedly expressed his support for him.
On February 21, on the eve of a new meeting between Putin and Lukashenko, Olga Karach issued an urgent appeal to Putin. "If you issue another loan to Aleksandr Lukashenko personally and prolong his agony in power, it will mean that you will support and finance new killings and torture of peaceful Belarusian citizens. I declare the following responsibly: Any loans, any financial support given by the Russian Federation to Alexander Lukashenko will never be repaid by the new government of Belarus. Lukashenko's historical time has expired. The question of his departure is a matter of very near future. So, support Lukashenko and give him the money – and I promise you that the Union State Treaty will be torn up as quickly as possible. Likewise, any agreements between Lukashenko and the Russian Federation, starting with the Treaty on the Establishment of the Union State, will be canceled. Russian military facilities will be thrown out of the territory of Belarus as soon as it becomes possible," Olga Karach emphasized.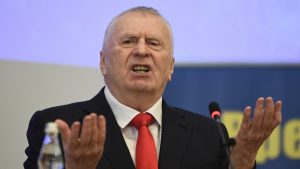 On March 2, Olga Karach's scandalous interview with Vladimir Zhirinovsky was published. At the beginning of the video, Olga Karach explained: it was necessary in order to understand the logic of the Russian government and hear from a person close to Putin what plans the Russian leadership has for Belarus. Among other things, Vladimir Zhirinovsky drew attention to how one can get out of the current situation in Belarus: "Lukashenka himself understands that he needs to leave, but feels the shoulder of Moscow, who is not happy with Kiev's version of events in Belarus. Sviatlana Tsikhanouskaya and her team can build a regime that will ask to join NATO and the European Union, and then NATO tanks will be at Smolensk. I see such a way out – all regions of Belarus should become part of Russia. The culture and language will be preserved, the economy will develop, all problems of Belarus will be resolved. Now it is profitable for Russia to put our army closer to NATO, but Lukashenka does not allow us to do this". 
On March 20, Olga Karach released a video explanation of who is the most pro-Russian politician in Belarus. She clarified that earlier this status was "awarded" to the most popular political figures: Andrei Sannikov, Nikolai Statkevich, Sergei Tikhanovsky, Viktor Babariko, Maria Kolesnikova. The explanation is simple – if the opposition is represented by pro-Russian leaders, it will be very important for building relations with the West. "If a person is unpopular, they will never say about him that he is pro-Russian. Over the past 20 years, there have been no people in Belarus who can be called such. Alexander Lukashenko always controls the eastern direction, because Russia is the sponsor of the blue psychosis," Olga Karach specified.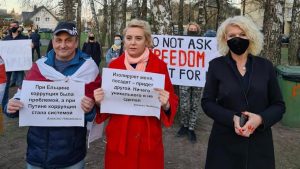 On April 21, Olga Karach went to a rally in support of Russian opposition leader Alexei Navalny. In her speech to the protesters, she emphasized the dependence of the arrival of democracy in Belarus with the events in Russia: "Lukashenka visits Moscow, spies on new repressive practices, returns to Belarus and begins to actively introduce them. We all see that the same processes are going on in Russia and Belarus and the two regimes exchange "innovative" practices of repression. Today, Alexei Navalny is in prison, a man who was not afraid to return to Russia. About 3 thousand people remain in custody in Belarus, accused and convicted on political grounds. It is already clear that democracy in Belarus will come in one way or another through democracy in Russia. Belarusians support Russians in their struggle for democracy and human rights".
On May 11, Olga Karach spoke on the YouTube channel "BelDiasporaTV". The interview raised the question of what the Union Agreement between Belarus and Russia means and why it should be canceled. "The creation of the Union State brought huge dividends to Alexander Lukashenko. The lowest figure is the $133 billion it has received for this grand, ambitious project. The question remains, for what promises he received such money, which we do not yet know. First and most important. Nobody asked the people whether they wanted or did not want to be a part of the Union State. I think there are a lot of unpleasant surprises ahead of us, because we do not know what he promised and signed. No one has even seen roadmaps for the integration of Belarus and Russia," Olga Karach is sure.
Ahead is a new meeting between Lukashenko and Putin. Unlike Lukashenko, Putin has legitimacy. We remind you that no international agreements signed by Lukashenko will be considered legal, since he is nobody. And any rapprochement with the now international terrorist will have to pay dearly. The Belarusian people will not forgive this.