On August 19, 2021, the Parliamentary Secretary of the Ministry of Foreign Affairs, Zanda Kalnina-Lukashevica, met with the head of the ICCI "Our House", journalist and civil activist Olga Karach. The head of the non-governmental organization "Centrs Marta" Iluta Latse, the political coordinator of "Centrs Marta" Liva Matuzele and the Belarusian political activist Ilona Rudenya took part in the conversation.
The visit to Latvia and high-level meetings with Latvian politicians is another step forward in continuing the support of the civil society of Belarus.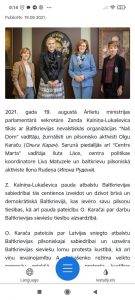 Kalnina-Lukashevitsa expressed support for the Belarusian society in its efforts to create and live in a free and democratic Belarus that respects the rights of its citizens. She also expressed gratitude to Olga Karach for her work to protect the rights of women in Belarus.
Olga expressed gratitude for the support provided by Latvia to the civil society of Belarus. She stressed the role of Belarusian women in the protest movement. Also, she said about their vulnerability to the regime's repressions, when women were punished for supporting the protest movement by taking their children away, placing them in a psychiatric hospital. The support provided by Latvia so far has allowed us to provide assistance to victims of repression without delay and raise their spirits.
Olga Karach also asked Latvia to consider the possibility of launching a project that would offer psychological rehabilitation for women subjected to repression by the dictatorial regime. In addition, they also discussed the Latvian experience in implementing reforms for the transition to a liberal and democratic state. Extreme changes have taken place in the consciousness of Belarusian society over the past year. Belarusians no longer want to put up with the current disenfranchised situation. But people understand that the future of an independent and sovereign Belarus is connected with European values and democracy.
Zanda Kalnina-Lukashevica confirmed Latvia's readiness to continue supporting the Belarusian society, and when circumstances allow, to share with it the experience of carrying out reforms.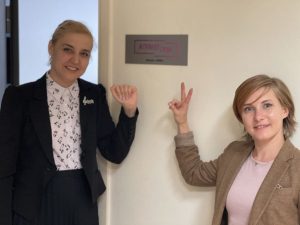 ICCI "Our House" with the Latvian non-governmental organization "Centrs Marta", implemented a program funded by the Ministry of Foreign Affairs of Latvia. The program provided psychological, practical, legal and medical assistance to persons who suffered from human rights violations in Belarus after the presidential elections on August 9, 2020. Olga Karach also arrived in Latvia to take part in the LAMPA 2021 conversation Festival.
Also, Olga Karach and the ICCI "Our House" representatives met with journalists "And Graham Broke Out" channel. During the conversation, we discussed the broadcast with Olga Karach and further cooperation. The journalists expressed their full readiness to support the Belarusian journalistic community to the best of their competence.
We expect that the results of the visit to Latvia will have a positive impact shortly, and support for democratic initiatives and increasing their volume and diversity of directions will continue.