Among the huge number of female political prisoners, women who were repressed after the August 9 elections, there is another group, which, unfortunately, is not so noticeable now. These are girls and young women arrested under Article 328 for 8 years or more. They are serving their sentences in the strictest conditions in penal colony No. 4 in Gomel, and minors are kept together with adult prisoners.
The exact number of girls and young women convicted of drugs is unknown. This data is carefully hidden. The latest dates back to 2019 – at the time there were two units of 100-150 people each (no more than 300 girls in total) convicted under Article 328 in Gomel colony No 4. Human rights activists have pushed for these units to be disbanded, as the convicts were a kind of "lepers" and lived separately from inmates with other articles.
Schoolgirls committing crimes are not spoken about in the media (or hardly ever spoken about). But it is known that in 2019 there was a small unit of juvenile prisoners in the women's colony (approximately 10-15 people). Yes, there is no separate colony for convicted girls in Belarus – only a special vocational school in Petrikov, where you can get even at the age of 12-13 for minor crimes (for example, theft, vagrancy, hooliganism). In the "adult" colony, juvenile prisoners, just like their peers at large, go to school and then get a profession. Among them there are girls who ended up in a colony on an "anti-drug" article.
In 2018, 16-year-old Diana Karpovich was sentenced to 10 years in prison for drug trafficking (part 4 of Article 328). It is hard to believe that the girl, who was barely holding back tears when the verdict was read to her and her friend, could organize a criminal gang. "And just imagine, my girl is now 16, in 10 years a 26-year-old girl will be released, and she has only been taught what the zone taught her," says Natalya Karpovich, the mother of the convict.[1]
17-year-old Valeria Kupchenya was sentenced to the same term. The girl decided to help a minor acquaintance who boasted that he had found a job with high earnings. The teenagers thought they were working as couriers for the contactless delivery of "legal aroma mixes and smoking mixtures," as the job ad said.
In fact, they became part of an organized drug dealing group. The security forces used torture and special means during the arrest of Valeria. She spent six months in pretrial detention.[2]
Iryna Antonyuk was sentenced to eight years imprisonment at the age of 18, she was sentenced to Part 3 of Article 328. The story is simple: a guy she knows asked a girl to buy a smoking mixture for him from an online shop. By redirecting an SMS message with information about where the mixture is located, the girl became suspected of intent to sell drugs. During the investigation, they even wanted to charge her with Part 4 of Article 328, even though there was no evidence, only circumstantial evidence. In bringing charges against her, the court did not take into account that the girl, due to a serious illness, is missing one lung, and there are many other diagnoses. Irina's health deteriorated considerably, she complained constantly of pain and then she was suspected of having cancer. It is clear that in prison no one cares about the prisoner's health, and an eight-year term for her is tantamount to a death sentence.[3]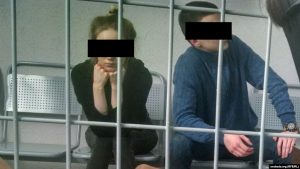 In 2019, 17-year-old Gomel resident Ekaterina was convicted of drug trafficking. The police had caught sight of the girl as an eleventh grader, when she and a friend a year older had taken on a part-time job. Young people made bookmarks, and they were supervised by the curator of the "online store" named Batya. For a good job, one could earn 60 thousand Russian rubles a month – the ultimate dream for a schoolgirl who was raised by a single mother. The investigation conducted a search, found alpha-PVP at Ekaterina's home, and a case was opened against her. At the same time, "Batya" was not detained. Ekaterina and her friend will spend 10 years in prison.[4]
Some of the girls who had served time under Article 328 were granted amnesty. For example, Yulia Belskaya went out three years later for home chemistry. At 16, the girl agreed to hold her friend's parcel while she stepped away – and was apprehended. The same friend told the police that Yulia was selling drugs. The girl did not admit her guilt. And her friend was detained two months later. Yulia met her in the colony. Her unit also included a 14-year-old girl who was sentenced to 14 years in prison.
The juvenile detachment in the colony was knitting flannels. They paid 10 dollars a month, if you didn't fulfill the plan, they were fined. It was not possible to fulfill the plan: lectures, then sports, then conversations. Yulia led an active life in the colony: she participated in theatre productions for prisoners' children and in events. In the end, this was all taken into account when her sentence was reviewed.
Minors were allowed to spend 74 rubles a month in a prison store (a little more than $ 30), if there were no violations, then 120. The girls bought sweets and groceries that reminded them of their home and parents. Yulia was pleasantly surprised that she was supported by strangers, activists of the Mother 328 movement.[5]
Ulyana Golubtsova from Mogilev also fell under the amnesty. She was detained when she was not yet 18 years old, and she met her majority in a pre-trial detention center. According to investigators, an underage girl suggested via the Internet that an adult man with multiple drug convictions to buy psychotropic substances from her. Ulyana told a different story: she met some acquaintances who asked to use her phone, which they used to buy drugs. As a result, she was sentenced to 8 years in prison. However, due to the amnesty and changes in legislation, the punishment was revised – the girl spent a total of 2.5 years in prison, and the remainder on home "chemistry".[6]
And the detention of underage girls in the country continues. In February 2021, a couple of teenagers in love were detained in Vitebsk who, according to the police department of the Vitebsk Regional Executive Committee, were dealing drugs. A guy and a girl, who were 16 and 17 years old, made bookmarks during datings. During the searches, the forces found a dangerous psychotropic and packaging bags. A criminal case was initiated against the couple under Article 328.[7]
[1]https://www.bbc.com/russian/features-43247680
[2]https://nash-dom.info/62198
[3]https://euroradio.fm/ru/devushka-osuzhdyonnaya-za-sms-s-koordinatami-zakladki-prodolzhaet-umirat-v-tyurme
[4]https://www.svaboda.org/a/30195268.html
[5]https://www.currenttime.tv/a/belarus-narkotiki/30422416.html
[6]https://gomel.today/2018/06/05/163090.html
[7]https://sputnik.by/incidents/20210226/1047011920/Vlyublennuyu-parochku-nesovershennoletnikh-narkodillerov-zaderzhali-v-Vitebske.html