We have often written about how prisoners behind bars become disenfranchised. However, even after returning from prison, not all of them are able to get on in life. Firstly, the authorities take everything out of a person while they are in prison: money, things, a flat. Secondly, they often do not receive any help from the state. And if they have no relatives, they either have to rely on the support of concerned people, or go back to prison.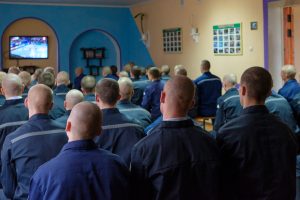 It is particularly difficult for juveniles who enter prison at a young age and most often come out already formed with prison attitudes. In 2020, the Ministry of Internal Affairs announced that juvenile crime in Belarus is falling, from 5.5 thousand juvenile offenders 10 years ago to 1.5 thousand now.[1] However, it is much easier to assume that the reason for this is not at all the coordinated work of law enforcement agencies and crime prevention. Perhaps children and adolescents, looking at examples of detentions of their peers, understand that being imprisoned in Belarus is not sugar at all.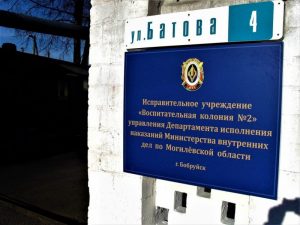 Practitioners for the protection of juveniles in custody are few. For example, with the assistance of the Belarusian Red Cross Society, an information centre with modern equipment was established in Bobruisk Children's Educational Colony No. 2. Prisoners will be able to get the information they need for socialization: how to start a business, where to find a job, how to develop their skills for work, and much more. All this became possible thanks to the project "EU4Youth: Development of Employment Potential". Apart from Belarus, it is being implemented in Armenia and Georgia.[2]
In prison, minors are faced with the issue of obtaining an education and a profession. Most often a child who is imprisoned is expelled from college and vocational school. In prison they work in heavy industry (in the educational colony of Bobruisk, this is work with waste of "Belshina"). This violates the right of minors to education and the Constitution of the Republic of Belarus, which guarantees the receipt of secondary education for every citizen of the country. In 2016, the Interior Ministry proposed amendments to the Education Code to ensure that juveniles in pre-trial detention do not interrupt their secondary education and that other categories of detainees receive vocational education.[3]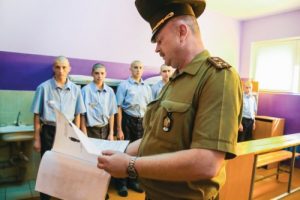 In the same year, a project on distance education for convicted minors was launched. In 2018, 15 people studied remotely in educational colony No 2 of Bobruisk. The prisoners were offered three specialties to choose from: psychology, transport logistics and management. There is a tuition fee and you can study in the computer lab in the colony. The prisoners' textbooks are paper and they are sent their assignments to each of them.[4]
However, after the protests at the MIU in 2019, nothing else was heard about the prison education project. If he was interrupted, it means that more underage prisoners can no longer get a higher education. And they will have to make do with being a locksmith, carpenter, woodworker, turner or plumber.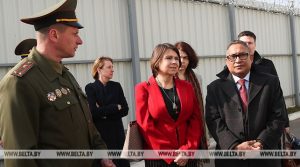 In addition, a psychological laboratory was to be set up in EK No. 2 in 2019. A complex that will contain everything necessary for conducting psycho-correction classes. This project was proposed during the visit to the colony of the British Ambassador to Belarus Fionna Gibb and UNICEF Representative in Belarus Rashed Mustafa Sarwar. In this way, the institution planned to provide psychological protection for juvenile prisoners, but nothing has been heard of the project since.[5] Interestingly, the visit was made at the request of the parents of the juvenile prisoners, as the parents themselves could not get the children to talk about what was going on behind the barbed wire fence.
Juvenile prisoners (those who are imprisoned under the "anti-drug article") who do not have the support of their relatives can get it by communicating with "Mothers 328". Parcels from strangers are not hand over in the colony, but letters also mean a lot to children left alone in harsh conditions. In addition, activists regularly raise questions about the legality of punishing children-328.
In addition to issues with education, prisoners (not only minors) have other problems: legal, medical, domestic. In 2017, the TimeAct initiative founded by former political prisoner Mikalai Autukhovich and the former head of the medical service of the Department of Corrections of the Interior Ministry, Vasiliy Zavadsky, started work in Belarus. The organization monitors the situation in the colonies of Belarus according to the stories of prisoners and their relatives. The initiative is also open to people who have been released from prison. On the site you can find addresses where to go for medical, psychological, legal assistance, addresses where a former prisoner will be given a new passport, and other information.
But the most serious problem is the employment of former prisoners. Many are reluctant to be taken in precisely because of their criminal record, and some 40-50 per cent of the detainees, not having found themselves on the outside, have gone back to prison.
Stanislav Tsibinsky, who served time for murder, knows firsthand how difficult it is to find a job:
"I went to the employment centre, showed my diplomas (I have five), they told me: we will not hire you; you do not have a residence permit. Please: so, help me to do. No help. The man has served his sentence, so why, here, at large, push him again into the abyss? In total, I had 158 job rejections. Very often I was hungry, there were thoughts just to come to the store, steal a sausage, a loaf and eat right there. I met a guy who helped me get a job at the restaurant to help out around. Then they asked me to work as a waiter. It worked out, there were even several rewards from visitors. After that, I was officially employed, and for the third year now I have been working at the same place."[6]
After successful employment, Stanislav did not turn away from other former prisoners: he shared food, clothes with the guys, helped to find housing and work. So, he got a team to help former prisoners. In 2019, Stanislav received over 3 thousand letters asking for help.
In July 2020, it became known about the creation of the HelpStep online platform to help those who have left places of detention in employment. The project was authored by former prisoner Stepan Gromyko, who met many people who were not supported on the outside and returned to the "zone". The project is designed for employment in other localities of the country and even abroad, in Moscow and St. Petersburg. Moreover, some enterprises turn to Stepan for help in finding employees. The HelpStep project became one of the winners of the Social Weekend competition for social projects.[7]
Meanwhile, there are still many problems where convicts of any gender and age cannot count on support. For example, no one can protect prisoners from abuse by the administration. And often the only way out is suicide (as happened with Andrei Dubik, a 25-year-old boy who was serving his sentence in Novopolotsk penal colony No 1). The worst thing is that even the relatives of the deceased cannot find out what happened, because such information about it is carefully hidden.
[1]https://www.belta.by/society/view/v-belarusi-za-desjat-let-podrostkovaja-prestupnost-snizilas-v-chetyre-raza-mvd-416428-2020/
[2]https://redcross.by/osuzhdennye-i-byvshie-osuzhdennye-kak-poluchit-pomoshh/
[3]https://naviny.online/article/20160930/1475213511-tret-osuzhdennyh-vozvrashchaetsya-za-reshetku-kak-etogo-ne-dopustit
[4]https://minsknews.by/bez-interneta-no-s-pesnyami-reportazh-iz-vospitatelnoy-kolonii-dlya-nesovershennoletnih/
[5]https://www.belta.by/regions/view/tri-proekta-za-schet-inostrannyh-sredstv-planiruetsja-realizovat-v-detskoj-kolonii-v-bobrujske-343784-2019/
[6]https://people.onliner.by/opinions/2020/05/07/mnenie-1262
[7]https://www.belta.by/society/view/internet-ploschadku-pomoschi-v-trudoustrojstve-byvshim-zakljuchennym-sozdadut-v-belarusi-397794-2020/