On April 11, 2011, Belarus suffered from a major terrorist attack at the Kastryčnickaja metro station. There were 15 people dead, more than 400 wounded, 18 activists detained, two guys shot – this is the legacy of this incident. Every year Minsk citizens bring flowers to the monument to those who will never leave the metro, while the officials have forgotten about this date. It strengthened the belief that the authorities killed innocent Belarusians.
The year 2011 was not easy for the people of our country. In December 2010, presidential elections took place, the result of which was falsified. From 30 to 60 thousand people took part in the protest action on December 19. About 600 of them were detained, including presidential candidates and independent journalists.
An economic degradation followed the political crisis. In January 2011, the gold and foreign exchange reserves of Belarus fell to $ 5 billion. The purchase of currency increased. In March, Belarusians began buying currency and sold to banks $ 700 million less than bought. In April, there was a shortage of dollars and euro. People began to line up near exchange offices, buy sugar and oil. The only way for the authorities to distract them from the crisis and political problems was a terrorist attack.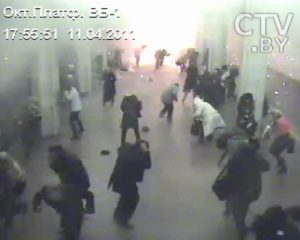 A bomb of 5-7 kilograms of TNT was under a bench at the Kastryčnickaja metro station. It exploded at 17.55.51 when a train full of passengers arrived at the station. The explosion took place between the second and third carriages. The explosion wave provoked a collapse of metal structures above the escalator from Kupalauskaja metro station. People who descended on the platform got in a trap. On the platform, there was a crater with many injured and dead around.
Five minutes later, fire brigades, rescuers and doctors arrived at the station. In two hours, Lukashenka and his 6-year-old son went down the subway. Representatives of the State Security Committee, the Ministry of Internal Affairs, the Prosecutor General Office have already worked here. Lukashenka said he would take the situation under his control. On April 12, the State Security Committee announced that they found the probable terrorist. On April 13, Lukashenka said that the offenders had been detained and were testifying.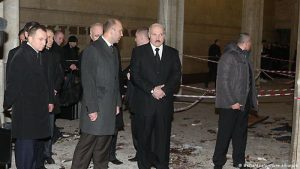 Nevertheless, this did not prevent the authorities from detaining 18 activists from different Belarusian towns on April 19. Among them was the head of the ICCI «Our House» Olga Karach, human rights activists Valery Shchukin and Pavel Levinau. In the same evening, police officers released 14 activists. Four others were convicted the next day for petty hooliganism.
«I was 69 years old,» Valery Shchukin later recalled. The arrest took place in his daughter's apartment. – My colleagues and I discussed local budgets and the work of the deputies. At that moment the doorbell rang: it was a policeman who tried to get inside. I did not let him in – I knew that the police had no right to enter the apartment without documents. However, they surrounded the apartment. Two of my friends – one of them was Pavel Levinau – decided to leave. Soon Pavel called and said that forces detained them».
Valery Shchukin was taken to the police station barefoot. On the cold floor in the Frunzenski district police station, he spent more than eight hours without shoes. After that, he fell seriously ill. The current chairman of the Liberal Democratic Party (in 2011, he was a policeman) Aleh Haidukevich ordered to handcuff the human rights activist. Traces on his hands remained until the end of his life. Security forces beat him, threatened to rape him, shouted that they would cut off his head and play football with it, that they would set his beard on fire. Only the international clamour helped to save them. Pavel Levinau managed to report about the arrest of the activists.
Pavel Levinau spent ten days in jail, where he went on a hunger strike. In an interview with the Vitebsk Courier newspaper, he recalled: «During the interrogation, the investigator told me that the criminals had only confessed to committing a terrorist act, hinting that I could be the customer. To justify the arrest, they fabricate an administrative case.»
Also, Oleg Borshchevsky and Pavel Staneusky got terms for petty hooliganism (10 and 8 days, respectively). Moreover, the trial of Pavel Stanevsky took place later, because the police officers who could testify against him did not come. As a result, Pavel disappeared, and his friends found them only 24 hours after. Before his disappearance, he got into a patrol car with police officers from the Frunzenski district police station to pick up his belongings at the police station.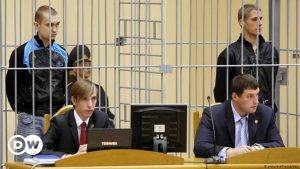 The preliminary investigation took place on August 1, almost five months after the attack. 25-year-old residents of Vitebsk Dzmitry Kanavalau and Uladzislau Kavaliou got charged. The court also accused them of committing two terrorist attacks: in 2005 in Vitebsk and 2008 in Minsk. On September 15, a court session on the case began. Uladzislau Kavaliou said that he had testified under pressure from the security forces. On November 30, despite many inconsistencies in the case, both defendants were sentenced to death. On March 14, 2012, it became known that Lukashenka received requests to favour two convicts, but he refused this. And on March 16, 2012, Uladzislau Kavaliou mother got a letter with a message that her son had been shot.
«It is impossible to commit such a terrorist attack if you are an alone beginner», Liubou Kavaliova later said. «The whole system worked, and they made criminals from our sons. They witnessed a crime committed by the government. With a favourable outcome of the case, the boys would have told the truth, so the authorities could not keep them alive. The son showed that there is no independent court in the country. Anyone can be forced to sign a confession to a crime they did not commit».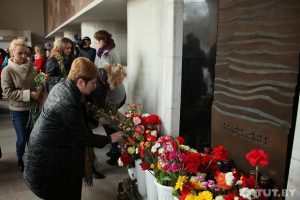 On the 10th anniversary of the tragedy, ICCI «Our House» would like to list those who died during the terrorist attack. These are students Siarhei Herasimchyk (17 years old) and Raman Kaptsyukh (21 years old). These are 22-year-old cooker Siarhei Serbaeu and 23-year-old graduate student Yuri Klimets. These are 27-year-old Olga Salaueva, 33-year-old Vital Bakan, 42-year-old Tatsiana Zakharkova and 44-year-old accountant Natallia Abrazhei. These are 51-year-old Halina Pikulik and Anatol Narkevich. These are 56-year-old Anna Shahoyka and 57-year-old Aliaksandr Parfuntsau. These are 40-year-old Vital Daineka and 37-year-old Andrei Ilyin, who later died in hospitals.
We are sure that Lukashenka and his complices will respond to their actions in the International Court of Justice. We hope they will be sentenced for the murder of 15 Belarusians and the execution of two innocent guys. It is impossible to forgive such a crime.