There are now 106 women political prisoners in Belarus. Some of them are already serving sentences of restricted freedom without being sent to a penal institution, some are still awaiting trial for opposing the authorities, some – worst of all – have already been given a bleak sentence. However, there are much more women who have been repressed in Belarus. Mothers, wives, sisters, and daughters of political prisoners who are at large have suffered from the actions of the regime.
Removal of children from the family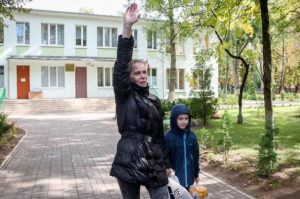 For a loving mother, there is probably no punishment worse than separating from your child. Children, for whom the illegitimate president boasts of loving, have become a lever of pressure on the family since the election. On September 17, 2020, activist of the "European Belarus" Elena Lazarchik was detained at the exit from the office of the human rights centre "Viasna". Her son, first-grader Artem, was in an after-school group at school no. 126 in Minsk. In the evening, when Elena was released, she went to pick him up and found out that her son had been taken to a social shelter. When she went there, Elena was told for Artyom to return home, you need to collect documents (including a job description).
The story received a public response. The shelter managers agreed to return the child to Elena and on 19 September 2020, the woman went to the shelter to pick him up. At the gate, caring Belarusians and older children were waiting for her. Artem managed to return home.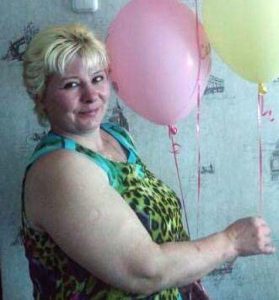 Political prisoner Elena Movshuk from Pinsk also faced the removal of her children from her family. She has two minor daughters, and after she and her husband Sergei became involved in the Pinsk case, the authorities decided to take the girls away. 11-year-old Angelina has been in an orphanage since September 17, where she was taken straight from school. Sergei Movshuk was at large until December, but the guardianship authorities considered that he would not be able to take care of Angelina, since he was her stepfather. Soon Angelina was taken by her godmother. Five-year-old Karina was taken to an orphanage from a kindergarten in April 2021, after the verdict in the "Pinsk case" was announced. She is looking for a guardian family. Both girls miss their mother and do not understand why she is in prison.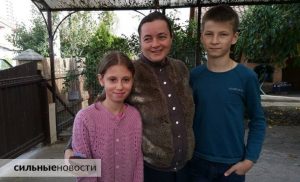 On September 29, 2020, Natalia Snezhkova, a mother of five children, was detained in Gomel. By that time, her husband German had already been sentenced to 14 days for participation in protest actions. The family has two minor children left at home. The woman's 11-year-old daughter was visited at school and questioned in the presence of a social pedagogue. Later, both children were taken to a social shelter. On September 30, Natalya was fined under Article 23.34 of the Administrative Code for participating in a protest action. After leaving the courtroom, she managed to pick up the children from the orphanage.
Torture and beatings by security forces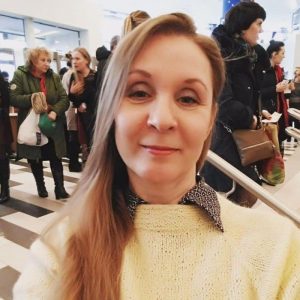 It has been said more than once that the GUBOPIK is beating the testimony of male political prisoners. Women are treated just as harshly by the security forces. On October 23, 2020, Maria Nesterova, a former customs officer who was an independent observer at the elections, was detained. During the arrest, Maria was beaten. The woman was charged under Articles 293 of the Criminal Code (participation in mass disorders) and 342 of the Criminal Code (organization and preparation of actions that grossly violate public order). On June 4, 2021, Maria was sentenced to three years in prison.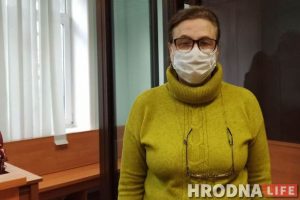 On December 17, 2020, Marina Polikarpova, a 55-year-old pharmacist from Grodno, was sentenced. On August 9, she was detained in Grodno while walking around the city and dragged into a police van. The female riot policemen began to beat her, strangle her, and shout obscenities. And then their male colleague joined the beating.
– They started to beat me with their hands and feet. They hit me in the shoulder and thigh for the first time so that I fell into the seat. My face got smashed. I had glasses, there was a wound. Then I tried to cover my face because I work in a pharmacy. They handcuffed me so tightly that I bled," recalled Marina Nikolaevna.
However, the court, which began on December 7, 2020, found her guilty of using violence against employees of the Ministry of Internal Affairs (Article 364 of the Criminal Code). Marina Polikarpova was sentenced to two years of restriction of freedom.
On December 27, 2020, Anastasia Nikitina, a 40-year-old mother of two children, was detained and beaten in Minsk. She was accused of throwing self-tapping screws near the prosecutor's office "as part of a group of people", which caused the damage to a service car. At the trial, Anastasia Nikitina said that during the arrest she was put on the ground, handcuffed, and then beaten in a bus. The woman clarified that she was feeling unwell, and that she was not fed for a long time, which caused an exacerbation of her diabetes, and her sugar dropped. They refused to provide medical assistance to the detainee.
Anastasia Nikitina's trial took place on March 3, 2021. The woman was sentenced to 1 year 1 month in prison in a general regime colony under part 2 of article 339 of the Criminal Code (malicious hooliganism) and part 1 of article 14 of the Criminal Code (attempted crime).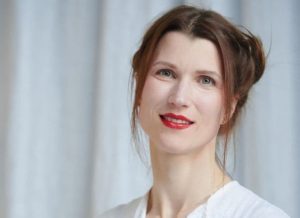 Mother of many children Olga Zolotar, detained on March 18, 2021, was charged with creating an extremist group (Article 361-1 of the Criminal Code). Olga's lawyer said that the GUBOPIK wanted to force her to testify against herself. She was beaten on the neck, head, then strangled, placed on the floor, pressed to the floor, and beaten with truncheons. But Olga did not testify against herself.
After the beatings, Olga had bruises on her body, abrasions on her arms and neck, and bruises on her buttocks. The forensic expert was allowed to see her only after two and a half weeks, when most of the beatings disappeared.
Failure to provide medical care
Detainees who are taken hostage by Lukashenko are entitled by law to receive vital medicines. However, to break the will of political prisoners, the servants of the punitive system deprive them of their medication and do not allow doctors into their cells. Menstruation is not an exception – Belarusian women complain that the administration of places of detention hardly gives out even hygiene products, not to mention painkillers.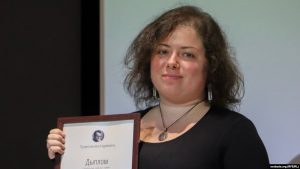 On September 6, 2020, Anastasia Zakharevich was sentenced to seven days of arrest. At the trial, she complained that during two days in the isolation ward she was severely frozen and needed medical attention. The girl's mother clarified that Anastasia needs to take medications every day, but she is not given them in the isolation ward. Anastasia's mother went to the Akrestsina detention centre to try to hand over the medicines.
On November 12, 2020, as part of the "student case", a freshman of BNTU Anastasia Bulybenko was detained. Before that, the girl was detained twice, the first time on September 19, and the second time on October 17. Anastasia suffers from psoriasis, and while serving the day, the disease worsened. She was not provided with special food, for ten days the girl was not taken to the shower, which is contraindicated for patients with psoriasis. Her hands were inflamed, she could not straighten her fingers, her skin cracked to blood. The student's mother managed to give her clothes and medicine. But after prison, the girl needed serious treatment.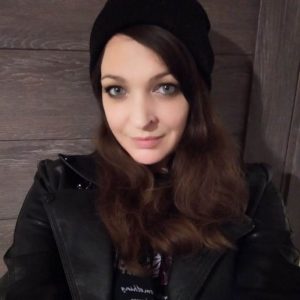 On November 18, 2020, Irina Schastnaya, an activist, editor of popular Telegram channels, including "Maya Kraina Belarus", was detained. They were charged under Part 2 of Article 293 of the Criminal Code (participation in riots). Irina's trial took place on May 25, 2021. She was sentenced to 4 years in a general regime colony. Irina's husband Alexander Schastny said that Irina was registered as prone to extremism. In prison, the activist was ill with a coronavirus – she lost her sense of smell, but tests showed a negative result. Relatives tried to give her over-the-counter medications and vitamins, but they did not accept any of them.
On 25 March 2021, Kristina Yudina, a resident of Vitebsk, was taken to the TDF. She spent 25 days behind bars. The girl said that since April 1, 2021, the administration has introduced many bans. When she first came to the TDF, the local doctor asked her if she had any chronic illnesses. Christina listed health problems, but this did not affect the attitude towards her. The girl was not given Omeprazole tablets for gastritis. The doctor suggested that he should go to his relatives and the head of the detention centre told him to lead a healthy lifestyle.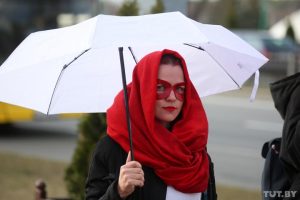 Yulia Mikhaylova, the girl who was imprisoned after walking under a white and red and white umbrella on 6 April 2021, also complained about the lack of medication. There were nine people in the two-bed cell where she was placed. The prisoners were not given parcels, they were not taken out for walks, letters and even toilet paper were not handed over. There were five patients in the cell, but they were denied medical assistance, distributing paracetamol tablets between them.
Lack of hygiene items
On March 31, 2021, a decree came into force in Belarus, which defines the standards of nutrition and supply of prisoners with personal hygiene items. According to this decree, women will be given 200 grams of laundry and 100 grams of toilet soap, 25 meters of toilet paper and 10 sanitary napkins. At the same time, gynaecologists advise changing the pads every 3-4 hours, especially in the first days of menstruation.
The girls who were detained in the detention centre on Akrestina said that there was not even a possibility to wash themselves in the cells. For these purposes, they used plates in which food was served for breakfast.
– In order not to stain their panties, women tore their clothes and used them instead of pads. But the blood still leaked onto the mattresses that were not processed. And had to lie on these mattresses covered in bloodstains. Some lied to detention centre staff that they were menstruating to get a pad and give it to someone who really needed it," said one detainee.
In the pre-trial detention centre in the city of Zhodino, the hygiene situation is even worse. Video surveillance is installed in absolutely every camera. In their cells, prisoners have to change clothes and wash themselves. This can only be done in the toilet.
Women in temporary detention facilities are deprived not only of pads, but also of toothpaste, brushes and toilet paper. It is lucky for those who go to prison with a backpack of prepared items: tissues, toothbrush, toothpaste, tampons, a change of underwear.
"I had my toothpaste with me. I brushed my teeth with my brush, the others with a finger. And since Sunday, another toothbrush and toothpaste appeared in the cell, and several of my cellmates brushed her teeth, washing them with baby soap. Another value behind bars was the removable panties that I had with me. Thanks to this I was able to change and wash my underwear. Other women did not have this opportunity. By the way, when I realised that I would be released home, I left these spare pants with the girls," said journalist Nadezhda Kalinina of TUT.BY, who was taken to the Detention Centre on 29 January 2021.
Imprisonment in a psychiatric hospital
This measure has been applied to women prisoners since the early 2000s. It continues to this day. Activists are forcibly hidden in the wards of psycho-neurological dispensaries, allegedly for expertise and examinations. In fact, they are fed pills, injections of drugs, do not give letters and do not allow them to see their loved ones.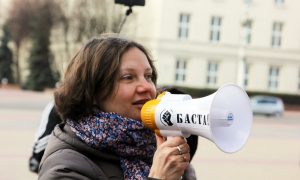 The activist of the "European Belarus" Polina Sharendo-Panasyuk was detained on January 3, 2021. She was charged under Articles 364 of the Criminal Code (violence or threat of violence against an employee of the internal affairs bodies), 368 (insulting the president) and 369 (insulting a government official). A woman was suspected of posting a video in her Telegram feed on 29 December 2020 in which she called two police officers punishers and fascists, using swear words. This video filmed the detention of her husband Andrei with her little son. According to the investigators, on January 3, while inspecting the apartment, Polina called the police officers with obscene words, spat in one of them in the face and tore off the mask.
On 24 February 2021 it became known that the woman had been transferred from Detention Centre No 7 in Brest to the Republican Scientific and Practical Centre for Mental Health in Minsk. Polina did not give any evidence against herself, did not confess to the investigators who visited her and said she would only answer questions from the International Court of Justice in The Hague when Lukashenko would be in the dock.
At the trial, which took place on June 9, 2021, Polina Sharendo-Panasyuk spoke about the psychological examination: "For some time now, punitive psychiatry has been actively used in Belarus: the political activity of individuals equals social and social pathologies. There was no expertise." Polina also spoke about the use of violence against her in the pre-trial detention centre. The woman was sentenced to two years in prison.
Deportation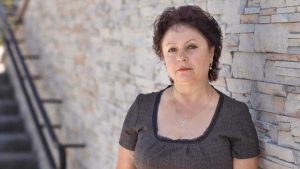 Several foreign women were immediately expelled from the country after the protests and lost their homes, as they had lived in Belarus for many years. 61-year-old Russian woman Nina Privalova twice became involved in administrative cases. On August 11, 2020, she was detained in the area of the "Minsk – Hero City" stele. There, the women got into a hitch and went on the riot police, who were beating the men, but reinforcements soon arrived for the enforcers. Nina Privalova was standing on the sidewalk when she was hit on the back and then dragged into a minibus. On that day, she was released only closer to midnight, the next day she was admitted to the hospital.
The second time Nina Privalova was detained on November 8 – and again from behind. The security officer lifted the elderly woman by the hand into the air. She was taken to the pre-trial detention centre in Zhodzina, where she was made to stand against the wall amid shouts and foul language. As a punishment, she received 12 days of arrest. Even though Nina Privalova is a native of Belarus and has lived here permanently since 1998, she was served with an order to leave Belarus in January 2021.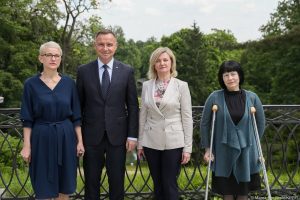 On May 25, 2021, activists of the Union of Poles in Belarus Irena Bernatskaya, Maria Tishkovskaya and Anna Panisheva were deported to Poland. The women were detained in March: Anna Panisheva on the 10th, Maria Tishkovskaya and Irene Bernatskaya on the 25th. All of them were charged with inciting hatred in the framework of a criminal case for the rehabilitation of Nazism (part 3 of article 130 of the Criminal Code). On May 6, 2021, activists of the Union of Poles were summoned to the Investigative Committee. The interrogation was attended by the Polish consul, who asked if the women would agree to leave Belarus if there was such an opportunity.
"We were born here, this is our land, I don't want to go anywhere," Irena Bernatskaya said when she was free. – But the answer was: as they say. We are not politicians, we do not know, but if it has to be done, it has to be done.
A few days later, the arrest of Irena Bernatskaya was extended for another three months, then she was transferred to a prison in Zhodino. On 25 May she was unexpectedly invited "with her things out" and given a document stating that she would henceforth stay at home in Lida but would be registered with the Lida police department and come to the Investigative Committee on first request. Then Irene was taken out of the prison, taken to the border, where she saw Maria Tishkovskaya and Anna Panisheva, and then transferred to the Polish side. The women did not even have passports. They cannot return to Belarus, since at the border they were forced to sign documents banning entry into the country.
ICСI "Our House" expresses solidarity with all Belarusians who are under pressure because of their civic position. We demand that women's rights to medical care be respected, their basic needs are met, and their families are preserved. And we also demand the immediate release of women political prisoners.