While the whole world is watching what is happening in Ukraine, Belarus remains in the shadows. Meanwhile, women continue to suffer from the actions of the illegitimate authorities. They are detained, imprisoned and sentenced for comments and stickers. Since the beginning of the war in Ukraine, there have been many such cases.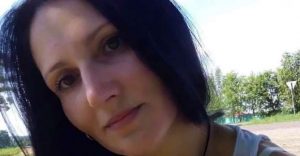 On February 24, 2022, Molodechno resident Olga Borunova went out to an anti-war picket in the city and stood with a white-red-white flag outside a shop. Fifteen minutes later, the law enforcers came to pick her up. She was released from the police only on February 26, having taken her phone and fined 2,160 roubles. Olga's son said that the action was prompted by the invasion of Ukraine by Russian troops.
On February 27, 2022, Oksana Sheremeta, 51, was detained at a polling station in the village of Volno. The woman spoke out against Russia's actions at the polling station, and residents called the police on her. Oksana was taken to the police in Baranovichi, and her phone was taken away. Some "extremist materials" were found in her social networks. However, they did not arrest Oksana because her elderly mother was waiting for her at home. But on the morning of March 2, the police picked her up and took her to Baranavichy District Court. She was found guilty and fined 320 roubles.
On February 27, 2022, on Victory Square in Vitebsk, police detained resident Ekaterina Bekan. The reason was the yellow and blue flowers in the hands of a woman. The police drew up a report under Article 24.23 of the Code of Administrative Offences for unregistered picketing. As a result of the trial, Ekaterina got sentenced to 10 days of arrest.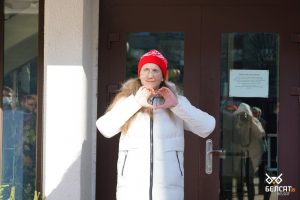 On February 27, 2022, the interpreter, Volha Kalatskaya, got detained. It happened in Minsk district Serebryanka near school #134. The interpreter was fined 4,800 rubles. Last year she was sentenced to two years of restricted freedom without being sent to an open institution for slapping the propagandist Azarenok.
On February 28, 2022, Valiantsina Mironova, mother of political prisoner Ilya Mironau, was tried in Gomel. The reason for the case against her was a Ukrainian flag standing on the windowsill outside her house. The flag was visible from the street. And on February 25, a woman got detained for it. She was not even allowed to take the necessary things out of the house. In court, Valentina Mironova was fined 160 rubles.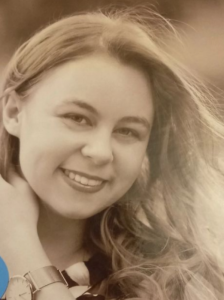 In March 2022, Rita Zotava, a 20-year-old student of Gomel State University after Frantsysk Skaryna, was tried in Chechersk. The 20-year-old girl was detained for posting fly sheets, the content of which, according to the investigation, humiliated the riot policemen. It turned out that the flyer got offered to her by her boyfriend. The girl said that, after her detention, the law enforcers made a "penitential video" with her and promised her: "Don't worry, it won't go anywhere. Even though linguistic expertise found no incitement or signs of verbal aggression in the texts on the leaflets, Rita Zotova was convicted all the same. She was sentenced to two years of jail under part 1 of article 342 of the Criminal Code.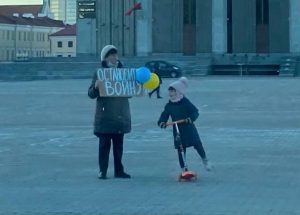 On March 1, 2022, Zhanna Trofimets was detained in Minsk. She came out to Kastrychnitskaya Square with a poster "Stop the War" and balloons in the colour of the Ukrainian flag. She and her little granddaughter were taken to the police. The trial took place the next day. Zhanna Trofimets was fined 3040 roubles.
On March 3, 2022, journalist Diana Seriadziuk was detained as she was leaving a church with her husband. At the time, Belarusian mothers there were holding a joint prayer to end Russia's attack on Ukraine. Diana was accused of disobeying police officers. Diana allegedly refused to get out of the police car when she was brought to the police station. As a result, the journalist and her husband were sentenced to 15 days of arrest.
On March 4, 2022, the history teacher of Babruisk school #27, Larysa Sekerzhytskaya, came to classes with a yellow and blue ribbon in her hair. The mathematics teacher noticed this and complained to the principal. The headmistress called the riot police to the school. The law enforcers entered the class of Larysa Sekerzhytska right in the classroom. At the trial, they stated that with her tape, the teacher "actively participated in mass action in the form of picketing and attracting the attention of citizens". Larysa didn't admit her guilt.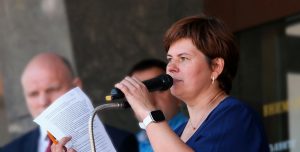 On March 10, 2022, Naftan independent trade union chair Volha Britikova was convicted. The woman was detained during the referendum in Navapolatsk on February 27 at a polling station. She was accused of photographing a ballot paper and was sentenced to 15 days of arrest. A few days later, she received a new sentence of 15 days for an anti-war inscription on her jacket. For the third time, Volha Britikova was tried for having sheets of paper with "No War" written on the windows of her flat.
On March 14, 2022, Liubou Arbuzova was tried in Mozyr and accused of committing a crime under Article 391 of the Criminal Code (insulting a judge or a people's assessor). Liubou was accused of leaving an insulting comment on the social network about a judge "in connection with the administration of justice by him". The woman was sentenced to 1.5 years of restricted freedom without being sent to an open-type correctional facility.
On March 15, 2022, Iryna Radzkova, 51, was tried in Minsk. She was detained in November 2021 under article 342 of the Criminal Code (organisation and preparation of actions that grossly violate public order or active participation in them). The court sentenced her to three years of restricted freedom without sending her to an open-type correctional facility.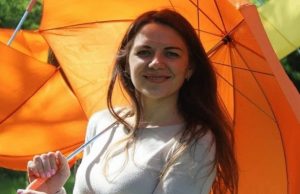 On March 17, 2022, the political prisoner Maryna Nevdakh got judged in Minsk. She was charged under Article 342, part 1 of the Criminal Code for organisation and preparation of actions that grossly violate public order or active participation in them. In 2020, Marina was detained several times for participating in an unsanctioned mass event. In December 2021, Marina Nevdakh got arrested. Her phone was checked, she was searched and detained in front of her children. Police took her to the detention centre, where unbearable conditions were created for her. Maryna Nevdakh was sentenced to three years of restricted freedom without being sent to an open prison and forced to pay a fine.
On March 22, 2022, 34-year-old Yulia Makas was detained in Minsk. The woman was searched for her posts on Ukraine on social networks. According to pro-government TG channels, she was "one-sidedly spreading her pro-fascist ideas in support of Ukrainian radical nationalists". A criminal case was opened against Yulia under Article 342 of the Criminal Code (organisation and preparation of actions that grossly violate public order or active participation in them). Yulia is known to have taken part in protests in 2020.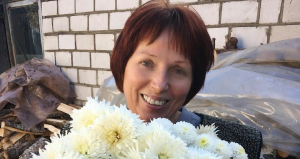 On March 23, 2022 Svetlana Ostrovinskaya, 54, was tried in Zhlobin. She was accused of leaving a reaction in the form of a sad smiley under a post about Lukashenka on the social network "Odnoklassniki" last November. Previously, the woman had been twice prosecuted for "distribution, production, storage, transportation of information products containing calls to extremist activity, or propagandizing such activity. She got sentenced to one year in prison for insulting Lukashenko. The mobile phone from which the woman left the smiley in "Odnoklassniki" got confiscated.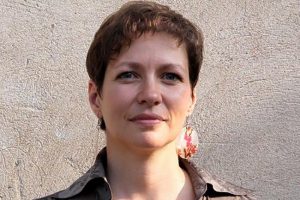 On March 23, 2022, Tatsiana Vodolazhskaya, sociologist and member of the Coordinating Council, was detained during a visit to the Investigative Committee in Minsk. The week before, Tatsiana had applied to the Investigative Committee for permission to travel to Lithuania for treatment. When she went to pick up the answer to the application, she was served with a detention order. Since August 2021, Tatsiana has been under suspicion of a crime under Article 342 of the Criminal Code (organisation and preparation of acts grossly violating public order).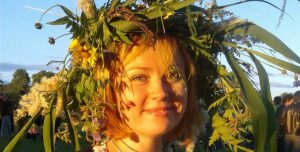 On March 25, 2022, police officers detained a nurse at the Children's Surgical Centre, Maria Korzhenevskaya. The day before, her son, aged 21, had been detained. A search was conducted at their home, during which the law enforcement officers broke down the doors. Maria was invited to the police to collect her son's bicycle. But she never returned home that day. And on Saturday, she was put on trial. She got sentenced to 21 days of arrest.
On March 25, 2022, on the Day of Will, in Brest, law enforcers broke into the house of Zinaida Mikhniuk, activist of the Independent trade union of REP workers, through the window. The police searched and detained the mistress of the house, but the reason is not known. Human rights lawyer Uladzimir Maliey was brought to Brest for interrogation on the same day in the case of Zinaida Mikhniuk. He was questioned as a witness in the case.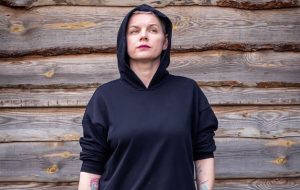 On March 29, 2022, the court of Pruzhany district considered the case of Viktoryia Onokhova-Zhuravliova, mother of many children. Viktoryia raises 13 children, of whom nine are adopted. The woman has always fought with the local authorities to make life in the town better: she wrote complaints, questioned the chair of the district executive committee and talked to the local authorities about what could be changed in Pruzhany. In February 2021, a denunciation was written on her, and she was called hostile to the state system. In August 2021, a woman's house got searched. A criminal case was initiated against her for slandering Lukashenka. Allegedly Victoria wrote in a local chat room after the death of Gennady Shutov "Lukashenka killed another Belarusian". The same case was the subject of a trial in March. Victoria got sentenced to 3 years of restricted freedom without being sent to an open-type correctional facility.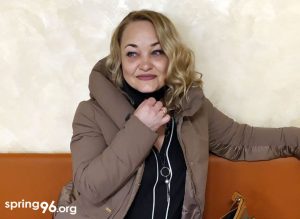 On March 29, 2022, Valentina Medved, who had already served "home chemo" for calling a local police officer a "rotten and slippery type" in November 2020 in the Telegram channel Bereza-97, was tried in Bereza. The court ordered Valentina to pay moral compensation to the enforcer. After this, Valentina struggled to get a job as a cleaner in a private firm and was then able to work part-time as a hairdresser. However, this quickly came to light when an offended policeman decided to make enquiries and find out where the convict worked and why she paid so little. This is how he found out that she works as a hairdresser and violates the terms of her sentence. As a result, not only Valentina was convicted for forgery (part 1 of article 427 of the Criminal Code), but her employer as well. Taking into account the cumulative sentences, Valentina Medved was eventually sentenced to 3 years of restriction of freedom without sending her to an open-type correctional facility.
As we can see, the Belarusian activists keep fighting and protesting and getting sentenced and fined for it. This time their motive is also to support Ukraine. The dictator wanted to stifle the protest with all his might, but he failed. The Belarusians show that they do not want to be associated with an illegitimate regime. And Lukashenko has not gained mass support.