For more than two weeks, there has been a protest camp near the Myadininkai checkpoint, where 24 hours a day and seven days a week draw the attention of passing people to what is happening in Belarus. During this time, there were actions with blocking roads. Drivers of hundreds of trucks were handed out leaflets with information about what terrible things the illegitimate government is doing. Information about the camp spreads through the communication channels of truckers all over Europe.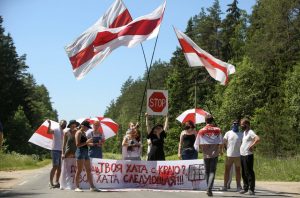 All this time, the tent camp is under the care of four public organizations: "Dapamoga", ICCI "Our House", the foundation" Country for Life", the party"People's Gramada". The heads of these organizations support the protest movement of the camp in all possible ways-from food packages to coordinating actions in the tent city with the Lithuanian authorities. The latter is perhaps the most important.
It was through the efforts of the ICGI "Our House", the public association "Dapamoga", the foundation" Country for Life", the party "Narodnaya Hramada " that it was possible to coordinate the holding of a large march with the road closure on Saturday, June 12. The heads of the organizations sent a corresponding letter to the Seimas of Lithuania. Another action was held in the Kotlovka village on June 19 – public organizations of Belarusians in Lithuania helped with coordination. Representatives of organizations regularly come to the camp to support the protesters and also talk about the camp on social networks.
In Poland and Ukraine in early June, tent camps also opened, but their activities have already stopped. In Lithuania, the camp has been in its third week since its foundation. Activists on the Lithuanian border are not afraid of the heat, insects, or provocations. We believe that the protesting camps will accelerate Lukashenko's departure and returning home.