"Our House" activists are working in different countries of Europe and are trying to do their best to help Ukraine in its war with Russia. We strive to participate in solidarity actions, collect and sort out humanitarian aid, disseminate information, communicate with politicians and celebrities and make new acquaintances that will help save Belarus from Lukashenko. Today we are glad to share with you news from our Vilnius office.
Over the last few days, we have communicated with representatives of the Ukrainian diaspora in Lithuania. This meeting was extremely significant because Ukrainians have recently been perceiving Belarusians as enemies, not separating Lukashenko's fans and protesters. We told the Ukrainians about the circumstances in Belarus after the elections of 2020, the scale of repressions and showed them proof that there is a war against peaceful people in Belarus. Hopefully, this dialogue has started a relationship between the repressed Belarusians and Ukrainians. We will fight together for the freedom of our countries from now on.
Every minute 55 Ukrainian children become refugees because of Putin's troops. More than 1.5 million little Ukrainians have left the country, and orphaned children also left Ukraine. Now 44 children from a Ukrainian orphanage have arrived in Trakai. When we heard about this, we could not pass it by. We contacted the orphanage and offered our help. The orphanage representatives agreed to collect food for the children in our office. The children will enjoy buns, biscuits, juice and fruit.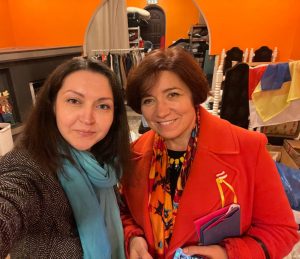 "Our House" continues to cooperate with Lithuanian organisations. The "Dapamoga" NGO is our long-standing partner. Together we have done a lot for Belarusians and the sake of Belarus since 2020. And now "Dapamoga" has joined the fight for peace in Ukraine. Two ambulances and humanitarian aid for residents of bombed-out Irpen and Bucha went to Ukraine with the help of "Dapamoga". Our office in Vilnius donated clothes, crockery and shoes to "Dapamoga" for the refugees.
We are fighting Putin's Russia in different directions. One of the directions chosen by our activists is participation in internet resistance. The achievements of the Ukrainian "Internet-soldier", which "Our House" has joined, have already been noted by the leader of "The Ocean Elzy" band Svyatoslav Vakarchuk, musician PIANOBOY, singer Artem Pivovarov and presenter Alexander Pedan. Thanks to numerous letters to politicians, European organizations and companies, sanctions are imposed against Russia, and the Ukrainian topic is discussed at the highest level. Our activist alone has sent more than 20 letters to members of the House of Lords, written to more than 30 politicians, and drafted appeals to TOYOTA, Nestle and Danone asking them to withdraw from the Russian market.
And our struggle continues on different fronts. Because we understand: the war in Ukraine is our war too. The liberation of Belarus from Russian occupation and the Lukashenko regime depends on the success of Ukrainians. Therefore we will only increase the pressure.