On October 22, the head of the ICСI "Our House" Olga Karach and the organization "Dapamoga" head, Natalia Kolegova, met with the Lithuanian Seimas Deputy Jurgita Sejonienė. There was an acute issue on the agenda — the problems of Belarusian doctors.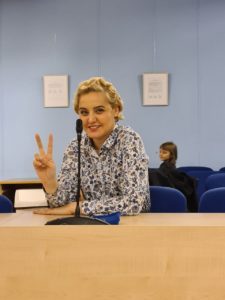 During the discussion, two groups of doctors were identified. One is those who have already fled the regime persecution and are in Lithuania. Second is those who plan to move from Belarus to escape possible repression. Olga Karach and Natalia Kolegova also touched upon the issue of COVID-19. It is currently very acute in Belarus, where the regime not only does not want to admit the pandemic but commits actions that lead to an increase in morbidity and deaths.
Olga Karach and Natalia Kolegova discussed with Jurgita Sejonienė the issue of recognition of Belarusian medical degrees. They raised the question of how to simplify the procedure for recognizing diplomas. Also, they talked about the problems of the language barrier and the provision of jobs for Belarusians. The dialogue turned out to be constructive. Lithuanian Seimas made several proposals. We expect that some of them will be implemented soon.
ICGI "Our House" is sure that the solution of simple issues of Belarusians — problems with legalization, work, study – helps Belarusians who had to flee from repression to get into a familiar normal rhythm of life faster. And this, in turn, returns them to protest activitiesю They can help other Belarusians and be more active in the struggle for the freedom of their homeland.