Activists and volunteers are ordinary people who can also face problems, sometimes unsolvable. At this moment, they need the support of other people – financial or moral. "Our House" never passes by someone else's misfortune. For us, it doesn't matter whether a person is an activist or accidentally happened to be in the wrong place at the wrong time. That is why from the very beginning of our activity, we have been helping all active Belarusians. Today we will tell you how it was.
Pogroms of human rights and non-governmental organizations and detentions of activists have long been familiar. In 2017, the authorities smashed the human rights centre "Viasna". In those days, there were protests all over the country against Decree No. 3, which forced unemployed people to pay a tax on parasitism. On March 25, a gathering of volunteers was scheduled in the office, and when they gathered, security forces flew into the room and ordered everyone to lie down. Many suffered injuries and blows – someone was later diagnosed with concussions and fractures. One of the volunteers who needed help contacted us – she did not have a certificate of detention, none of the security forces was punished according to the law.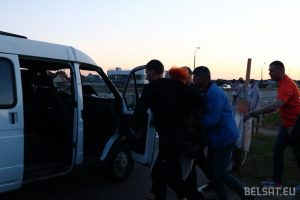 In 2018, Belarusians protested against the restaurant and entertainment complex near the Kurapaty – place of mass shootings in the 1930s – 1940s. We have collected facts about the inhumane treatment of women that occurred during the week-long confrontation. We told that the journalist Ekaterina Andreeva was detained and taken to the police station, where she was forced to undress her underwear. The driver of the Lexus car, Nikolai Astapchik, hit the door on Natalia Goryachko's leg. An unknown motorcycle cyclist has run over Nina Baginskaya.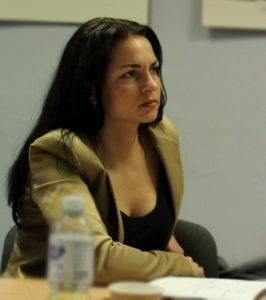 In the same year, we supported Alyona Lutskovich, an activist from the village of Oktyabrsky. She found out that law enforcement officers were looking for her in connection with the theft of cheese from a store of a well-known retail chain. According to the investigation, Alyona appeared on the video camera (even though the quality does not allow you to see the thief's face) – however, of course, it was not her. Earlier, Alena wanted to run for the Council of Deputies and found fraud in the elections. When she asked to postpone the hearing due to poor health, two policemen came home for her. State media journalists were aware of the trial and showed considerable interest in it. During the announcement of the resolution, Alena left the courtroom. She was found guilty and fined seven basic units.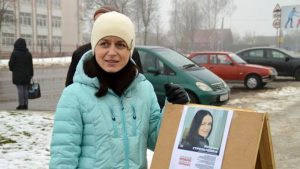 In 2019, we covered the repression of the spouses from Dubrovno, Viktor Bugaev and Natalia Strelchenko. Viktor was the author of the blog "All about Dubrovno", where he published critical notes and videos about illegal actions of local authorities and law enforcement agencies. One of the reports contained criticism of representatives of the local housing and communal services and other officials. Viktor began to receive threats to get a term of imprisonment and not get out of the colony alive. Fearing reprisals, he left Belarus. Natalia wanted to become a deputy of the District Council of Deputies but got refused. She was detained on Freedom Day in 2018 – the woman became ill during the consideration of her court case. She also repeatedly received threats to take away the children.
In January 2020, we supported activists who participated in a peaceful protest against deep integration, which took place on December 20, 2019. The actions happened in different cities of the country: Minsk, Vitebsk, Gomel, Lida, Dubrovno, Pinsk. All activists – at least 30 people – were charged under Article 23.34 of the Administrative Code (participation in an unauthorized mass event). "Our House" published information about the court sessions and invited people to come to the trials of Belarusians.
In May 2020, we supported several active Belarusians tried for political reasons on the courts. Police detained them in Bobruisk, where blogger Sergei Tsikhanouski was supposed to come on May 9. However, the blogger did not arrive, because he was serving a term, but his supporters who reached the city suffered. Andrei Shulyako from Minsk was convicted of participating in an unauthorized mass event and received ten days of arrest. Alexander Ermolenko from Zhlobin received ten days for "honking, blinking lights, shouting slogans." Yuri Solovyov from Orsha also received ten days. Sergey Adnomakh from the village of Bibirevo came to get a job in Bobruisk and was detained at a public transport stop when he was waiting for a trolleybus to the station. He got sentenced to 10 days of arrest. Dmitry Wolfson was travelling from home to repair equipment when they detained him at the exit from the house territory. During the trial, Dmitry stated that the employee who stopped him did not present his official ID at his request. The man received ten days of arrest. Blogger Dmitry Timofeev came to Bobruisk to honour the memory of his grandfathers who died in the war. While laying a wreath, he was detained and accused of driving "suspiciously slowly" in a convoy of cars, honking his horn and shouting slogans. Dmitry was arrested for 12 days.
On June 27, 2020, the international human rights organization Amnesty International stated a full-scale purge of dissidents to suppress criticism of Lukashenko. Thus, Amnesty International supported the demands of the ICCI "Our House". We had previously demanded the unconditional release of all detained bloggers and activists. We also provided information on repressions during the election race in Belarus for Amnesty International. Among those mentioned in the monitoring were bloggers Vladimir Neronsky and Vladimir Tsyganovich, the administrator of the Telegram channel "Belarus of the Brain" Igor Losik, the administrator of the Telegram channels "People's Reporter" and "YouTube deputies" Sergey Petrukhin and a member of the founding committee of the new opposition party "Narodnaya Hramada" Sergey Sparish.
In June 2020, we prepared monitoring of repressions against women activists and volunteers during the election campaign. In it, we mentioned that we had recorded cases of repression against 45 women, some more than once. Women have been subjected to physical violence. There are facts of abductions and threats to remove children. Veronika Mishchenko, an activist of the "Narodnaya Hramada" party, was severely beaten by police officers and had hematomas after detention. Police officers chased Ekaterina Talankova from Svetlana Tikhanovskaya's initiative group in Mogilev. Activist Yulia Lemekhova got 15 days in prison. Olga Loban from Mogilev, Lyudmila Boreyko from Glubokoe, Liana Shuba from Zhlobin, Lyudmila Karchinskaya from Brest received fines.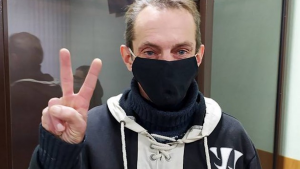 After the elections, of course, we did not stop helping activists and volunteers – after all, they were the ones who were under attack for their activities. Many were forced to hide or leave the country for fear of ending up in prison. On December 16, 2020, activist Alexander Tsaruk left Belarus and went to Lithuania, fleeing from repression. He was an observer at the elections in Mogilev, but Alexander was not allowed to go to the polling station. Then he went to the city centre and almost fell into a trap by the security forces. The next day, August 10, 2020, Alexander went outside and was detained. The court gave him eight days of arrest. After that, Alexander received a day of arrest several more times, and when he received a call from the police department and was called for an interview, he decided to leave. "Our House" found a lawyer for Alexander. Also, the volunteers of "Our House" helped him with getting a food basket.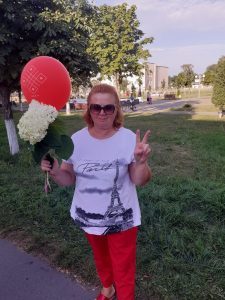 In May 2021, we helped political activist Svetlana Garsevich from Rogachev. She has been supporting the opposition movement for about five years. This year Svetlana decided to celebrate Freedom Day by putting up flyers. Security service stopped her, but the woman had already managed to put up the leaflets. The police interrogated her as many as 15 people, and the head of the police department threatened that he would take away her house and make a kindergarten in it. The woman's blood pressure rose because of stress – she had to call a doctor. However, after that, the police did not allow Svetlana to go. She spent the night in a cell and was convicted and fined 50 basic units. She received legal assistance from "Our House".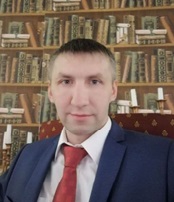 On June 1, 2021, an interview with Dmitry Rasseko, a repressed activist from Mogilev, was published on our website. After Sergei Tikhanovsky was detained in Grodno, he became a volunteer at Svetlana Tikhanovskaya's headquarters. "Checks came to us daily and required documents. The police came and asked questions about who we were and what we were doing. Many were taken away and imprisoned for a day. We could be approached and arrested for no reason at any time, and we understood that. They did their job," Dmitry recalled these difficult months. In October and November 2020, Dmitry received 25 days of arrest, and at the end of March 2021, he was detained while walking along Mogilev Street. And it was "Our House" that helped the activist in stressful moments of life.
Activists often need help in other countries, even in seemingly safe conditions. After all, Lukashenka does not shy away from sending KGB officers to monitor Belarusians living abroad. On May 24, 2021, Olga Karach sent letters asking to pay attention to the threats of the deputy of the House of Representatives of the National Assembly of Belarus, Oleg Gaidukevich, to take the opposition out of Lithuania and Poland in the trunk. The letters were received by Lithuanian President Gitanas Nauseda, Prime Minister Ingrid Shimonite, Deputy of the Seimas and PACE representative in Lithuania Emmanuelis Zingeris, Lithuanian Foreign Minister Gabrielius Landsbergis, the Foreign Affairs Committee of the Seimas, the head of the Lithuanian Parliamentary Committee on Human Rights Thomas Vytautas Raskevicius and the head of the National Security and Defense Committee at the Seimas Laurinas Kaschiunas. And on June 22, 2021, Olga Karach appealed to the Seimas and told them about five cases of a stakeout of Belarusians. Suspicious surveillance continued at the protest camp in Myadininkai. Some activists, now living in Lithuania, recorded the license plates of the cars that followed them.
On July 11, 2021, we talked to Valery, a civil activist from Grodno. Even before the elections, in May 2020, Valery and other volunteers put up leaflets in the city, hung banners, flags, and helped in campaigning during Svetlana Tikhanovskaya's election campaign. On August 9, 2020, Valery got detained – he was spending in a cell for about a day, and the next day he was convicted. When he left the police department, he was detained again and beaten. In the protocol, the police stated that Valery took part in the action – however, it is unclear what kind of action. After that, Valery left his job, but he couldn't escape from Belarus, and the police blocked his communication services. "Our House" also turned out to be nearby and, after Valery's appeal to us, provided him with all possible assistance.
We have repeatedly written about how hard it is to help in conditions when every step needs to be thought through so as not to endanger yourself, your loved ones, or those who need help. The state is trying to block all channels so that political prisoners think they have been forgotten and confess to what they did not do. Volunteers and activists in these conditions need to be strong and not be afraid to ask for help – and we believe that "Our House" has become a reliable support for them.