The meeting took place during the meeting of solidarity with Ukrainian women held in Vilnius on International Women's Day. It was very actual because Ukrainian women fight at the front, care for relatives and children. The event was held at the Ukrainian embassy in Lithuania. Our representatives also came to express their support for Ukrainians fighting for their country's freedom.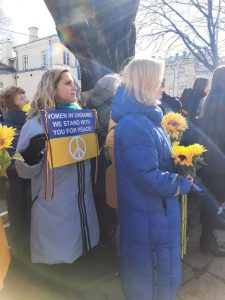 Participants came to the embassy with sunflowers, the national symbol of Ukraine and a symbol of resistance to the aggression of the Russian army. Many people took Ukrainian flags, supporting posters and blue and yellow symbols. Speaker of the Seimas Viktorija Čmilytė-Nielsen, Ombudsman for Equal Opportunities Birutė Sabatauskaitė, Director of the Lithuanian Centre for Human Rights Jūratė Juskaitė and Expert of the Centre for Development of Equal Opportunities Margarita Jankauskaitė spoke at the event. Viktorija Čmilytė-Nielsen said that the brutality of Russia's actions is shocking, and Ukrainian women now have only one goal – to survive: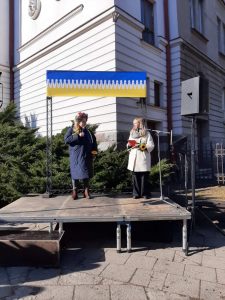 "Today, in solidarity with Ukrainian women, we fully understand that each of them wants to feel safe, to have every opportunity to fulfil their potential. Women want to be respected, not humiliated, not abused. But for Ukrainian women, the only aspiration is simply to survive, to make sure that their families and children survive. With the help of Ukraine, we would look again at what we have already achieved, what we have won, what rights and opportunities are available to every woman in Lithuania. We are happy and proud of what we already have, but there are still things we have to do."
"Our House" has been working in the field of women's rights for many years. We are constantly in contact with women's organisations around the world, recognising the problems of violence against women, sexism, harassment and other forms of discrimination against women. Our representatives talked about this with Birutė Sabatauskaitė, Equal Opportunities Ombudsman of the Lithuanian Seimas. As a result of the conversation, it was decided to follow up and discuss the needs of Belarusian women.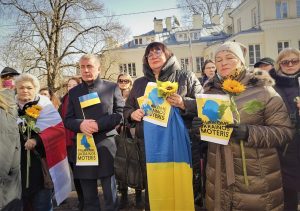 We are grateful that Lithuania remembers Belarusians in this terrible situation. We thank Lithuania for its interest in our problems. And, of course, we express our solidarity with Ukrainian women who receive bullets instead of flowers and hear the sound of bombs exploding and air-raid sirens instead of songs and words of love. But we very much hope that soon both Belarusian and Ukrainian women will live peacefully in a free country.