For the second year in a row, «Our House» takes care of Belarusians in the country and assists people forced to leave their homes. We tried to support refugees financially and resolve their issues at the state level in European countries. Here, we will summarize our assistance to Belarusians results this year.
Since the beginning of this year, we have helped 211 victims of repression inside Belarus. Of these, 90 are women, 121 are men, five are minors. Among the recipients were 62 people from Minsk and 149 from the regions. The assistance to the repressed consisted of 80 expenses for a lawyer and payment for 105 food parcels to prisons and relatives of those imprisoned for political reasons. Almost 30 people received psychological help from the volunteers of «Our House». We helped in fines payment for 13 people and detention in the temporary detention centre payment for 28 Belarusians. We also provided assistance in paying state fees to seven people, made two payments for enforcement proceedings and conducted 16 legal consultations. For people within the country, this assistance is extremely necessary.
In May 2021, thanks to «Our House», a Belarusian eleventh grader who arrived in Lithuania in February got a certificate from a Lithuanian school. While studying at a Lithuanian school, Arseniy Leonov, the son of repressed actors, had to take an exam in Lithuanian language and literature, which he would not have had time to learn before the end of the school year. The young man was even going to go home for a certificate. But receiving graduation from school certificate question was raised at a meeting with the Lithuanian parliamentary committee for human rights head, Tomas Vytautas Raskavičius. And the Prime Minister of Lithuania, Ingrida Shimonyte, having heard that Arseniy had arrived in Lithuania under the «Our House» program, put the issue under control. Thanks to the joint work of «Our House» and the Lithuanian government, Arseniy realized his dream and entered a university in Poland.
In June 2021, Olga Karach and Natalia Kolegova (head of the public association «Dapamoga») applied to the Lithuanian Seimas with a letter about the problems of Belarusian refugees. Lithuanian authorities heard about what the refugees from our country face. Employment, legalization, replacement of documents were among the listed issues. Olga Karach and Natalia Kolegova noted that Belarusian doctors need help. Due to the difficulties in recognizing a medical diploma, they do not stay in Lithuania but leave for Poland or the Czech Republic. The letter also raised the issue of replacing passports that are about to expire. Olga Karach and Natalia Kolegova proposed simplifying the conditions mandatory for obtaining a residence permit. They also suggested simplifying humanitarian visas for Belarusians receipt.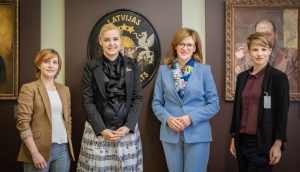 In August, Olga Karach visited Latvia, where she met with the parliamentary secretary of the Ministry of Foreign Affairs, Zanda Kalnina-Lukashevica. The head of the non-governmental organization «Centrs Marta» Iluta Lace and the political coordinator of «Centrs Marta» Liva Matusele attended the talk. Olga Karach asked Latvia to start a project of psychological rehabilitation for repressed women.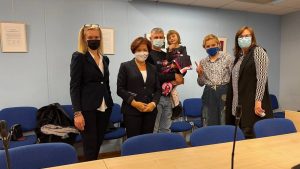 In autumn, «Our House» continued to address the issue of the quick legalization of Belarusian doctors in Lithuania. On October 22, the head of the ICCI «Our House» Olga Karach and the head of the «Dapamoga» organization, Natalia Kolegova, met with the deputy of the Lithuanian Seimas Jurgita Sejonienė. Olga Karach and Natalia Kolegova discussed with Jurgita Sejonenė recognizing Belarusian medical diplomas and simplifying the procedure for their recognition. They also talked about the language barrier issues and the provision of jobs for Belarusians. On November 12, the Lithuanian Seimas hosted a regular meeting dedicated to the problems of Belarusian doctors in Lithuania. From the Belarusian diaspora in Lithuania representatives, Jurgita Sejonienė learned about the situation in Belarus, the mood in society and what our compatriots who have come to Lithuania are doing now, what problems they face. The MP received a list of doctors who agreed to study the Lithuanian language and continue their practice in Lithuania.
The issues of Belarusian refugees got raised at a meeting in the Lithuanian Seimas, which took place on October 26. On the agenda were such issues as giving asylum to Belarusians subjected to pressure and repression, including granting the right to work and recognition of diplomas. Separately, Olga Karach touched upon the problem of visa support for Belarusians in different countries and raised the issue of refugee children who need psychological help and a sensitive and caring attitude.
In November, Olga Karach and Natalya Kolegova met with the deputy of the Lithuanian Seimas, Andrius Navickas. They told the MP that the Belarusian people did not put up with Lukashenka, that the struggle continues, albeit not as large-scale as before. They also did not forget to mention the Belarusian refugees in different countries. People participate in actions, pickets and flash mobs, bringing the victory closer.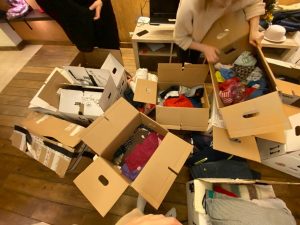 This year, «Our House» collected humanitarian aid for Belarusians three times. The first batch of 60 boxes of clothes arrived in Lithuania in January this year, when a group of friends from Bremen decided to support the repressed with parcels of necessary things. The assistance received came in very handy for those refugees who had just arrived in Lithuania, even with a minimum of things.
In October 2021, 15 tons of humanitarian aid arrived in Vilnius from Germany – the Belarusian diaspora of Frankfurt responded to the call to support the Belarusians. Among this help were many warm clothes needed by Belarusians, especially children. Germans sent clothes, furniture, dishes, and household appliances to Vilnius. Part of the humanitarian aid got delivered to Poland in November.
Another shipment of humanitarian aid from Germany arrived in December. It was possible thanks to the German human rights organization IGFM. On December 22, the cargo arrived in Latvia at the Accommodation Center for Asylum Seekers Mucenieki. Our volunteers reached an agreement with the Center leadership about the placement and distribution of aid directly in the camp. This assistance will also come to two more countries, where hundreds of Belarusians live in a difficult situation.
On December 25, Belarusian activists in Warsaw presented part of the New Year presents to the children of Belarusian refugees. ICCI «Our House» took part in collecting gifts. The action brought together public organizations of Belarusians from other countries: the Association of Belarusians in Italy «Supolka», BelarusBO Bologna, RAZAM Bielorússos de Catalunya, the Belarusian association RAZAM e.V. and the DAR initiative.
Also, for the New Year, adults in four countries were not left without gifts: Lithuania, Latvia, Poland and Ukraine. People in refugee camps and hostels need food aid and things, and there is not enough money to buy them after an emergency evacuation from Belarus. «Our House» extended a helping hand to dozens of Belarusian families from different countries. We have already paid for 27 food parcels for families of Belarusian refugees in Poland, several families in Lithuania, Latvia, Ukraine received assistance. But we remind you: our help has just begun, and next year we will continue to provide support to families of Belarusians who escaped from a concentration camp in the centre of Europe.
We wish you a Happy New Year and as few reasons for sadness as possible and as many as possible for joy in the new year. And also, we wish you good health, happiness and, of course, freedom. We believe that all the wishes made on New Year's Eve by Belarusians will come true. And we hope that we will celebrate the next New Year in free Belarus.