This disease is relatively young – the first AIDS case was in the USA in 1981. Two years later, the singer Klaus Nomi died of it. And a year later, the French philosopher and historian Michel Foucault died. The life of people with AIDS cannot be called easy: they struggle both with infection and with shame, rejection in society, stereotypes. On December 1, the world celebrates World AIDS Day. We tell you how HIV-infected people live in Belarus.
As of September 2021, more than 23 thousand people with HIV-positive status lived in our country. Every year their number increases by about 1000 people. Belarusians are most often sexually infected with HIV (more than 80 per cent of cases). The overall structure of HIV-infected people is dominated by men (more than 60 per cent). About 41 per cent of patients are workers and employees, 7.4 per cent are prisoners and former prisoners. These data show that HIV is not a disease of people with no place to live or low social responsibility. Anyone can become infected after careless sexual contact and sometimes after treatment in the hospital (this happened to Miroslava Dydyshko, whom we talked about in this article).
Vera was 23 years old when her partner infected her with HIV. After learning the diagnosis of the girl, he decided to end the relationship. Doctors in a small town told Vera that in five years, she would die, and if she got pregnant, she would immediately have to have an abortion. Vera joined a social movement that united HIV-infected Belarusians and continued her daily routine. The only difference is that Vera needs to take pills, go to the doctor more often and take tests every three months. The main fear of a girl is to reveal her status to young people. But she would really like a family and children.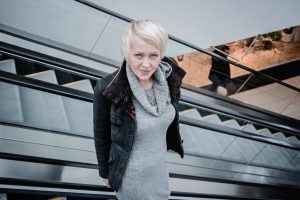 Oksana got infected by taking drugs and found out about it only when she got to the Republic Scientific and Practical Centre of Mental Health. In 2017, she defeated tuberculosis, and then therapy for HIV infection stopped helping her. Oksana passed all the tests, providing an extract from the dispenser, and changed her treatment. This process lasted almost a year – and Oksana had to go through nausea, hallucinations and paranoia. Oksana does not hide her status. And she also openly talks about what she had to face when choosing the correct treatment: "We have very few specialists who want to work in the healthcare system and understand what they are doing. And if you demand more from the system, you will be transferred from doctor to doctor. They will replace diagnoses without your awareness and disclose medical secrets. On my card, there was a mark "SD" – socially dangerous. The nurse who serves our entrance told everyone that I have tuberculosis and HIV. They even informed my daughter's school."
Svetlana and Vladimir, a couple from Minsk, also faced problems and stereotypes. During planning a pregnancy, Svetlana found out that she had HIV in her body. Svetlana cried for several days, trying to accept a new status, and was afraid to be in the same room with her husband, to take her nieces in her arms. Six months later, the woman found out that even if she and her husband tried to have a child, the court could convict her under article 157 of the Criminal Code (infection with the human immunodeficiency virus). For this, in Belarus, you can get up to three years in prison. In 2019, the article got amended. Nowadays, if a partner or a partner signs a paper in writing stating that they know about the status and are notified of the consequences, there will be no punishment. In addition, antiretroviral therapy allows you to give birth to a healthy child, adopt or adopt children. But Svetlana's main problem is fear because of stereotypes. And there are still a lot of them: many people think that HIV is a death sentence, or it is carried by prostitutes or drug addicts, that the virus is always transmitted from mother to child.
18-year-old Andrey has been living with HIV since birth. But he learned about his status only at the age of 11 from foster parents. Belarusian public organizations that helped teenagers with HIV-positive status supported him. At the age of 16, Andrey entered college, settled in a dormitory. When submitting documents, a medical certificate was needed, from which the curator of the group learned about the student's diagnosis and informed the college management. Because of this, Andrey was refused a place in the dormitory. Because of HIV, the guy could not attend sports sections. He couldn't even dream of entering educational institutions of the Ministry of Emergency Situations and the Ministry of Internal Affairs.
Natalia is a lesbian with HIV-positive status. People like her, as a rule, did not exist for the state. "For a long time, our authorities did not understand that there are bisexual women. They did not understand that lesbians are subjected to sexual violence, in which they can get infected with HIV," the woman says. That is why she became an activist of a non-governmental organization helping the infected. She had the opportunity to go to meetings with officials – and there, they finally heard her. As a result, the stigmatization of homosexual people with HIV in Belarus has decreased slightly. But the ideal, of course, is still very far away.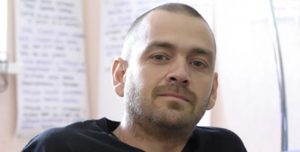 Evgeny Spevak found out about his status after taking injecting drugs more than 20 years ago. Since then, he has been living with HIV-positive status. His wife was not afraid to live with him and gave birth to his children. The concentration of the virus in his body is small, and he cannot infect anyone, so it turned out to conceive children naturally. But other patients are not so lucky – to undergo in vitro fertilization, HIV-infected Belarusians have to bypass more than a dozen offices and consultants before they get the permission. One more problem Evgeny talks about is the shortage of medicines for all patients in the country: "It is significant to have high-quality and affordable treatment. Recently, they have begun to purchase drugs, which, according to already available information, will not be enough for all patients. I had such a story twice when the scheme was changed to me because the drug was no longer purchased."
The Global Fund to Fight AIDS, Tuberculosis and Malaria helped Belarus with money for the fight against AIDS until 2015. This fund allocated for Belarus about $79 million. But then, during the consideration of the application, Belarus was marked as a "high-income country". Funding has stopped, especially since 2016, the state planned to finance antiretroviral therapy. And so it happened – the budget covers 90 per cent of the costs of HIV treatment. But the remaining 10 per cent, for which there were no funds, are expensive children's medicines and drugs for resistant forms of HIV and tuberculosis. The funds from the Global Fund to Fight AIDS were necessary – and Belarus received it in 2018. But the government could not register the grant for several months. All this time, specialized public organizations, mobile points of provision of harm reduction assistance from drugs and HIV reduced their work, they had to abandon the service of some localities. Under the threat of withdrawing funds, the grant was still approved, albeit with a delay of about six months.
Until the 2020 elections, it was customary to ignore HIV-infected people. Journalists rarely write about them in the media, and not many people remember the activities that helped the sick. They started talking only after the terror of 2021 and the liquidation of all non-governmental organizations, including those who dealt with HIV/AIDS. On July 22, 2021, the association "BelNetwork Anti-AIDS" was destroyed, which united NGOs in this field – more than 20 organizations in total. This community appeared in 2001 when the state was only glad of the public interest in the problem. And even despite this, she faced obstacles from the state. The main problem was obtaining permits for financial assistance from abroad – the organization had to pay tax from these funds. The government did not shy away from taking the money collected at concerts and charity marathons. In 2008, "BelNetwork Anti-AIDS" organized a charity rock marathon dedicated to children living with HIV. Donations were necessary to buy shoes, clothes, toys for kids. And then, the head of the organization, Oleg Eremin, was summoned to the tax inspectorate and asked to pay income tax.
The community never was the enemy of the state. The Ministry of Health recognized its activities and sought cooperation. Thanks to the "BelNetwork Anti-AIDS", Belarus was able to receive grants from the Global Fund to Fight AIDS, hold forums and conferences with the participation of government representatives, organize working trips to Germany for officials and NGO representatives. Ministries and departments got the newspaper "Together" about the fight against HIV/AIDS. Oleg Eremin's proposals even got included in the Law on Socially Dangerous Diseases. With the support of UNDP, "BelNetwork" opened a website where anyone could get free legal advice on all issues related to HIV and AIDS. During the coronavirus pandemic, "BelNetwork" provided food aid to HIV-infected people, including those released from prison. And in July 2020, the authorities approved a project for women with HIV/AIDS in places of detention. The project offered to invite consultants in women's colonies and open-type correctional institutions. Consultants would motivate prisoners to take therapy, give out hygiene products. The money for the project was supposed to arrive in October 2020, the Ministry of Internal Affairs became a partner. However, due to the political situation in Belarus, the German Ministry of Foreign Affairs stated that it would not transfer funds to a project involving law enforcement agencies.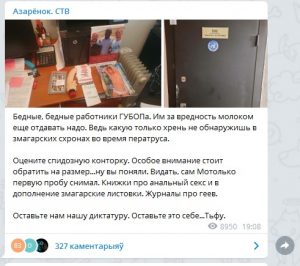 On July 20, 2021, photos from the search at the association's office appeared on the Telegram channel of CTV employee Grigory Azarenok. He said that the "BelNetwork Anti-AIDS" is the "opposition caches" and "AIDS counter". On July 22, the Minsk City Executive Committee decided to liquidate the community. And it was surprising because all the years of its activity, "BelNetwork" was not oppositional, did not seek power, but helped people. Oleg Eremin said that some international structures called the Ministry of Health sent letters about the role of "BelNetwork". But the agency did not dare to defend "BelNetwork".
"Our House" did not pass by the problems of HIV-infected people. In 2015, we drew attention to the fact that there is a problem with receiving foreign financial assistance in Belarus. But its involvement could take the burden off the budget. It is necessary for organizations that help people with HIV/AIDS. After all, in this way, it is possible to ensure a reduction in the number of infected, to help more patients with antiretroviral therapy. In 2018, we talked about how the methadone remedy, used in many countries for HIV-infected drug addicts, is prevented in Belarus. Thanks to cure, a person can control his life, live without "breaking" for up to 30 hours – however, the Minister of Internal Affairs Igor Shunevich believed that this was not treatment, but simply the substitution of one drug with another. In the same year, using the example of the Yakimov family, we told how doctors in Belarus disclose information about the HIV status of patients and how it turns out for Belarusians. In 2021, in an article about colony No. 1, we noted that HIV-infected people are in prisons together with ordinary prisoners, and the management of the colonies scares healthy prisoners with possible infection. And we also stressed that the prisons administration automatically classifies prisoners-328 as HIV-infected. This circumstance interferes with their life in the colony – for example, female prisoners cannot unlearn a manicure or hairdresser.
Behind a large number of repressions, deaths from the coronavirus, people forget about HIV/AIDS. Meanwhile, HIV-infected men and women live among us and hide their status in fear to become outcasts, objects of hatred and anger. They need therapy, the help of psychologists, medical examinations – especially in prisons, where the staff and administration do not care about them. And the attitude of the state propaganda to this is especially indicative. How soon will the illegitimate government reach the physical destruction of HIV-infected people?