About 6 per cent of Belarusians are disabled, according to the Ministry of Labour and Social Protection. Easy arithmetic operations allow us to calculate that there are about 558 thousand of them in the country, which is comparable to the population of Gomel, Dobrush and Vetka combined. Disabled people every day face the lack of ramps, parking spaces, a difficult road from home to the street by stairs in houses without elevators, the struggle for medical care. And this is not a complete list of obstacles. On December 3, Belarus celebrates Disabled People's Day. And we will tell you how the state "cares" about them.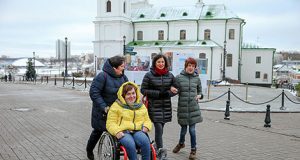 Belarusian disabled children and disabled people of group I (people with serious illnesses) receive a pension of 316 rubles (109 euro). Disabled people of group II are less lucky – their income ranges from 244 to 273 rubles. Disabled people of group III get only 216 rubles a month. It is almost two times less than the minimum wage of 417 rubles. Such people live with their parents or sisters and brothers who leave their jobs and look after a relative. For this, the state also relies on a benefit – 288 rubles. It turns out that two people, one of whom is ill, are forced to live on about 604 rubles (209 euro) a month. This value is lower than the official average salary in the poorest regions of the country. Is it possible to live on such money, for example, in Minsk, where the average income is at least twice as high? The answer is obvious. That is why even disabled people of the first degree with preserved intelligence are looking for ways to earn extra money remotely (as a programmer, social network administrator, copywriter, designer) or at enterprises where they are ready to be hired.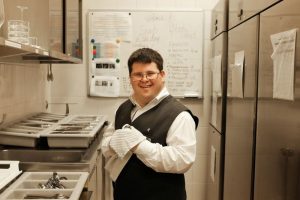 Are there many enterprises in Belarus ready to employ a person with a disability? Unfortunately, no. Renaissance Minsk Hotel, whose head came from Denmark, first provided vacancies for people with mental retardation. The Belarusian Association for Assistance to Disabled Children and Young People with Disabilities helped with the staff recruitment. The hotel approached the reception of a new employee responsibly. The management conducted training for employees, suggested how to help a newcomer to join the team. Vasily Pavlikov, 23, started his career there – now a guy with Down syndrome runs an Inclusive Barista coffee shop and employs employees with disabilities. In August 2021, ten people worked in the team, and they received about 50 rubles a day.
The Belarusian Association for Assistance to Disabled Children and Young People with Disabilities has enterprises that allow people with disabilities to get a job. However, there are such places in only five cities: Luninets, Stolin, Minsk, Novopolotsk and Baran. The enterprises for visually impaired people work in Minsk, regional centres, Slutsk, Molodechno and Pinsk. People with hearing disabilities are ready to hire companies in Minsk, regional centres, Orsha, Baranovichi and Bobruisk. The Belarusian Society of Disabled People also has its enterprises – two or three in the region. Residents of the Minsk region and Grodno region are lucky – they have the opportunity to work at five and six enterprises, respectively. But they are also not located in every district. And there is no need to count on a high salary there – only a modest increase to the pension. In addition, employees with disabilities, as a rule, have a reduced working day.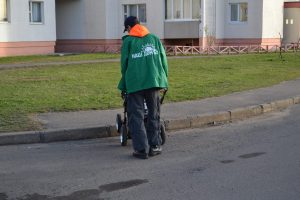 It is much more difficult for people forced to move around in a wheelchair. Even if they find a workplace, they will have to go through a whole obstacle course to get to it. Ramps, curbs, public transport, stairs, uneven asphalt – it is what this "quest" looks like. "Our House" has repeatedly paid attention to this. In 2015, a ramp and a handrail appeared at post office No. 35 in Gomel through the efforts of our activists. The Zheleznodorozhny district administration received the letter with a corresponding request from our organization. In 2017, "Our House" activists sent an electronic appeal to the Slutsk district executive committee. They informed about high side stones at a pedestrian crossing opposite two houses on Bogdanovich Street. The result appeared a month later. Slutsk housing and communal services workers replaced the curbs with lower ones, thereby increasing the convenience of roads in the city for the disabled. And in Bobruisk, we held a performance called "Curb like Everest" to show how hard it is for people with disabilities to move around the city.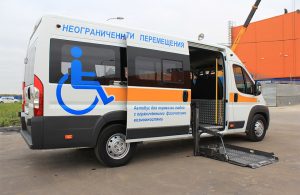 Things are not much better with medical care for the disabled. To get to a hospital or polyclinic, they need a social taxi. But not all regions have such service. In 2017, journalists called several social service centres and came to disappointing conclusions. In Zhlobin district, there were no finances to solve this issue, and in Beshenkovichi, they considered that people did not need the social taxi service. In Gomel, disabled people of group I could use transport, in the Moskovsky district of Brest there was only one car for this – it was not enough for all people with disabilities. A social taxi in Slavgorod, on which seriously ill people get to Mogilev, performs the functions of cargo transportation and gets to Mogilev in an hour and a half, which is much slower than by public transport. And in polyclinics and hospitals, they face the same problems as ordinary Belarusians: boorish attitude, queues, exhausting procedures.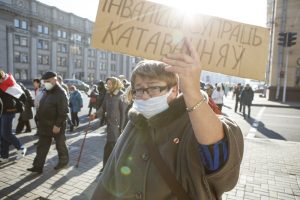 In 2020, disabled people didn't support the illegitimate government. On October 15, 2020, the first march where they participated took place. Here are some stories. 43-year-old Evgeny survived a heart transplant. In August 2020, he got out of the minibus and got detained. His arm was injured, after which its functions deteriorated. 33-year-old Alexandra lives without hands as a result of the fire. She also got detained more than once at rallies and had to run away from riot police and cough from tear gas. 71-year-old Lyudmila, during the August protests, hit the security forces who attacked the girl with her cane. She was detained and given a fine of about $100. 40-year-old Alesya has problems with the musculoskeletal system. She admitted that she does not feel like a full-fledged person in society: "Authorities must take into account our interests. It is unrealistic to live on a pension of 300 rubles (about $ 150). We have no opportunity to work, we are thrown away everywhere. Even if a private trader wants to hire a person with a disability, he will face a lot of obstacles and paperwork."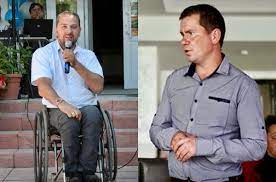 As a result, the disabled became enemies of the illegitimate state. The police attacked the structures they created and also began to arrest them and sentence them to imprisonment. On January 21, 2021, the organization "Office for the Rights of People with Disabilities" was searched. The financial police conducted it in connection with the "possible illegal seizure of money received in the form of charitable contributions and international assistance to provide legal assistance to citizens of Belarus with disabilities." On February 3, 2021, the head of the Office Sergey Drozdovsky (wheelchair user) and the lawyer of the organization Oleg Grablevsky got arrested. Sergey had to endure an exhausting seven-hour interrogation, and Oleg had to strip naked during the interrogation. They spent almost six months in prison – they were released only on July 31 under a personal guarantee.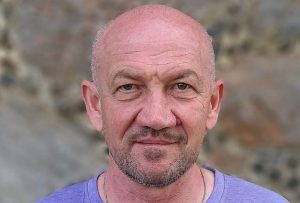 On May 20, 2021, the Brest Regional Court sentenced a well-known activist from Baranovichi, Vladimir Gundar, a disabled person of group II, to three years in prison. Vladimir was held in the "Autukhovich case" and was a suspect under Article 289 of the Criminal Code (the act of terrorism). During a search of his house, he allegedly threatened investigators and smashed his mobile phone. For this, he got convicted, but he did not admit guilt. Vladimir Gundar spent several months in the KGB pre-trial detention centre. The prison staff practically isolated him from the world, and in the cell, they even forced him to remove the prosthesis from his leg.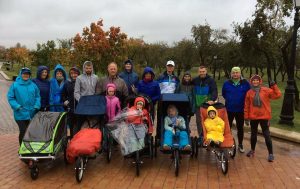 On July 26, 2021, the authorities liquidated "Wings of Angels", a social and charitable sports institution. They were engaged in the social rehabilitation of children and adults with disabilities. The organization helped people with disabilities to join jogging, cycling, hiking trips. The team supported participation in various tournaments and races. "We did not commit anything illegal. There were no complaints against us, nobody informed us about anything, we do not know what this decision of the authorities is connected with, but it was made without us, and it will not just go away. We are very sorry to say that our plans will probably also be disrupted. Moreover, it is a pity to say that our obligations will also be violated," the team's representatives wrote on social networks.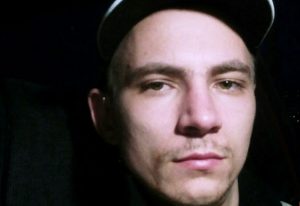 On September 1, 2021, 30-year-old Dmitry Zalomsky, a hearing-impaired, deaf-mute, was sentenced to two years in prison. He got tried for "insulting the head of state, a representative of the authorities and threatening violence against a judge." Before that, since February 2021, police searched Dmitry's house and took his computer and phone from him. Probably, he left messages in a chat of the VIPRA enterprise, where he worked as an adjuster. However, no one knows what he wrote because it is hard to communicate with a hard-of-hearing person, although Dmitry had a hearing aid. He was taken away in the courtroom when the man got into custody.
Disabled in Belarus live much worse than the disabled in the European Union. There, concerts, clubs, cafes are open for people with disabilities, and they can play sports, get an education and high-quality medical care, travel, develop in any sphere. In Belarus, people with disabilities spend their lives locked up in four walls – it's not just about integration into society but also about simple walks in the park or yard. We hope that in democratic Belarus without Lukashenka, all people will be equal, not on paper, but in reality.