During and after the elections, women played a significant role in the protests and opposition to the illegitimate usurper. As a result, more than a hundred girls became political prisoners and were sent from the pre-trial detention centre to the correctional colony No. 4 in Gomel. This facility is one of the two women's colonies in the country – women convicted for the first time, political prisoners, women and girls imprisoned under Article 328 of the Criminal Code live here. Journalist Katerina Borisevich has already left this place, but many prisoners are still in these walls, suffering humiliation and violations of their rights.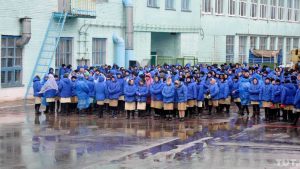 The main problem faced by prisoners is low–paid hard work. Women work in a sewing factory, knitting washcloths, cutting threads. Labour legislation does not affect them – only criminal enforcement. And even the minimum payment for the work is not received by prisoners. They are not paid part-time or idle time of the enterprise, like ordinary employees. As a result, they receive little money for their work, remaining after deductions for food and utilities, fines, for example, for an unbroken loop on the collar.
A political prisoner, Swiss citizen Natalia Hershe, described the life there in letters from the colony: "Today is Sunday — one day off for 14 days. At the factory, we work 6 hours, plus about an hour for a trip to the dining room. The other day I received a salary and was horrified. It is the number of the beast, some sixes — 6.66 rubles. I'm not that superstitious, but it's an interesting fact. They often oppress me with tasks: in 30 minutes left before lights out, I had to clean the bathroom — 8 washbasins, seven toilets and a bidet, wash the floor and walls, take out the garbage. After five minutes, they came with a check and said that in five minutes, I should finish. For poorly performed duty entails they give punishment. There is no time to eat here either. There are 100 people in the squad. When everyone returns from work, they want to have a meal or drink coffee/tea, many people with boiling water. Everyone is in a hurry because wardens are coming soon. And after it immediately "vector" is a collective viewing of video material, no one can be in the dining room."
In May, Natalia refused to sew a uniform for the security forces, and she had to spend a month and a half in a punishment cell. "This is a matter of principle for her. She was waiting for the pressure to increase and emphasized it in our last conversation," the brother of the political prisoner said. After a month in the punishment cell, the woman spent four days on sick leave and went back to the isolation ward. At this time, she could not call relatives, receive newspapers and correspondence.
Other prisoners of the colony also faced violations of the right to receive transfers. Olga Klaskovskaya, who got two years of a sentence for blocking a road in the capital's Serebryanka micro-district, also refused to sew a uniform for the riot police. "Today, I was deprived of a food parcel for refusing to sew a uniform for the security forces. So what you sent me will be returned to you soon. Such are the methods. There are no words. If I disappear for a long time (there will be no letters, no calls), then I am in a penal isolation cell," Olga wrote to her mother.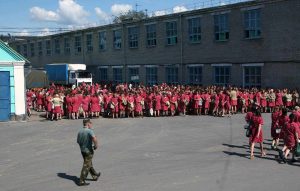 Despite the presence of a gym and a library in the colony, prisoners have no time to visit them because of the workload and additional tasks. "There is no disposing mood for sports here, and there can not be. They created gyms here for a tick, and they took away the opportunity to visit them from people. There are many different duties, orders, inventory work, work on cleaning vegetables. During the whole week, I did not manage to drink tea after work," Natalia Hershe wrote.
The living conditions in the colonies are also limping-despite the fact that the state media compare the colonies with camps and boast of fresh repairs. The norm of living space per convict in correctional colonies and prisons can not be less than two square meters – and in Europe, for example, more than four. Here women have only one bath day a week. Even after hard work, prisoners are not allowed to take a shower. Russian blogger Maria Khrestina, who was imprisoned in Belarus under Article 328 of part 1 of the Criminal Code (illegal movement of narcotic substances across the border), shared her impressions about the conditions:
– According to the rules, you can not wash your hair more than once a week. But many girls wash their hair more often, in the washbasin. If someone sees, they give an outfit to the toilet. The prison staff threatened me. They said that if I did not inform them about my cellmates, they would refuse parole.
Minsk resident Daria Gritskevich, who was sent to the colony in her fifth decade for an official crime, was also forced to listen to rudeness from the colony's employees:
– The administration "greeted" us with words that we are spent material, and here they will correct us. These words struck me and stuck in my memory. Then there was a search, including personal belongings. I tried to argue, then I realized – it is useless. There were 120 people in the squad. For all, there were only 12 toilets in booths without doors and six washbasins. You can not get up before the rise, only go to the toilet. At night, there were checks with a search. The guards could break into the section at midnight, 3 or 5 in the morning, they shone a flashlight in the face. The winter was cold, but they forbid using one more blanket. Otherwise, they sent us to the penal isolation cell for this.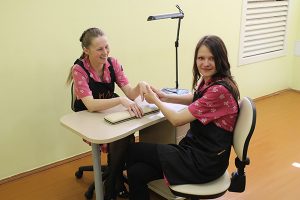 In the colony, prisoners are offered educational opportunities. There is a branch of the college of consumer services with the specializations of a seamstress-tailor and hairdresser, a possibility to complete manicure and make-up courses. However, a nuance: not everyone is allowed to take these courses. For example, girls convicted under article 328 do not have the right to study for them. The administration explains: many of them have HIV and other diseases fraught with drug use. But after all, among the girls, there are those detained for distributing "smoking mixtures", like Valeria Kupchenya. But there are no such restrictions for those serving time for murder. Although, nail scissors and a nail file can become a weapon of crime.
It is particularly worth highlighting the issue of convicted mothers and expectant mothers. According to the law, pregnant women cannot stay in prison – except having extreme circumstances. However, such cases occur – in this case, the pregnant should be provided with medical care. The birth should pass in a civilian hospital, and the administration should ensure a comfortable pregnancy for the prisoner. In the Belarusian colonies, pregnant and lactating women have received minor regime breaks: they can get additional food parcels and transfers necessary to maintain the health of the mother and child. They are provided with improved living conditions, food, releasing from work. However, at the same time, women must reimburse the cost of clothing and utilities. They are not given all their salaries and other income. Half of it is taken to the state budget. And in case of misdemeanors, they are punished by deprivation of visits with relatives.
According to the Penal Enforcement Code, special means of restraint cannot be used against prisoners with visible signs of pregnancy. However, the law does not say that firearms are not used against women in the early stages of pregnancy if the colony administration is aware of it. There is also no other rule in the law – about the impossibility of using means against women during labour contractions, during childbirth and immediately after them.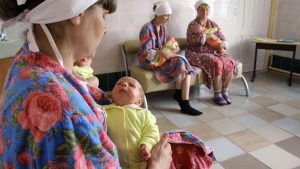 Female prisoners are released from work from twenty-seven weeks of pregnancy for 146 calendar days, and after this period, they are again obliged to work. It means that the convicts do not go on maternity leave, as in the wild. Young mothers can't even live with their children – babies from infancy live separately, and mothers can visit them only twice a day: in the morning and the evening. They are not released from duty, work, and they must be in the squad. Children live in the colony for up to three years, and then they are transferred to a children's home. The monthly allowance received by mothers is also not paid to those prisoners who have just given birth.
In 2019, a mothers' hostel was officially opened in PC-4. Minor prisoners were also supposed to live and study here in the branch of the Gomel school No. 34. However, they did not use the building – allegedly because of the cold. The deputy head of the Department of Execution of Punishments, Vladislav Mandrik, in response to a request from human rights activists, explained: "…the building has been used since November 2018, subject to the temperature regime and other requirements for premises intended for people (including children). Accordingly, in the premises of the branch of secondary school No. 34, the air temperature is maintained within the norm." At the same time, there were no words about the premises for mothers with children in the statement.
Another right taken away from convicted Belarusian women is the right to visit children in the wild. It is provided to those women whose children were brought up in a children's home at the colony to arrange them with relatives, in a boarding school, convicts with disabled children. They have the right to go away from the facility for up to seven days, not counting the time for travel, and then once a year for the same period to leave for visits with children. Those convicted of particularly dangerous, serious crimes, patients with an active form of tuberculosis, alcoholism, drug addiction, substance abuse, suffering from mental disorders are deprived of this right. However, human rights activists claim that such a right is not used in the Belarusian colonies.
Lukashenka has repeatedly demanded that Belarusian women should give birth to more children. In every possible way, the usurper emphasized a particularly respectful and careful attitude towards women – even the notorious list of prohibited professions in our country still exists, allegedly to care for ladies. However, in practice, convicted women cannot count on the observance of labour rights and protection of their health during pregnancy and after childbirth. Prisoners (including those convicted of participating in protests against the authorities, journalists who wrote the truth, girls-328) have to live for years in conditions of low salaries in colonies, the need to work overtime, rudeness and threats from the administration. No one deserves such inhumane treatment.