Many Belarusians who migrated to Ukraine became refugees twice. First, they had to hide from Lukashenko's regime, then from the war. Ukraine became their second home. But because of Putin's military action, they were left without one. When they moved, they started to stand up for the good name of the Belarusians: they took up volunteering, started sending money for the needs of the Armed Forces of Ukraine, started sheltering refugees. Today, we are telling the stories of the Belarusian women forced to leave first Belarus and then Ukraine.
Yulia is a computer programmer. Yulia and her husband left Belarus after the incident with the Ryanair plane in May 2021. They first flew to Kyiv, then moved to Lviv, where they lived before the war. Fighting and fear for their own lives forced them to leave in the early hours. Through the Shehyni – Medyka checkpoint, they made their way to Poland. "At the Ukrainian checkpoint, they inspected us and let us go on. Poles also looked at what we were carrying, stamped it. We had no visas, medical insurance or car insurance. Nevertheless, the border guards wished us a happy journey, and that's all," said the Belarusian.
The journalist Tatsiana became a refugee for the second time. In Belarus, she was involved in the administration of chat rooms, which the GUBOPiK recognized as extremist. She also made a film about 30 victims of police abuse. Fearing reprisals, the Belarusian left for Ukraine. But at 6 a.m., on 24 February she heard bombs being dropped and sirens wailing near her place of residence. Tatyana ran for cover every time she saw planes. When the evacuation trains were cancelled, she decided to go to Poland with hitchhikers and taxis. First to Berdychiv, where she took a taxi to Khmelnytskyi, then through the Carpathians. It took Tatiana a whole day to get to Poland.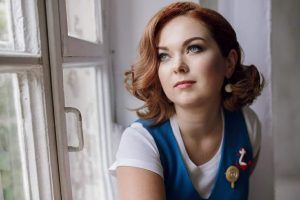 Belarusian plus-size model Evgeniya Tyuleneva moved to Odessa six months ago. In March 2022, she was going to buy her flat here. But on February 24, she received a phone call from her friends in Germany, who informed her that Russia had attacked Ukraine. The next day, Evgenia left for Chisinau, 180 kilometres from Ukraine. Then, she decided to return, but it was not easy because Evgeniya is Belarusian. "I already went to the border, but they wouldn't let me back, as I'm Belarusian. I'm waiting for your permission. As soon as I get it, I'll try to come back and be useful, maybe I'll volunteer, maybe I'll be useful in some other way. I've heard about a wave of negativity against the Belarusians. I can say that there was nothing of the kind in Moldova," the model said.
Journalist Natalia (name changed) left Belarus for Ukraine, fearing reprisals. In Kyiv, she settled in one of the dormitory districts. On the day the war began, Natalia's neighbour came running to inform her. Natalia threw things into her suitcase, checked her phone, computer and documents, went down to the metro. The journalist tried to leave Kyiv for Irpen. From there, she went with her friends to the west region. By nightfall, the Belarusian reached Berdyansk. She had to walk 21 kilometres to the border crossing because of a huge traffic jam. The journalist was with two other women and a child. We managed to get to the crossing point only in the evening. People were sitting on the ground. Natalia spent another day at the border, as she was not allowed into the "green zone". She had to spend almost the whole night outside. In the morning, Natalia asked to board one of the buses carrying Ukrainian women and children. She went abroad on it.
Valeria, a woman from Minsk, left Belarus three weeks before the war started. She, like many other emigrants, was afraid of political persecution. On February 24, she woke up to messages on multiple Telegram channels. She woke up a young man who had gone to get food and water, and began packing: a rucksack, a suitcase, a fanny pack. All-day long, Valeria heard explosions, and planes were flying over the village of Kotsiubinskoye, where she lived. During the day, she went down to the basement several times with her rucksack. With her man, they monitored options to travel to western Ukraine. Leaving the village by taxi was impossible, so the young people decided to walk to their friends in Kyiv to take the evacuation bus with them. The bus from Kyiv that they managed to drive almost 12 hours to Zhytomyr due to the traffic jam, even though the distance between the cities was only 153 kilometres. It was only possible to reach the border the next day, February 25, evening. The queue for the border guards did not arrive until February 26, at 8 am. Valeria and Evgheni did not have visas, but they were allowed through, stating that the documents would have to be processed within 15 days. In Poland, they were taken in by friends.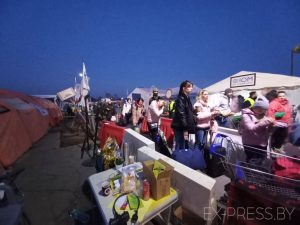 Gloria (name changed) fled Belarus in 2021. Here, she worked in a veterinary clinic, but the authorities started to persecute her. That is when she decided to leave. She managed to get a residence permit and a job in Kyiv. And then the war came. In half an hour, she and her boyfriend packed a suitcase of clothes, documents, cosmetics and hygiene products, a minimum set of things, and at 16.00, she left the Ukrainian capital. The trip to Lviv took 20 hours. The couple drove to the border, fearing that they would not be allowed through. But everything worked out, and they managed to leave Ukraine. Gloria saw at the Polish border tents and volunteers helping refugees. Once settled in Poland, she returned to the border to help Ukrainians. She tells them how to get to the right town, explains where to go next and gives them moral support.
Svetlana (name changed) came to Ukraine in early 2021, fleeing persecution after the protests. She and her husband have several criminal cases pending against them in her home country. On February 24, she woke up at 9 a.m. to a pile of unanswered calls from her mother in Belarus, who had known since 5 a.m., that war had broken out. After learning that it was possible to cross the border without all the documents, Svetlana and her husband and daughter decided to leave Kyiv. They packed the essentials for the journey, deciding to take people, not things, out. The family drove 18 hours from Kyiv to Lviv and 15 hours more to the Hungarian border, where they spent 20 hours queuing. Ukrainians were in pain and incomprehension, asking the passengers of cars with Belarusian number plates how it was possible that Belarusians could not remove the dictator Lukashenko. The family managed to get abroad and are now safe in Poland.
Journalists Anastasia Boiko and Anna Komlach in Belarus worked for independent publications, which after the 2020 elections, began to be persecuted by the state. On January 24, Anastasia woke up to an explosion outside her window near Zhulyany airport. The decision to leave came immediately, and Anastasia, Anna and their husbands planned to take a bus to Lviv. But it didn't work, as the train station was jammed and people stormed the transport, even though they didn't have tickets. They were unable to leave Kyiv, and the girls spent the night in the basement of the Kyiv-Mohyla Academy. They managed to catch a bus the next day. It took them 18 hours to reach the Polish border and 28 hours to reach the border crossing. Anastasia, Anna and their men were put in two different convoys. Freezing to death, they decided to return to Lviv to take the train to Poland, but even that failed. With Belarussian journalists they knew, Anastasia and Anna went to the office of a journalist organisation that let them stay overnight. For the first time in more than 48 hours, they could wash, eat and sleep horizontally for a while. On February 27, the journalists left for Slovakia in a car with Poles. They had to cross the border on foot because of the long queue. In Slovakia, they were placed in a camp for refugees. From there, Anastasia, Anna and their men left for Poland.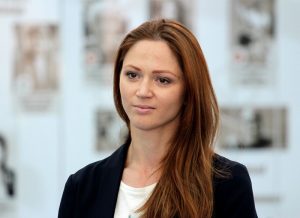 Swimmer Aleksandra Gerasimenya, head of the Belarus Sports Solidarity Foundation, went abroad in October 2020 because she supported a protest against Lukashenko and feared persecution. The war caught her in Kyiv, where she lived with her mother, husband and three-year-old daughter. Aleksandra decided to leave there on February 25. Aleksandra and her family were caught in an hours-long traffic jam. "As we drove near the military airfield, explosions rang out a few hundred metres away. I remember Sofia asking, 'What is that? There was silence in the car for half a minute. I didn't know what to say to a three-year-old child in such a situation. My mother came to her senses before anyone else and said it was thunder – the child believed it," Aleksandra recalls. They had to spend 12 hours on the road to the border. They had to wait another night in a queue. There was no food – it was only by some miracle that Alexandra managed to get a piece of meat at a petrol station, which was shared with the whole family. There was no sleeping either, for otherwise, someone might have invaded the queue. Aleksandra remembered with attitude the volunteers who met the refugees at the border. Many people who were leaving their homes in a hurry needed things, which the volunteers helped them with. The swimmer and her family settled in Poland and continue to work for the foundation.
Programmer Victoria moved to Kyiv with her husband Mikhail in May 2021. Mikhail was a lawyer for journalist Katerina Borisevich. When it became dangerous to stay in Belarus, the couple moved to Kyiv. Here they applied for a residence permit, started working, communicating with Ukrainians and doing their usual business. On February 24, a friend from Kharkiv woke them up with a message about the war, and at the same moment, Victoria heard an explosion outside the window. The decision to leave came the next day. The six of them and their two dogs set off in a car in the direction of Lviv. "I'm a Belarusian citizen, and I was afraid to drive along the Belarusian border: what if there could be shooting from there? And we were checking the news the whole way: could we go there, was a shooting there for the last 20 minutes? The road to Lviv took 22 hours. There were traffic jams, there were roadblocks between districts, but the car was let through without any obstacles," Viktoria recalls. In Lviv, Viktoria and Mikhail went to the train station and caught an evacuation train to Poland. The journey lasted 20 hours, and the final destination was Warsaw.
Yulia worked as a film director in Minsk and decided to leave for Ukraine in January 2022. Her young man was searched, and the guys moved to Lviv. The siren sounded on February 24. On the first day, Yulia was not worried, because she was in the west region, where nothing could happen. At first, she and her boyfriend went to Uzhhorod, but it was not quite there either. So they headed for Slovakia: the nearest town, Košice, is less than 100 km away. The bus ticket costs about 10 euro. Transport was seven hours late and there was more waiting than driving. Yulia and her young man decided to walk to the border. "The Ukrainian border guards were very tired and nervous. We, with Belarusian passports, were not greeted very friendly. They asked why we were not going to Belarus and why we came here in the first place. But in the end, we were let through. Slovak border guards were, on the contrary, very friendly," Yulia said. She was allowed into Slovakia without a Schengen visa – she has to apply for it within 90 days.
"Our House" also encounters such stories. We often receive help from Belarusians who have become refugees twice. Katerina is one of them. In 2020 she began participating in protest marches, supporting the opposition. She travelled with medics to the hottest spots, helped victims, went with people to take down beatings and write statements. On one occasion, Katerina had to rescue a man who wanted to commit suicide because he could not stand the pressure. In April 2021, she went to Kyiv to visit a friend and, while in Ukraine, she found out that the police were waiting for her at home. Katerina decided not to return. But she couldn't make a life for herself in Kyiv either – even before Russian troops invaded, she realized she had to go to Poland. Here, she started helping Ukrainian refugees: she provided information support in chats, volunteered at the border, took refugees to the camp, helped with resettlement and food.
Alyona from Gomel also supported the protests in 2020. She went to all the rallies, helped on Akrestsina. She drove people who were released, bought and brought food, water, clothes, and helped relatives of the detainees to find their relatives. After another rally, Alyona got detained, and the second detention happened near a friend's house. The search in Alyona's flat lasted more than an hour, the security forces demanded the password to her phone. After that, she was taken to the KGB for interrogation, where she was humiliated, insulted, psychologically pressured, threatened with imprisonment and the removal of her child. After coming out of there, Alyona decided to prepare to leave. When she received a call from the Investigative Committee asking her to come, Alyona realised she might not come back and left for Kyiv. When war broke out, she moved to western Ukraine and then to Warsaw. After staying with friends, she returned to the border to help refugees.
Over the past two years, the Belarusians have had their fair share of trials. But they have coped with them with dignity and helped others. Ukraine has become home for many, and once again, a mad dictator has forced them to abandon their home. But we hope that our work will bring victory and a return home.