We continue introducing you to some Belarusian citizens who escaped from the country because of suppression. At first, they moved to Ukraine, but then they had to run away again due to the war. They chose Poland as a safe place.
– Hi, Katya. Tell us something about yourself and why you moved from Belarus.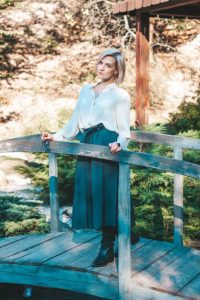 – I am from Minsk. I am a freelance designer. Before summer 2020 I had an ordinary life. In August 2020, I started going on protests, as I understood what was going on in our country. All of us expected changes in Belarus, but people faced violence and mass arrests. From the very beginning, I volunteered near Okrestino and Zhodino and in other places. We picked a few civilians who were doctors, drove to hot zones to help victims. Then I dived deep into some personal stories. I helped people to document their injuries, file a complaint with the police and so on. To be honest there were a lot of really horrifying stories.  Once I and another volunteer witnessed a man who wanted to commit suicide because of the pressure, tension and terror in Belarus. We almost pulled him out of the window.
It seems to me that I have great intuition as I decided to visit my friend for a week in Kyiv, Ukraine and there I got a call from my brother that there was police in front of our doors. He lived in my flat at that time and told me that there were some other suspicious people.
So I strongly decided not to come back to Minsk and I stayed in Kyiv almost without anything.
I felt extremely stressed during the first period. You suddenly stay in another country not able to go back home and have no idea what to do next…
Despite the fact, my bug-out bag had been packed in Minsk for almost half a year, it was psychologically hard to accept. I started visiting group therapy in Kyiv and that helped a lot. When living in a new place was getting better, we began to help other Belarusians move from Belarus to Ukraine. Of course, those who were in danger, simply could not stay in the country anymore, because at any moment they could end up in prison.
– When did you come from Ukraine to Poland? When the war had only begun or earlier?
– As I told you I have good intuition, so I had understood it was better to move even before Russia invaded Ukraine.
– Tell us more about this and also what about your friends? Did they believe in the start of the war? Or maybe they were not sure about it until the end?
– You know I read a lot of different media and watch political Youtube channels, for example, "Dozhd" (Russian channel) that unfortunately was closed and many others. So, when this news about the probable war took up almost the whole airtime I started to have thoughts that it would finally begin.
Besides, I was communicating with many Belarusians about Ukraine and pretty often I got information about Russian troops on the Ukrainian-Belorussian border. They were stretched along the whole frontier. Yes, it seemed to be like a regular annual exercise, but there were never such many soldiers. It was easy to understand that huge resources were spent on this and it was not made for nothing.
And also! When all the Western media say with one voice that many countries are concerned that Russia is planning the invasion, you tend to think that it is absolutely serious. As I had a valid Polish visa, on the 20th of February I went to my friends.
Although you know when I had told everyone that I was going to leave Ukraine all my friends told me that I should not have panicked and that there was no reason for panicking and going somewhere. Unfortunately, I was right.
First days I helped Belorussians who were coming from Ukraine to Poland. I gave some information about the situation at the border, how to get there, who can come and so on. I did an online job, supported chats, answered various questions about how citizens could leave Ukraine and come here. I helped anyone who needed it. No matter was a person Belarusian or not.
When my friend from Kyiv came to Warsaw we started to help at the border in the camps for refugees. We volunteered, helped people who spent several days in lines waiting to cross the border. We saw them off to camps, gave them some food and a place to stay in.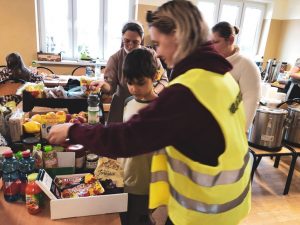 There we had volunteers not only from Poland or Ukraine but also many people from Belarus. Each person was responsible for something else.
I also have the quality to get involved in personal stories. I guess not a very good quality for a volunteer, but sometimes I cannot pass by if I see that someone needs some specific help.
For example, there were two ladies from Ukraine who were supposed to be picked up by car to Norway in an hour and a half. They were proposed to have accommodation and even a workplace if I am not mistaken. The problem was they had a dog and a cat but without any essential documents, so these women could not bring the pets to Norway. Finally, they found a place for the animals in Lublin, some friends were ready to host them. I agreed to take the animals to Lublin, but there were no people to go in that direction, so I drove 270 km in one way just to carry them. Maybe I could have done something more helpful instead of this, however, I think that pets are vulnerable and I could not ignore it. There are many stories like this to tell.
– Tell us how do you personally feel in this situation? As you had to get a fresh start twice this year.
– Yeah, I am trying to get over it and I can say that it is not easy at all. You cannot be ready for moving away. That comes very unexpectedly. You just have to leave everything and go somewhere rapidly. That is especially hard.
Besides, the situation is worsened by the fact Ukraine has blocked all the bank accounts of Belarusians and everyone who lived and worked in Ukraine was left immediately without a livelihood. Most people used cards, but not cash. It is unclear what to do next with the job and how to build your life again. How to earn some money and what Belarusians can do with their document. Everything seems to be ambiguous.
People do not make plans for more than two days, even those who had well-organized lives. They say that there is no reason for it. People are even more confused than after the events in Belarus in 2020, no one knows what to do.
– Do you plan to stay in Poland or do you also do not make any plans longer than two days?
– Yes, it is hard to plan something now, because a lot of things depend on documents, finding a working place difficult and etc. Various factors influence my decision whether to stay here or not. We will see what is going to be next. I am going to visit my friends in Krakow now and after this, we will see what to do. We have to adapt to the life that is here and now. I was invited to visit Krakow and I just want to meet my friends and explore the city. This is how we live now like sheer uncertainty.
But there is definitely something good to be taught from it. As an example, to help others who have lost their motherland and themselves. And it is not only about Belarusians but also about Ukrainians.