Many Belarusian women who fled repression in Ukraine stayed on the burning ground when the war started. It was their choice to defend the country that became their second home. Each does what she can: sorting humanitarian aid, weaving camouflage nets, someone is spreading information on social networks. Today's article is dedicated to brave women who decided not to leave Ukraine and started fighting with Russia.
Belarusian Inna Zaitseva became famous as a "white-red-white-bride" – in 2020, she walked around Minsk in a white wedding dress with a red stripe, thus protesting against the election results. The Belarusian has five courts, nine protocols and 5,675 roubles in fines under her belt. Half of this amount was repaid by the ICCI "Our House". Since December 2020, Inna has lived in Ukraine with her husband and two children. Her village is not far from Kyiv, and Inna decided not to leave. Nothing has changed here since the war began. Groceries appear in the shop regularly, and there is electricity, water and a cooker in the house. The villagers are working hard for Ukraine's victory: men have organised territorial defence and constant vigil, and women cook for them in the local school and distribute humanitarian aid. In her blog, Inna writes: "We villagers on the other side of the Dnieper are not gripped either – not by fear, panic or depression. We know who will win and believe in the Ukrainian army, the territorial defence, and the people. We are these people – determined, resilient, united. My things are not packed. I haven't even bothered to pack an anxious rucksack. I bought tomato seeds and wall paint and am welcoming spring into my (now brave) home."
Maria, sister of Belarusan political prisoner Olga Filatchenkova, a teacher tried in the "students' case", stayed in Dnipro. She said she was afraid of the queues at the border because people had to travel there for three days. "You can't get on the train. There are 160 people in each carriage. By car – traffic jams for three hours outside the city. In addition, leaving by car is scary, there is no petrol at the petrol stations, you don't want to stand somewhere in a field," a woman shared. She stayed in Dnipro with her children, and, according to her, it is generally quiet here. Maria took up humanitarian aid and then began weaving camouflage nets with her children.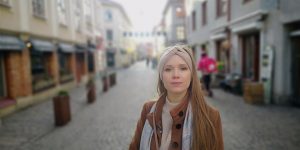 Belarusian journalist Alina Yanchur went abroad back in 2020 after she got fired from a state-owned media. Abroad, she repeatedly spoke out against Lukashenko, went to rallies of the Belarusian diaspora, and wrote investigative pieces about Belarusian refugees from the Lukashenko regime. Her investigation on the subject was short-listed for the One World Media Award in the Refugee Reporting Award category. Alina found herself in Kyiv the day before the war started. After the first bombings, on the morning of February 24, she walked from Poznyaki metro station to the Kyiv railway station, where she took the train to the west of the country, where her relatives live. Alina gives interviews to international media, talks about the situation in Belarus and Ukraine, and also writes materials for foreign publications and weaves camouflage nets. Alina talks about her life and her family on her Telegram channel.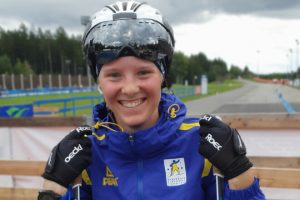 Biathlete Darya Blashko left Belarus in 2017 after a disagreement with the Belarusian Biathlon Federation. The functionaries saw no prospect in the athlete from Novopolotsk, and she decided to compete for the Ukrainian national team. In 2020 Daria was included in the national team. The war caught the athlete in Chernihiv. "At first, we lived in a basement at a ski base in Chernihiv. There was shooting all around, but it was quite safe until a certain time. Soon we had to pack our things and go elsewhere. We got sheltered by people who lived with us in that basement. It wasn't safe there, but there were no direct threats yet. Many houses had their windows blown out, including the one where we were sheltered. So we all moved together to another house that had a good cellar. Nine people, including one child, slept in the cellar with an area of two by three meters. There were incendiary bombs almost at point-blank range because the time from shot to hit was minimal for any reaction. We helped tape up the windows in the other house. And this saved us because it was the house where the shell did not land," Daria shared.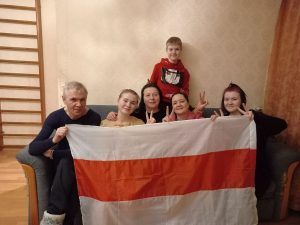 Karina Potemkina from Soligorsk left for Ukraine in December 2021, shortly after activist Pavel Batuyev got detained. After that, a local chat room wrote that Karina was also wanted, and she decided not to stay in the country. She met the war in Bucha and came to the call centre of the Bucha Rada, where she was recruiting volunteers. Karina encountered many horror stories from people who couldn't get out of basements. The girl bought food and medicines and took them to those in need, and on March 6, she and her acquaintance managed to find their way to Irpen. From there, Karina went to Kyiv and then to Lviv, to the Belarusian Crisis Centre, where the help of volunteers was needed. Karina has a valid Polish humanitarian visa, but she has no thoughts of leaving. As soon as possible, she's going to return to Bucha.
Veronika left for Ukraine in January 2021 after her husband received a phone call from an investigator who told him about the criminal case against him. Veronika's husband decided to leave, and a month later, his wife and daughter joined him. Veronika and her family finally settled in Ukraine by the autumn of 2021. When the war started, the Belarusian's husband joined the army and is now in the Ukrainian Armed Forces. The woman and her 10-year-old daughter stayed in Lviv. She continues to work in the IT sector and sorts out humanitarian aid in her spare time. Veronika has taken in two Ukrainian families in her flat. She has decided not to go anywhere, although she has a visa and a work contract in Lithuania. Veronika notes that Ukrainians have done a lot for Belarusians. "I have a strong feeling that not only Ukraine is fighting for its freedom now, but the freedom of our country is also born here. That is why we are here, to return to Belarus. Otherwise, we don't see a chance for our country," she believes.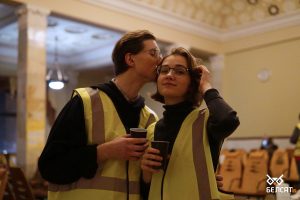 Yulia Chernysheva is 24 years old. She is a poet and a master's student at the Faculty of Philology in St Petersburg. Her husband, Danylo, is Ukrainian. Shortly before the war, Yulia came to live with him. When the war started, the couple went to volunteer at the Lviv railway station. Danylo coordinates train queues, goes to the warehouses to get food and helps people with their belongings. Yulia stands at the food distribution near the children's room and prepares hot drinks and food. The couple spends 10-12 hours each on shifts but continues to do what they can to ensure that peace comes to Ukraine as soon as possible.
Arina moved to Ukraine in July 2021 after threats from KGB officers. After seeing Ivano-Frankivsk, the girl decided it was the city she wanted to live. Two weeks before the war, Arina moved to Ivano-Frankivsk. Despite the city's proximity to the European Union border, Arina decided not to leave. The first thing she did was call to the blood donation centre and ask if she could donate blood if she is Belarusian. But she doesn't want to stop at blood donation: "I dream of going to Kyiv to be near the self-defence units, but the problem is that I've never taken a military course, and I'm afraid I'll only get in the way. My business is to donate money, spread the word, donate blood, and write about what you can donate. And if something will be formed here and I will be taken there, even though I am Belarusian, I will go".
Helen Minskaya, an activist of the "Narodnaya Gramada" party and a Belarusian-language blogger, left for Ukraine before the 2020 elections, fearing for her underage children. She has been fighting the Lukashenko regime from Kyiv before the war and has been a volunteer since February 24. She has been giving information about shelling to Telegram channels and has started collecting humanitarian aid for people in Ukraine.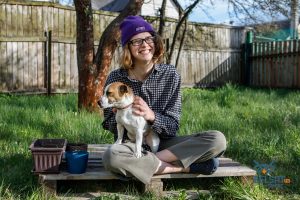 We wrote about Veronika Janovich as an eco-activist, who stood with a poster near the factory in Zhodzina. The placard read: "Daddy if you work, they'll put me in jail". The girl got convicted under Article 23.34 of the Code of Administrative Offences. Veronika Janovich also took part in the Global Climate Strike and a performance by youth activists who danced with a coffin on the eve of the victory parade in 2020. Veronika got then detained and interrogated for more than 12 hours. In September 2021, Veronika left for Kyiv, fearing reprisals. Veronika Janowicz has now become a volunteer with the Kastus Kalinowski Battalion. Her job is to make sure that everyone is shined and clothed and deal with organisational issues on the home front. Apart from this, another important event happened in Veronika's life during the war – she married a battalion fighter Alexey Lazarev.
Our brave women proved themselves back in 2020, at the women's protests, in the front ranks of the couplings, and volunteering at the Akrestsina. Now they are ready to fight at the front just as well as the Belarussian men and defend Ukraine with arms in their hands. They understand that the freedom of Ukraine depends on the independence of Belarus. And we express our solidarity with our heroines and support them.