The war in Ukraine has been going on for almost two months now. The heroic Ukrainian people continue to repel the attacks of the Russian occupiers and are beginning to rebuild free regions. But there are still many regions in the country where the fighting is still going on, and quite a few people need help. Today we will tell you what "Our House" has done this week.
On Monday, April 19, our representatives in Poland took part in sorting humanitarian aid for the refugee camp near Biała Podlaska and sent four packages with clothes. One more box we sent to Białystok, and some of the things – to the refugee centre in Dębak. We plan to make regular visits to the places where refugees live because there are still Belarusians and Ukrainians who need our help.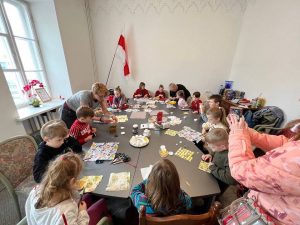 In previous weeks we have mostly mentioned the humanitarian aid warehouse in Warsaw, but now we would like to tell you what the warehouse in Vilnius is doing for refugees. On Saturday, April 16, it hosted the first cooking class for Ukrainian and Belarusian refugee children. More than a dozen children attended the class with their Ukrainian teacher Svetlana in our office. Young Belarusians and Ukrainians painted eggs for Easter, cooked delicious and healthy sandwiches, and interacted with each other. Video report about the activity appeared on the Belsat TV channel.
On Wednesday, April 20, "Our House" took part in a flash mob thanking volunteers, launched by the Ukrainian channel 1+1. We engaged family psychologist Yulia Novatska to record a video with excerpts from our everyday life. A poem was written by a talented Belarusian from Warsaw Liubou Shibarshyna, repressed by the Lukashenko regime. You can watch the video on our Instagram.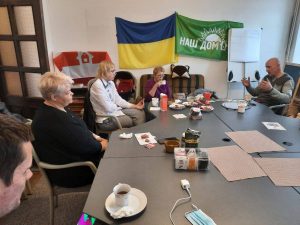 On April 20, Algirdas Mačiulaitis, leader of the Lithuanian Association of Agricultural Producers and Processors, came to the Our House office in Vilnius. The farmer initiated active aid to refugees from Belarus and Ukraine. He provides people in need in Lithuania with products from his farm and offers jobs. Now Algirdas Mačiulaitis has treated us to some of his produce. We discussed cooperation and assistance with him. One of the points in joint work is planning the stay of children in his farm camp in summer.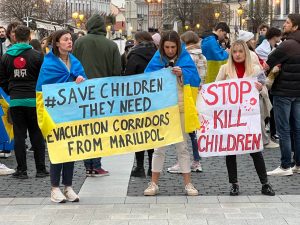 On April 21, representatives of "Our House" took part in a commemoration of children killed in the war in Ukraine. Dozens of Vilnius residents and refugees from Ukraine and Belarus came to Rotušes Square to commemorate the children killed by the Russian occupiers. Guests of the event lit candles in memory of little Ukrainians who will never go to school, go to university, represent their country in sports and art competitions and see Ukraine free.
And, of course, the Pobach humanitarian warehouse continues to operate in our office. Every day dozens of visitors from Ukraine and Belarus, who need help, come here. Many of them not only take things but also stay to help as volunteers. Now more than 350 people are subscribed to the warehouse's Telegram channel. We remind you that we are waiting for anyone who needs clothes, household items, and children's toys. We are also waiting for those who want to help Ukrainian and Belarusian refugees.
Every day we are confronted with stories of people affected by Putin's and Lukashenko's regimes, and we realize that we cannot stop. That's why our struggle goes on, and we make new acquaintances and friends. We are happy to help, hear gratitude, see children and adults smiling and know that we were able to change their lives and make them a little bit better.