For a week now, Ukraine has continued to repel Russian aggression. The country's armed forces are not lowering their weapons for a minute, and volunteers both in Ukraine and abroad are trying to ensure a normal existence for refugees, for people in the country. "Our House" continues its humanitarian mission from Poland and Lithuania.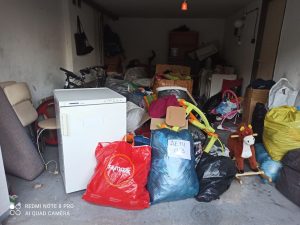 More than 35 tons of aid has been delivered to Ukraine since Monday. "Our House" and our friends from the DAR initiative have organised a direct channel with the support of the Kyiv city administration. Now the aid from "Our House" goes directly to Ukraine. More than 100 families with children from Ukraine have applied for support at the "Pobacz" warehouse in Warsaw – and they are receiving help from "Our House" and the DAR initiative. Our centre and DAR initiative also help several resettlement sites in Warsaw. Our representatives deliver targeted aid: hygiene products, food, clothes and medicines. We have already helped 150 people since the beginning of this week.
Our assistance is not only material but also informational. Refugees need help with legalisation in the country, finding accommodation, sending their children to school, opening a bank account and much more. The representatives of "Our House", who came to Warsaw after the repression of Lukashenka's regime, willingly share all this information with newly arrived Ukrainians. For this purpose, we have a help hub – the "Pobacz" humanitarian chat room, where everyone can find an answer to practically any question. In less than a week, we have seen a fivefold increase in the number of subscribers to the chat room. The warehouse itself is based at St. Alexander's Church in Warsaw. "Our House" and DAR thank the church for providing us with premises for the warehouse.
With the support of "Our House" and the DAR initiative, a concert of Belarusian StandUp comedians took place on 3 March in Warsaw. Money from it will go to help buy food and medicine for refugees in Ukraine. We were very grateful to everyone who visited the event not just to smile but to support the purchase of lifesaving items for Ukrainian refugees.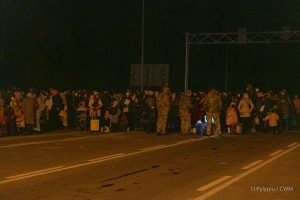 In Lithuania, assistance to Ukrainian refugees is also organised. "Our House" office is used as a humanitarian aid warehouse. We give clothes to Belarusian and Ukrainian refugees. There are not only clothes but also medical devices: walkers, crutches, syringes. We have given warm clothes and medicine to the Caritas organization, which deals with the problems of refugees. Thanks to the warehouse, we have established cooperation with the Belarusan youth initiative ABF. They have also received some of their belongings for shipment to Ukraine.
We can't help mentioning that our friends from the "Dapamoga" public association are organizing the collection of humanitarian aid for refugees these days and have already sent boxes with food and medicines to Ukraine. On March 2, "Dapamoga" volunteers have received the first guys from Ukraine. They need pots, pans and other utensils to accommodate the refugees. Also very useful will be mackintoshes, thermal blankets, diapers, baby food, water in large quantities, chemicals and hygiene, canned food and instant food.
And special thanks to "Dapamoga" for conducting solidarity actions with Ukraine. Today, Lithuanian Belarusians took part in the action at the border crossing point Medininkai on the Lithuanian-Belarusian border. They demanded a ceasefire and asked to allow the most defenceless and vulnerable residents of Ukraine to save their lives and leave the war zone. Many brave Belarusians from the Lithuanian diaspora are going to Ukraine these days to join the volunteers.
We are grateful to everyone who is supporting Ukraine these days. Don't hesitate to help, even if you think you are doing something insignificant. Any help now is crucial to show that we are not Lukashenka fans. And we consider Putin worshippers who are now fighting in Ukraine are enemies. And let our help to Ukrainians be the beginning of a strong friendship between a democratic Belarus without Lukashenka and Ukraine free from Russian occupation.