The last week of April was rich for events in "Our House", both in Vilnius and Warsaw. We continued to help refugees from Belarus and Ukraine, organized new activities for children in hobby groups and sorted humanitarian aid. Today we will tell you about our memories of those days.
The Festival of Slavonic Culture "Belarus for Ukraine" took place in Poland on 22-23 April. "Our House" supported one of the participants – talented craftswoman Olga Pashkovich. Olga presented her products and creative work in the "Our House" T-shirt. The festival gave not only an opportunity to present oneself and to help Ukraine but also new acquaintances and a sea of excellent impressions.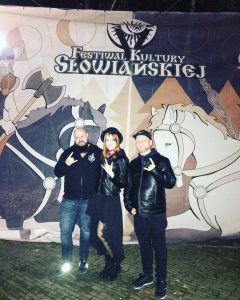 The weekend was full of travel – a team of the "Our House" office in Vilnius went to see the farm of Algirdas Mačiulaitis, the leader of the Lithuanian Association of Agricultural Producers and Processors. Then we went to the Salvation Army office in Klaipeda and agreed on cooperation and support for women with children. In conclusion, Olga Karach met with Nikolai Logvin, Honorary Consul of the Republic of Belarus in Klaipeda. You can read more about the trip here.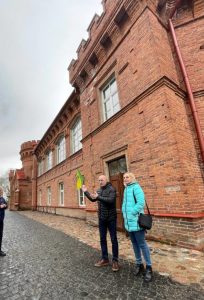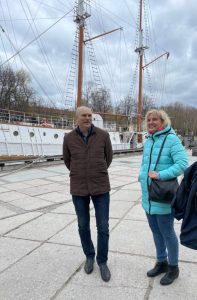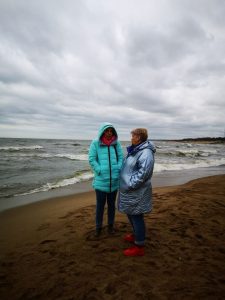 On April 26, the "Our House" office in Vilnius welcomed 35 mothers from Ukraine and Belarus who needed help and additional support. Women who have suffered from repression and Russia's military aggression against Ukraine received food certificates. We hope that our charges will have many more pleasant moments that will make their lives in Vilnius calmer, and thanks to us, the women will be able to feel more confident in their new city.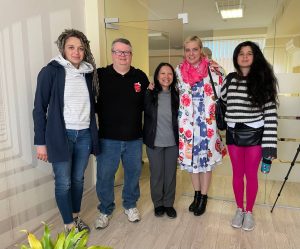 On April 27, volunteers from "Our House" in Warsaw took humanitarian aid from our organisation to the UNITERS Foundation. Volunteers participate every day in the lives of Ukrainians who left the war. They collect food (cereals, pasta, sugar, sweets for children), food for babies, hygiene products and cold medicine for adults and children. We are glad that we could support the initiative and look forward to continued cooperation.
The "Pobach" humanitarian aid warehouse in Vilnius also continues to work. Every day Ukrainian refugees who have had to leave their country because of the war and Belarusians who fled from Lukashenko's repression come to us. They can get clothes for adults and children, household items, furniture, children's chairs and toys from us. All this makes the first days of settling down in a new country much easier.
Finally, on Friday, April 29, there will be another important event, which we are waiting for. It is a hearing on the human rights situation in Belarus. Olga Karach, head of the ICCI "Our House", has been invited as a speaker to the hearing. She will speak about the most significant issue – violations of women's and children's rights in Belarus.
"Our House" continues the mission of rescuing Belarusian and Ukrainian refugees. This Saturday, as always, there will be masterclasses and English lessons for children in our office. We also remind you that our store is open from 13.00 to 20.30, so please come and buy the necessary things for yourself and your children. You can find a chat room at the link.