How to combine business with pleasure? Come and join us – we'll teach you! It is often the best part of working in our team – business trips easily turn into exciting excursions, and business negotiations turn into friendly dinners and interesting discussions. This weekend, "Our House" Vilnius office team went on a study trip. The route took us through the farm of the leader of the Lithuanian Association of Agricultural Producers and Processors, the Salvation Army office in Klaipėda and the Baltic Sea coast in the company of a former consul of the Republic of Belarus.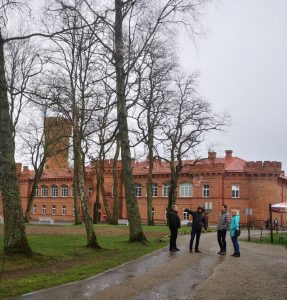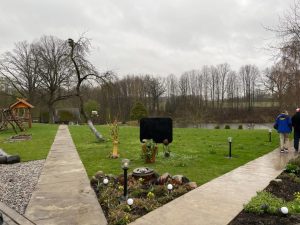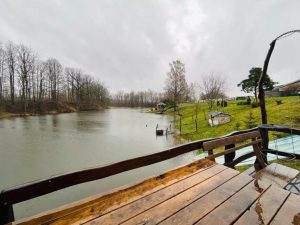 Pictured: Algirdas Mačiulaitis farmstead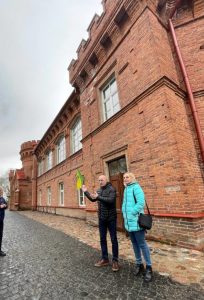 On Saturday, April 23, Olga Karach and the team of "Our House" arrived at the farm of Algirdas Mačiulaitis, the leader of the Lithuanian Association of Agricultural Producers and Processors. Algirdas is planning to organize a camp for refugee children from Belarus and Ukraine this summer. Up to 200 children can stay at one time in the castle, located on a farmstead. Together with Olga Karach and "Our House" team, Algirdas Mačiulaitis discussed options for planning and organizing the camp and other assistance to refugees.
For children, who travelled together with "Our House", an interesting tour of the farm was organized: the children could see the century-old mill, the farm's pets, the castle and its exhibits.
We hope that so many children who survived their parents' repression and the war will be able to rest peacefully in nature this summer and that caring teachers will help them recover and enjoy a real childhood!
On Sunday, April 24, Olga Karach and the "Our House" team met with the Salvation Army office in Klaipeda. Cooperation with the organization has already begun – Salvation Army activist Reyna teaches refugee children English in the Vilnius office of "Our House". The Salvation Army will also provide food certificates to "Our House" to support refugees from Belarus and Ukraine.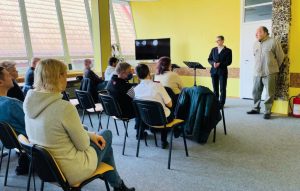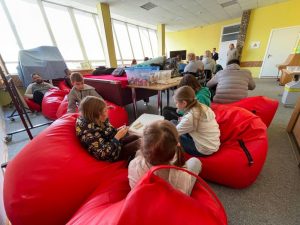 Pictured: Salvation Army office in Klaipeda
At a meeting on April 24, Olga Karach discussed with Susanne Kettler-Riutkenen the expansion of the partnership programme, the problems of refugees in Lithuania and Poland, and options to support women with children. Women and children who have suffered from repression and Russia's military aggression against Ukraine are the main categories of refugees whom "Our House" tries to support and help.
It is very hard for women with small children to find jobs and normal housing options, to solve social problems quickly, not only in terms of employment but also in terms of placing children in schools and kindergartens. That is why they need to be among like-minded people when they first arrive in a foreign country.
The working trip ended with a stroll along the Baltic Sea in the company of Nikolai Logvin, the former Honorary Consul of the Republic of Belarus in Klaipėda. In 2020 he paid the price for his active civic standing – the Ministry of Foreign Affairs of Belarus relieved him of his position. In Klaipėda, Nikolai Logvin is the head of the Belarusian community "Krynica" and is also the chairman of the associations of Belarusian NGOs in Lithuania.
When mass protests started in Belarus against Lukashenko, election fraud and violence on the part of law enforcement agencies, Nikolay Logvin could not stay away – he immediately and openly expressed his position. Such people are sorely lacking in our Belarus – open, honest, fair. But it is with such people that we will build our New Belarus!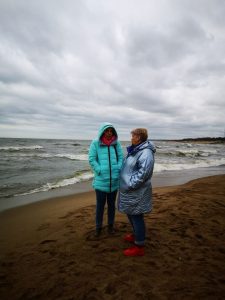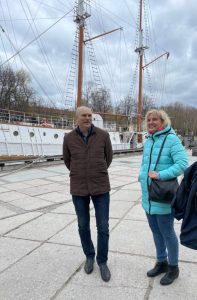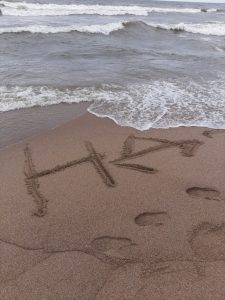 The rich weekend was not in vain – part of the refugees received food packages from "Our House" and Salvation Army. Saturday, children will have new classes in the Vilnius office of "Our House", warehouse in Vilnius continues its help to refugees. "Our House" also helps and supports Belarusians and Ukrainians in Warsaw.