On May 9, Belarus celebrated the 77th anniversary of victory in the Great Patriotic War. This holiday has always been specific for the illegitimate regime, and for the last two years, on this day, Lukashenko has threatened to retaliate against Europe and all those who protest against him. And this year, speaking at the holiday in Minsk, he said: "I have always told the military: we must not miss anything. We must not repeat 1941. So we will respond".
While the dictator is going to war with Europe, the Belarusians say no to war. Belarusian battalion named after Kastus Kalinouski in Ukraine continues its resistance. Today it became known that Lukashenko's illegitimate regime has equated the battalion's Internet resources with terrorist ones. These are Facebook pages, Instagram and a Telegram channel. Now all the subscribers of the troop's resources face criminal liability. Only in Telegram, there are more than 30 thousand subscribers to the channel of the battalion while about 100 thousand views of the posts.
Holidays dedicated to the victory were held in all the cities of Belarus. However, people did not attend them on their initiative. Adults and children were lured to concerts and parades with red-green flags by awards and threats. The administration of Minsk Culinary College forced students to go to the concert, dedicated to the date, threatening to expel those who ignored it. In one of the schools in Brest district, children were promised to get 9 points in history for attending the rally. In secondary school #53 in Minsk, eight people from each class were asked to come into the city with an A4 size photo of their great-grandfather fighting on a 50 cm long stick. However, there were very few people willing to do it. In Bragin district, all the organisations were ordered to come to the solemn meeting with red and green symbols. Local authorities obliged the leaders to make a hundred per cent turnout, without any excuses and no matter what.
However, Belarusians in many district towns said "no" to the dictatorial holiday. For example, in Ashmyany, photos from the site of the local state newspaper show few passers-by in the city centre. In Beshankovichi, the Victory Parade was greeted by a small chain of schoolchildren and employees of budgetary enterprises. In Mstislavl, some locals gathered to watch the festive program. In Zielva, too, it was impossible to get schoolchildren to come to the town festivities. The picture was similar in other small district centres. On the other hand, in Osipovichi, Russian soldiers came to the festivities. Men with chevrons in the colour of the Russian flag took part in the celebration after the failed offensive.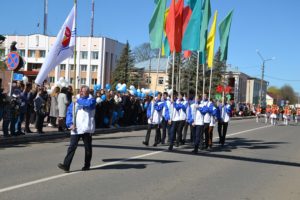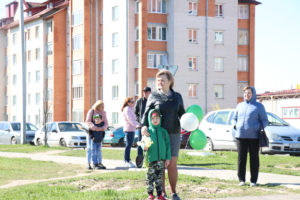 In these days of May, the entrance exams to higher educational establishments this year became known. It has turned out that applicants to some universities will be able to apply even if they receive 7 out of 100 points. Commissions of the Military Academy, Ministry of Emergencies University, Border Guard Service Institute and military faculties of civilian universities will accept documents with such results. It means that Belarusian students say "no" to education in the military sphere, and there is no competition there because the affairs of the Belarusian army arouse horror and disgust.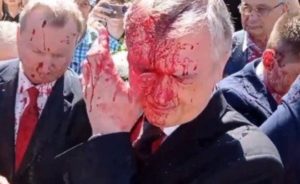 Abroad, Belarusians expressed their protest against the war by going out to rallies against Russia. In Warsaw, for example, protesters sprayed Russian Ambassador to Poland Sergey Andreev with red paint. The diplomat got attacked at the cemetery of Soviet soldiers in Warsaw: he had arrived there to lay a wreath. But at the same moment, a rally of solidarity with Ukraine was taking place in the Polish capital. One participant broke through to the ambassador with the shout "Fascists!", spilled a can of blood-red paint on herself, him and those around her.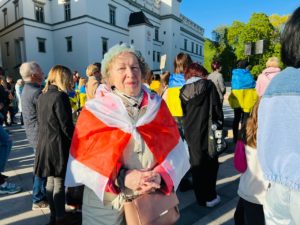 The Lithuanian Belarusians also came out for the traditional rally. Every Monday, a solidarity rally with Ukraine takes place in Vilnius, and May 9 was no exception. Norwegian Ambassador Ole Terje Horpestad, German Ambassador Matthias Sonn, Lithuanian Deputy Minister of National Defence Vilius Semeška, Lithuanian Minister of the Interior Affairs Agnė Bilotaitė and other representatives of the country took part in it.
The representatives of G7 countries say "no" together with Belarusians. A statement appeared on the White House website promising to punish all those responsible for the war in Ukraine: "We will make every effort to hold Putin, as well as those complicit in Russia's aggression against Ukraine, including the Lukashenko regime, accountable under international law. To this end, we will continue to work together with our allies and partners in different countries". In addition, the U.S. announced new sanctions against Belarus and Russia: 2.6 thousand officials from both countries will be subject to restrictions.
"Our House" spent this day in its usual mode – in Vilnius, our team hosted refugees from Belarus and Ukraine at the "Pobach" humanitarian warehouse. In Warsaw, our representatives held several meetings devoted to assistance to Belarusians – we will tell you about the results. Our Home's head Olga Karach visited Frankfurt am Main on May 9, and spoke at the "Strong Women – Strong Europe" conference.
We continue to say no to war, dictatorial regimes and to propaganda events in which illegitimate authorities frighten our western and southern neighbours with war. We do not want to fight for the interests of Lukashenko and Putin because we are against usurpers and repressions. And May 9 is not a holiday for most Belarusians, but another reason to say "NO means NO".