The Creative Space, founded by the initiative of Our House, has become an emotional refuge and escape for Belarusians in exile and Ukrainian refugees and an opportunity to discover people's hidden talents.
"Everyone can come to our Creative Space, tell what he or she is good at and hold a master class. There are a lot of creative people among Belarusians in exile in Vilnius and among Ukrainian refugees, and they do very peculiar, beautiful things," says Anastasiya. She was the mind behind organization of such master classes. The initiative has been supported by Our House, which had a place for the Creative Space in its office.
"I personally know how to knit and crochet, so I show children the basics of those. There are girls whom I have been teaching for a year already. Some have already left as they learned enough to work on their own, somebody does ornaments, jewelry. Some people continue to knit, some started drawing," – Anastasiya goes on with her story. "Every person has talents. It is very interesting to watch a creative atmosphere to build giving space for everyone to develop."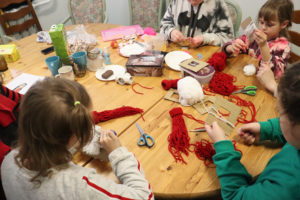 The main objective of the Creative Space is not a series of classes on certain topics, and not precisely a hobby club. It is rather an opportunity to stay together with people of similar views, to come to show your own creativity or just to stay in a calm atmosphere, communicate with people, share emotions, and do something in a company. "It is a psychotherapy of some kind," Anastasiya smiles.
At the same time, exchange of experience is also important. Anastasiya is happy to teach not only knitting and crochet, but also other techniques. One can acquire creative skills in making "dream catchers", or various ornaments by cross-stitch embroidery performed on plastic canvas. You can learn to make dolls or even to participate in a cold porcelain master class. If new people with new skills appear, they join the Creative Space and teach to do some other things, others come to learn something new.
There is one more special characteristics of the Creative Space: children and adults here learn together. Anastasiya is confident that it's the best way for children to try different kinds of creative activity and find out what they like more.
"All children are making something. When a child is around 10, he or she usually gets bored of creating "childish" things, and does not know what new to do. Therefore, we held our classes for kids and adults together, so that they could see what people are doing and discover various ways how you can apply your skills. Another advantage of communication with adults is that they already have an experience of selling their products, which motivates the children. One girl in our school has already sold about 5 pieces of jewelry she had made. Thus, the child understands that she can earn some money that way."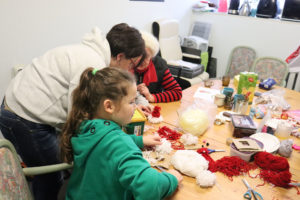 Meetings in the Creative Space are usually held on Saturdays, and sometimes on Sundays. For some people it's an opportunity to communicate and meet new people, develop new skills for the future, while others already think about not just making products for the sake of creativity, but also want to find a way to sell them. Our House is planning to help organize that opportunity so that Belarusians in exile and Ukrainian refugees could also earn their living and improve their life in a foreign country.
At the same time, Anastasiya dreams that some of her students will have a personal exhibition one day.
"I was mostly impressed when we participated in a Kupalye fair and my daughter, in the very first minutes, sold a candlestand that she had made of polymer clay and decorated in a modern youth style. It was such an exotic, may I say, object, but it found its master very quickly. Therefore, as I say, it's not important what you do, if you do it with your heart. When people buy handmade things, they do not buy just an object. They buy emotions enclosed in that object, the energy and the mood of its creator."