The master classes where people can learn how to make hand-made items are held in the office of Our House; Belarusians in exile and Ukrainian refugees are invited.
Unconventional art of cold porcelain molding gathered a lot of admirers in the office of Our House last Sunday. About 20 people participated in the master class held by a decoration master from Ukraine, Viktoria Zakorko, for Belarusians in exile and Ukrainian refugees living in Vilnius. Both adults and kids showed great interest.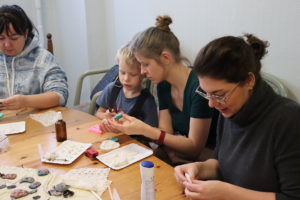 So, what is the unconventional cold porcelain technique? We'll ask Viktoria.
"Cold porcelain is a wonderful decorative material. It has been used in the decorative and applied art for quite a long time, and there are a lot of different recipes. This material is good for molding, it has lots of usages."
For many years, Viktoria has been making ornaments and home decor from cold porcelain. She shared some of her secrets of that wonderful decorative art at the master class.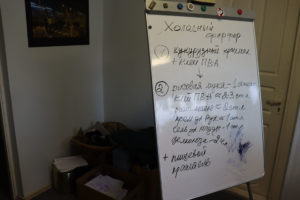 "Since I have been practicing this kind of art for many, many years, I also show some of the bad works, so that the students could avoid making the same mistakes."
In the two hours of the first cold porcelain molding class, the participants made intermediate parts for two things: Christmas tree decorations and jewelry (brooches or pendants). Then, those intermediate parts are left to dry for several days. In a week, at the next meeting next Sunday, on November 27, those beautiful items will be finished by applying color to them. For those who will not be able to attend the second class, Viktoria has prepared detailed instructions how they can finish their products at home.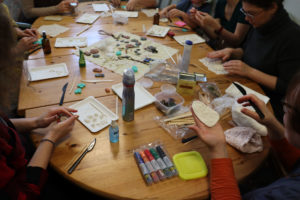 "We gave a try to a professional, but comprehensible recipe out of a huge number of them. The one every participant could repeat at home later. Therefore, I'll be very happy if somebody choses to continue practicing this art after our master class. Now, Christmas and New Year holidays are approaching, so a lot of people made Christmas tree decorations that they can use at home or give as a present to their loved ones. We have also learned all the characteristics of this material. We learned what are the components, what they can be substituted with, where to buy them, how they act together. People could learn all that only at our master class."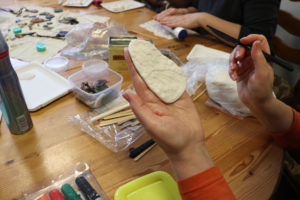 Meetings in the Art club "Skrynia" will continue every Sunday, each class will last for two hours. Viktoria Zakorko will show how to use different materials and apply various techniques. For example, one class will be devoted to creating a Christmas wreath in Eco style under the guidance of our master. Also, the participants will make drawings with coffee, hand-made postcards, original presents for Christmas and the New Year.