Traditional master classes for kids and adults were held at the office of Our House.
About 15 people have mastered the technique of cold porcelain molding at a master class held at Skrynia Art Club. The decoration master from Ukraine, Viktoria Zakorko, acquainted Belarusians in exile and Ukrainian refugees living in Vilnius with an unconventional art, which resulted in beautiful objects created with own hands.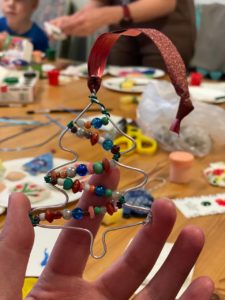 "It was so nice to see the whole families, children and adults, women and men. We can safely say that cold porcelain molding is a creativity for the whole family, giving lots of inspiration and joy. This art is very affordable in the terms of materials and easy to understand in the terms of technique," says Viktoria Zakorko.
Participants created a lot of different and beautiful Christmas tree decorations, interior pendants and jewelry charms. Also, they obtained detailed instructions about various recipes of the cold porcelain and peculiarities of objects made out of that wonderful material.
Clearly, such decorations, jewelry, interior decor from cold porcelain can become a great gift and a good purchase, because handmade things are unique and will always find their connoisseurs.