It looks like the local administration of the Investigation Committee in Gomel is preparing for urgent evacuation, although nobody seems to have attacked Belarus. Still further, all the officials of the enforcement agencies are unanimously saying over and over again that «if anything happens», they are ready to give a decisive rebuff to hypothetical foe. Yet, as it usually happens, «there is one nuance»…
During the rule of Aliaksandr Lukashenka, the Republic of Belarus gave rebirth to multiple detrimental traditions of Soviet times. One of them is double-think of officials of all levels, who say one thing, but see another, see everything as it is.
In general, everyone got used to such a situation, so Belarusians by habit (also from Soviet times) just do not trust the officials; and they are right. It's a good thing if the whole matter is limited to mistrust only.
It is a different thing if the society suddenly learns to what extent the pseudo-reality drawn by the officials does not correspond to the actual truth.
For many months, we've been reading claims of the heads of various uniformed agencies that if anybody dares to attack Belarus (NATO, Banderivets, mercenaries, extremists, terrorists), that body will be decisively rebuffed by the whole grouping of the Armed Forces of Belarus and Russia. So strong, that the Earth will shake…
Yet, what is happening behind those words? Administration of the Investigation Committee of Belarus for Gomel region has announced a tender for purchase of document evacuation bags. Suddenly, the local Investigation Committee needs 30 tarpaulin bags to evacuate documents.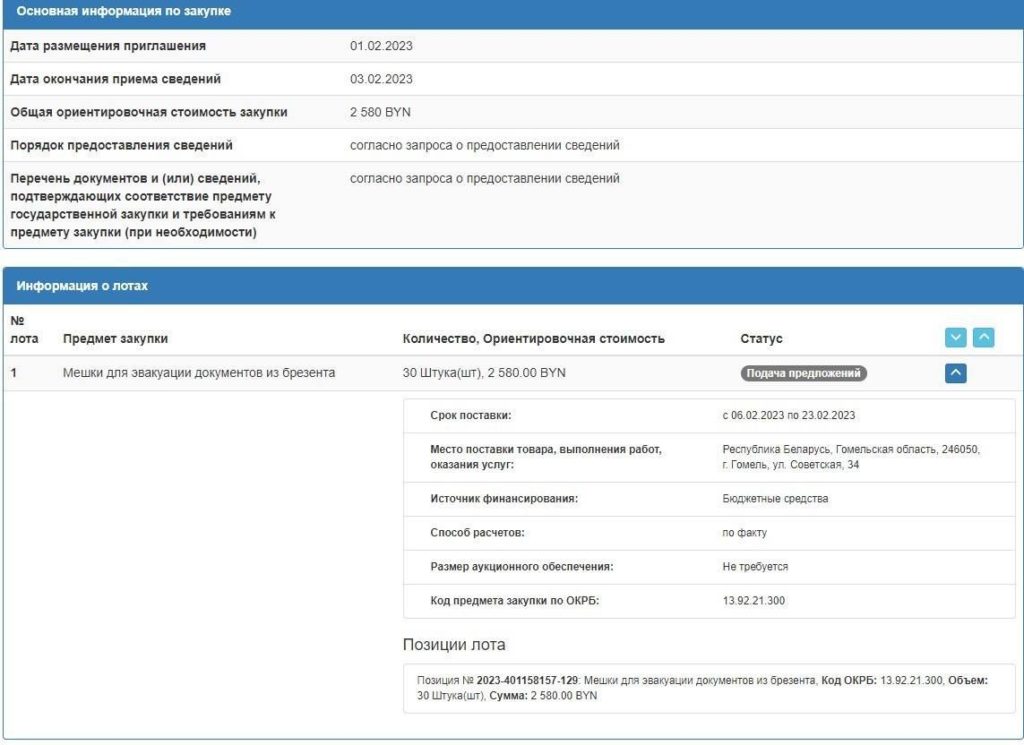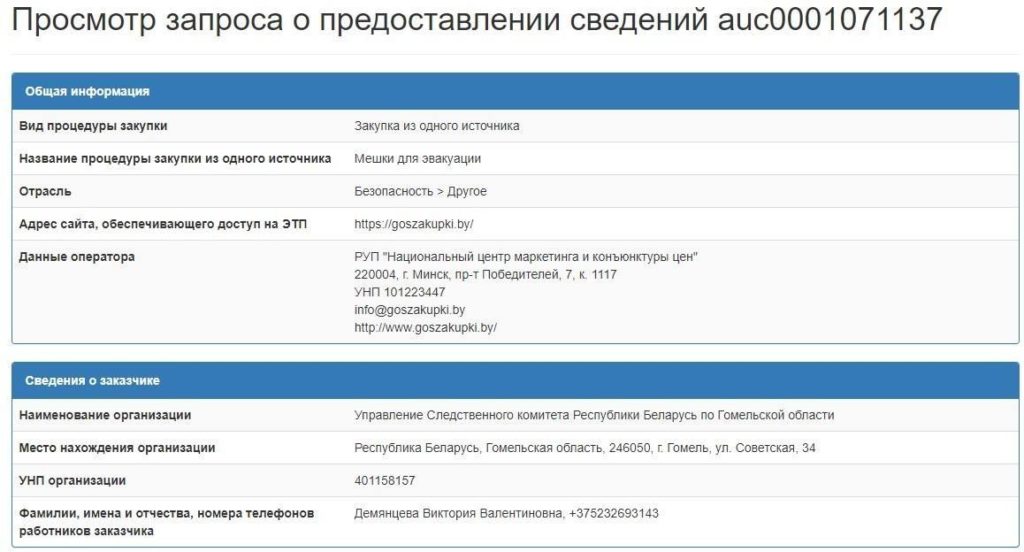 Such bags are used in various emergency situations (fire, calamity or military attack against a military object) to evacuate important documents. Just because it is too messy, difficult and uncomfortable to transport bulky and very heavy iron safes when you are in a hurry. In general, such notions as «iron safe» and «evacuation» are hardly compatible.
It's an interesting fact, that such a purchase is the first one of the kinds that has ever been made in Belarus. Till now, state bodies have never bought anything like that. Yet, similar purchases have been detected to be made in Russia. More precisely, in Belgorod region: in September, 2022, the local prosecutor's office purchased about 300 document evacuation bags.
There's one more thing that Belgorod region of Russia and Gomel region of Belarus have in common: they both border with Ukraine. For nearly half a year, the Ukrainian army has been conducting artillery strikes on Belgorod region; just because the Russians launch missiles against Ukraine from there, concentrate their troops there, and so on. What is more, it is known that both in Kyiv and in Moscow, they are considering options of invasion of Belgorod region by Ukrainian land-forces: the logics of war dictates to Ukraine the necessity to move the fighting to the territory of the aggressor sooner or later.
Belarusian Gomel region also became a bridgehead for Russian invasion of Ukraine. Don't believe that Ukrainians have forgotten that. In fact, the infamous Ziabrovka military airfield is situated in Gomel region, where Russian troops are deployed and concentrated, and missile strikes on Ukraine are made from.
The Ukrainians have made it clear several times: if Russian troops attack again from the territory of Belarus, or if the Belarusian army joins the Russians, the Armed Forces of Ukraine will not be too shy to strike on Belarus. It is obvious, that it's exactly Gomel region that will become a battlefield then.
As we see, the Administration of the Investigation Committee for Gomel region has decided to get ready for evacuation in advance.
The rats wisely get ready to escape from an inevitably sinking ship.
Our House