Ukrainian children from the territories occupied by Russia are taken not only to Russia itself, but also to Belarus. While the UN, the Red Cross and Ukrainian authorities try to 'keep an eye on' those children in the Russian Federation, the issue of Ukrainian children trafficked to Belarus is barely touched upon. We have tried to fill the gaps existing in the field of this issue.
Belarus as one of the destinations where children are taken from the occupied territories of Ukraine
On April 4, 2023, Russian law enforcers stopped at the border with Belarus a teenager who had been taken from Mariupol to Russia and put under the guardianship there. The boy attempted to return to Ukraine. The youngster's name is Bogdan Yermokhin and he was an orphan at the beginning of the full-scale Russian invasion of Ukraine. His legal representative was the director of the Mariupol college where he was studying (a normal practice for older teenagers).
After the war started, Bogdan was among 31 children "found in the basements of Mariupol" (In the words of the Russian official Maria Lvova-Belova), and was first transported to Donetsk and later to the Moscow region, where the young man was placed in the care of a foster family. However, he later attempted to return to Ukraine on his own through Belarus.
This is not the first time when our country is mentioned in the context of stories about children being taken out of Ukraine by Russian occupants. We shall remind you that on 17 March 2023, the International Criminal Court in The Hague issued arrest warrants for Russian President Vladimir Putin and ombudsman for children's rights Maria Lvova-Belova. Both, according to the judges, are responsible for the war crime of illegally deporting children and illegally transferring them from the occupied territories of Ukraine to the territory of the Russian Federation. Earlier, an Independent International Commission of Enquiry into violations in Ukraine, established by the UN Human Rights Council, said that the removal of Ukrainian children to Russian territory was considered a war crime.
It is difficult to count or cross-check the number of children removed from Ukraine using open data: children are actively moved between regions and between institutions both within Russia and within the occupied territories. And information about them is usually classified. For example, according to Lvova-Belova's press service, almost all orphans from institutions in the self-proclaimed LNR have already returned back to the region (but no one can independently confirm this information).
According to Ukrainian data, the number of children deported and forcibly displaced to Russia now totals 16,210 persons. This is a list of names which created on the basis of applications by parents, relatives, local authorities or witnesses. This above-mentioned list can be found on the Children of War website. According to the authorized representative of the President of Ukraine on children's rights protection, Darya Gerasymchuk, information on each child is checked by the authorities and a criminal case is opened in each case. However, she immediately warns that the list may not be exhaustive, "After each return of children to Ukraine, we find out about new children remaining in Russia who were not known about".
In its turn, a study by Yale University showed that Russia kept at least 6,000 Ukrainian children on its territory and in seized Crimea. The report said that the researchers had identified 43 institutions where children taken from Ukraine had been kept. For the most part, these were recreational camps, as well as facilities for accommodation of children placed for foster care or adoption in Russia.  The report claimed that "the main function of the camps, apparently, is political re-education" and that some of them had also provided military training.
The youngest of the children taken out of Ukraine was only four months old, the oldest was 17 years old. It is also proof that Russia is committing crimes in Ukraine, since the illegal transfer of children in order to change or destroy their national identity is an act of genocide.
How many children were taken from Ukraine to Belarus?
Against the background of such a large-scale drama with children illegally taken from Ukraine to Russia, the media and public discussions hardly raise the issue of children who were taken from Ukraine to Belarus.
There are some reasons here.
Firstly, Belarus is not officially a part of the armed conflict – even though it is recognized by many countries worldwide as a co-aggressor of the Russian Federation.
Secondly, very little official information about children trafficked to Belarus from Ukraine is published, and it is difficult to trust it.
Thirdly, in Belarus it is very difficult to cross-check information and do any monitoring, so most often information has to be checked from open sources, which are also few.
The fourth reason is probably the most important one. Ukrainian children trafficked to Russia are in most cases orphans or children captured by Russian forces and quite often separated from their families in the process. Some children, however, are taken to the Russian Federation with their families – but such removal still cannot be called voluntary.
In contrast, in most cases Ukrainian children come to Belarus as part of their families, and it is not uncommon for families to move voluntarily. Since they find themselves in an area where there are hostilities, but do not want to go to Russia, many ones decide to move to Belarus.  In such cases, children are not forcibly relocated, and international bodies and human rights activists have little interest in such situations, although mass violations of children's rights can be assumed in such situations.
UNICEF (United Nations Children's Fund) wrote about the children taken by their parents from Ukraine to Belarus after the war started. However, this organisation did not specify the number of Ukrainian children taken to Belarus or how they were treated by the Belarusian authorities, as well as their further fate.
Let's try to roughly estimate the number of children removed to Belarus during the active phase of the war between Russia and Ukraine, i.e. after 24 February 2022.
On February 14, 2023, the chairman of the Brest Regional Red Cross Organization Nikolai Kuzmitsky told journalists that in 2022 more than 2,000 forced migrants from Ukraine had turned to them for help. About 600 of them were children.  It turns out that children make up about 30% of the forced migrants from Belarus to Ukraine.
Let's move forward. According to the State Border Committee of Belarus, from February 24, 2022 to February 24, 2023 (that is, exactly one year of the war) 84,020 citizens of Ukraine arrived in Belarus: 15,890 via the Ukrainian-Belarusian border, 53,407 via Poland, 11,936 via Lithuania and 2,787 via Latvia.
Leaving aside both the shocking statistics that Ukrainian citizens have used European countries as a transit route to Belarus, and attempts to comprehend the reasons for this choice, it turns out that during the year of war 25,200 Ukrainian children were taken to Belarus by Ukrainian parents. On the one hand, this is much more than the 16,210 children who, according to the Ukrainian side, were taken to Russia. On the other hand, it is obvious that the overwhelming number of Ukrainian children in Belarus moved there together with their families fleeing the war, and no one expelled Ukrainians to Belarus from Poland, Lithuania or Latvia.
One of the volunteers helping Ukrainian refugees in Belarus agreed to speak to DW on condition of anonymity. According to her estimates, mostly families with children, elderly people and people with various disability groups come to Belarus. "The biggest problem is housing, not everyone has money for rent, that is why refugees try to look for a job which would also provide them with accommodation, and that's is a rarity in Belarus. It might be factory dormitory or a house in the countryside if it is an agricultural vacancy. Some farms have housing in a pretty good condition, some have things quite deplorable," the volunteer said.
Ukrainian children in Belarusian schools and camps
It is important to understand what happens to children from Ukraine in Belarus – regardless of whether their families moved to Belarus voluntarily, or were forcibly sent through Russia, or were simply placed by the occupation authorities in a position where they had no alternative to moving to Belarus.
The facts that Ukrainian children brought to Belarus are ended up in a real "meat grinder" of pro-Russian and anti-Ukrainian propaganda, that they are deprived of the right and opportunity to study their native language, history and culture, completely fall out of the public eye. As is the fact that such children are purposefully subjected to ideological indoctrination. This is undoubtedly a violation of human rights. However, on the background of violations directly related to the war, the fate of Ukrainian children who find themselves in Belarus seems to be relegated to the sidelines.
It should be understood that in Belarus, children from Ukraine go to Belarussian schools with the Russian language of training, where they are exposed to a steady stream of Kremlin propaganda, which describes everything related to Ukraine in a negative way. And vice versa – everything related to Russia, which in fact commits armed aggression against Ukraine, is presented in a purely positive way. Also, children from Ukraine in Belarusian schools are deprived of an opportunity to study their native language. There are no Ukrainian-language schools in Belarus at all, and the optional teaching of the Ukrainian language exists only nominally (in the form of methodological developments), but in practice is not implemented anywhere.
Moreover, the Belarusian authorities periodically report that Ukrainian children are resting in health camps on the territory of Belarus. And therein lies the rub. It can be argued with high probability that children from Ukraine, under the pretext of 'recreation', get into numerous Belarusian military-patriotic camps for adolescents and youth. One of the most distinguishing features of such camps is the deliberate development of hatred, particularly against Poles and Ukrainians.
In such camps, children and teenagers who come from Ukraine are inevitably exposed to harsh ideological influences and psychological violence. And this happens – at least formally – with the consent from their parents or guardians.
Here are a few examples: there is evidence that children taken out of Ukraine rested in the Dubrava youth camp (the village of Yaskovichi, Soligorsk district). This camp belongs to JSC Belaruskali, that is, the largest state enterprise in Belarus.
It is known that children from Ukraine were kept in large numbers in Dubravá in September and October 2022. According to the Belarusian state media, only in the first entry there were 350 children from Ukraine. They were sent to Belarus via the Russian city of Rostov-on-Don. On the Belarusian side, representatives of the Belarusian Youth Union, a state enterprise Belaruskali and the Minsk regional organisation of the Chemical, Mining and Oil Industry Workers' Trade Union took part in this. Earlier, the organizers announced three sessions, during which a total of 1,050 children from Ukraine would be brought to the camp.
For example, on September 22, 2022, the first shift at the Dubrava camp started. It counted 350 so-called vacationing children from Donbas in Belarus. Most of them were children from socially vulnerable categories: children whose parents had died, children of warring parties, adopted children and children with disabilities.
Among other things, a representative of the Belarusian Orthodox Church, Bishop Eusebius of Slutsk and Soligorsk, met with Ukrainian children at the camp. Another visitor was the former Russian ambassador to Belarus, now State Secretary of the Union State Dmitry Mezentsev. He visited the children's camp on October 25, 2022. At that meeting Dzmitry Mezentsev said that it was planned to take Ukrainian children to other regions and camps, and money for that would be found in the Union budget.
Another batch of children from the occupied territories of Ukraine arrived in Minsk on October 14, 2022. In Minsk, the group was met by representatives of the Alexey Talai's Charity Foundation, volunteers, students, and bikers, namely the Night Valkyries and Night Wolves. The above-mentioned group included children from Donetsk, Mariupol, Kirovsk, Debaltseve, Volnovakha, Horlivka, Ilovaysk and other towns. It is known that their visit to Belarus was supervised by Sergey Afonin, advisor of the Russian Embassy in Belarus and head of the humanitarian cooperation group.
It should be said that representatives of the Belarusian Orthodox Church (which is directly subordinate to the Moscow Patriarchate) regularly meet with children who were taken to Belarus from Ukraine. For example, on January 5, 2023, children from Horlivka met with Metropolitan Veniamin of Minsk and Zaslavl, Patriarchal Exarch of All Belarus. Such meetings are an important part of educating Ukrainian children in the spirit of the 'Russian world' ideology.
In October 2022, the chairman of the Minsk regional organisation of the Chemical, Mining and Oil Industry Workers' Trade Union Dmitry Shvayba, in particular, said that Ukrainian children who had arrived from the occupied territories could get education in secondary special educational institutions in Belarus, even with a possible scholarship to continue their studies with accommodation in hostels and with further employment. The point is, these Ukrainians will then work as miners at Belaruskali in Belarus.
On April 4, 2023, another party of 350 Ukrainian children from the occupied territories arrived in Minsk by train. Some of the children were orphans from an orphanage in Anthracite and some were children with parents from Mariupol and Horlivka.
On April 25, 2023, children from the occupied territories of Zaporizhzhya were brought to the Dubrava children's recreation camp in Gomel. A total of three such transfers are planned.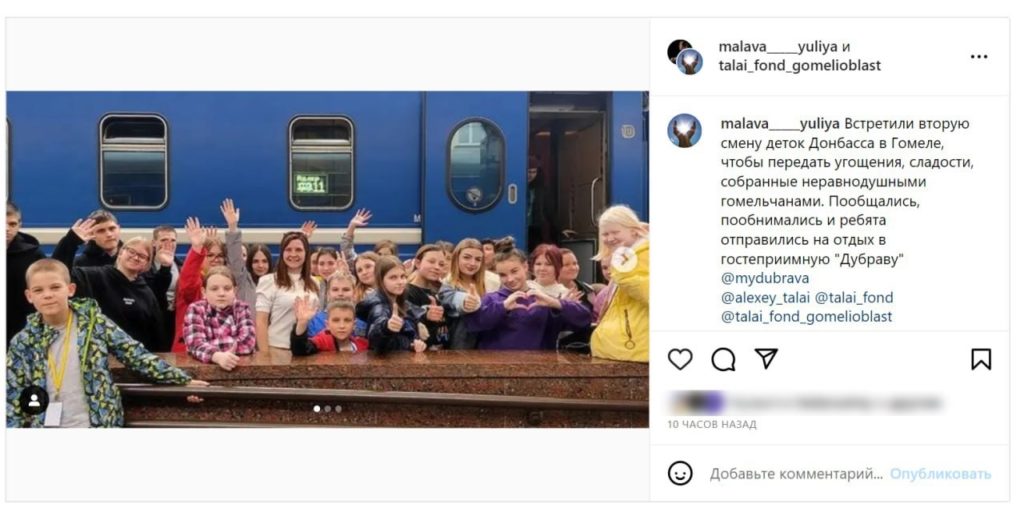 As the organizers of such trips admit, they plan to continue actively bringing children from the Russian-occupied territories of Ukraine to Belarus in 2023.
Our House