The action took place in the Lithuanian capital on the eve of International Women's Day. It was attended by representatives of the Belarusian diaspora and Lithuanians who are not indifferent to the Belarusian protest. Olga Karach, head of the ICCI "Nash Dom", also took to the streets of Vilnius to support the repressed Belarusian women.
In August, after the presidential elections, women quickly took the front lines of the protest movement. Women's marches against violence began in September. Brave Belarusians dressed up in creative costumes, took to the streets with flowers and balloons in their hands – and faced resistance from male security officials. During these months, thousands of girls and women of all ages and professions passed through the pre-trial and detention centres. At least 141 criminal cases were initiated against them – peaceful protesters. And 38 Belarusian women have already been recognized as political prisoners and received sentences in criminal cases.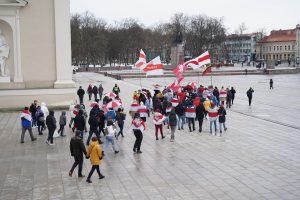 The Vilnius "March of Flowers" was dedicated to the courageous Belarusians women who suffered from the regime. The procession began at the Lithuanian Seimas and went along the main roads of Vilnius: Gediminas Avenue to the Cathedral Square, then to the Town Hall Square. The length of the route was about 3 kilometres.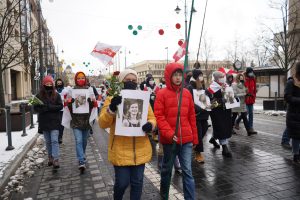 The symbols of the action in the Lithuanian capital were flowers. And this is not without reason – after all, several months earlier, Belarusians took to the streets of Minsk and other cities of the country in the same way. It was a distinctive feature of women's marches and solidarity actions. Besides, flowers are a symbol of the coming spring and an excellent gift for International Women's Day.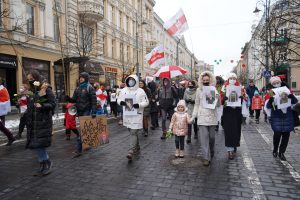 Probably every Belarusian woman who is now held hostage by the Lukashenko regime would dream of taking part in the march. Therefore, the participants took not only flowers and white-red-white flags. They prepared portraits of Belarusian women – leaders of the protest. Thus they strolled, albeit in absentia, through the streets of Vilnius.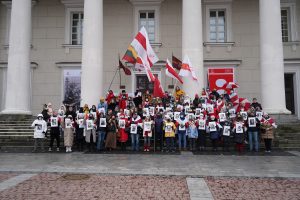 On the eve of International Women's Day, I would like to point out: Belarusian women deserve flowers, not criminal articles, threats and truncheons. Therefore, ICCI "Nash Dom" calls on the international community to pay attention to the conditions in which courageous Belarusian women have to survive in prison. And we also ask for the release of women political prisoners and the cancellation of prosecutions under completely absurd articles.